News
/ Bitcoin (BTC) Crashes After Celsius Freezes Withdrawals
Bitcoin (BTC) Crashes After Celsius Freezes Withdrawals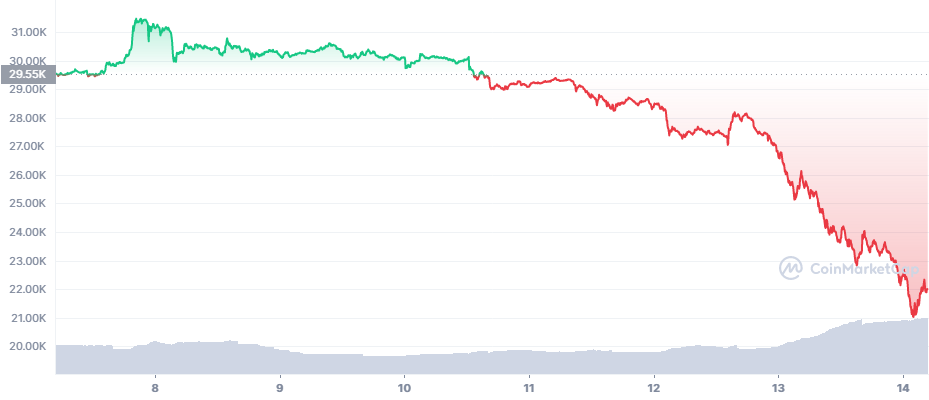 After weeks of doubts about Celsius (CEL) falling to the contagion of Terra LFG, the worst predictions materialized. CEL failed to extend its survival season, instead wiping out another 50% from its price.
The reason for this was that just weeks after Celsius missed its regular asset report, the DeFi hub also closed withdrawals. Celsius went from reassurance to talk of insolvency within days, sparking fears of overall contagion and dumping of assets. Nexo, one of the still-standing crypto lending protocols, called for the acquisition of the Celsius network assets with an attempt of salvaging the wealth of Celsius investors.
The biggest problem with Celsius is that it held assets on behalf of its investors, leading to stories of stalled withdrawals months before the crash. Paradoxically, the news of frozen withdrawals only extended the market panic.
Celsius was a platform promising to safely hold crypto assets while offering passive income. However, its wallet meant users did not control the private keys, and were in danger of not fully controlling their digital assets.
BTC Moves Down in Freefall
Bitcoin (BTC) crashed almost without stopping, touching lows near $21,000, after holding up relative stability during the weekend. BTC looked on track to break close to the $20,000 range. BTC fell to $22,001.49, below a level at which a bit Celsius loan on Maker DAO was due to be liquidated. Celsius kept increasing its collateral but is still threatened with the liquidation of a large-scale loan if prices continue to slide.
Celsius has now pushed enough collateral to survive a deeper crash, but only time will tell if BTC recovers and the loan is not liquidated at under $18,000.
The Crypto Fear and Greed index fell toward 11 points or Extreme Fear, similar to the March 2020 crash. At this point, BTC is on track to erase most gains from the recent bull market, while also breaking under the highs from late 2017.
BTC prices may sink as low as $14,000, with the prediction of $10,000 per BTC not far off. The long-term prediction for BTC also hinges on the overall drop in the stock market and the loss of easy financing.
BTC remains one of the more hardy assets, as Ethereum (ETH) loses value even faster. ETH flash-crashed under $1,000, only to drag down DeFi further. ETH crashed to $1,159.07, shrinking its market cap dominance to 15.5%.
Binance Stopped BTC Withdrawals for 3 hrs
Just as BTC was in freefall, the Binance exchange announced it would stop BTC withdrawals. All other withdrawals are working, but Binance cited stalled transactions as the reason for the backlog.
The withdrawal problem also worked to worsen fears, despite the assurance of Binance that all funds are safe and the exchange is transparent and highly liquid.
Withdrawals resumed about three hours after the problem was announced, but added to the panic around the BTC market price.
Will BTC Continue with Losses
BTC may face more accumulation for the long term, but the recent drop may leave buyers waiting for a lower entry point. Based on Glassnode data, BTC has now fallen below the average market realized price, averaged over all bear and bull markets.
The chief source of panic remains the over-bloated sector of "crypto", which included non-transparent liquidity pools and operations. The value of those DeFi assets proved unsustainable, adding to the rapid losses.
BTC remains close to the price where it has managed to bounce historically. However, the exact bottom may take more time, exacerbated by macro factors.
BTC also went through one of the biggest historical liquidations, reaching more than $1B in 24 hours. Previous liquidations of this caliber have happened in March 2020 and May 2021, when the price went for an unexpected deep crash.
Will CEL Contagion Spread
CEL sank to $0.25, but the biggest fear is that the losses would also affect stablecoins and the TRON project of asset-backed USDD.
USDD managed to only dip to $0.98, later returning to $0.99. A deeper slide away from $1 failed to materialize so far. But fears spread again for a possible run on Tether (USDT), causing even more chaos on the market.
The TRON DAO also announced its readiness to defend the TRX market price and the stability of USDD.
This time, the asset of choice is the USDC stablecoin, which has not deviated from its peg. TRON DAO now has to defend more than 718M USDD tokens. The TRX market price sank from recent levels above 8 cents down to $0.064, undermining some of the value locked in the protocol.
TRON DAO claims to have a multi-asset approach to prevent the worst scenario. So far, there has not been a concerted attack on TRON DAO, and the organization has worked mostly with early adopters and insiders. Terra LFG, on the other hand, managed to spread to retail investors, wreaking more havoc with finances for South Korean buyers.