News
/ Bitcoin (BTC) Keeps Above to $30K, but Dip Still Expected
Bitcoin (BTC) Keeps Above to $30K, but Dip Still Expected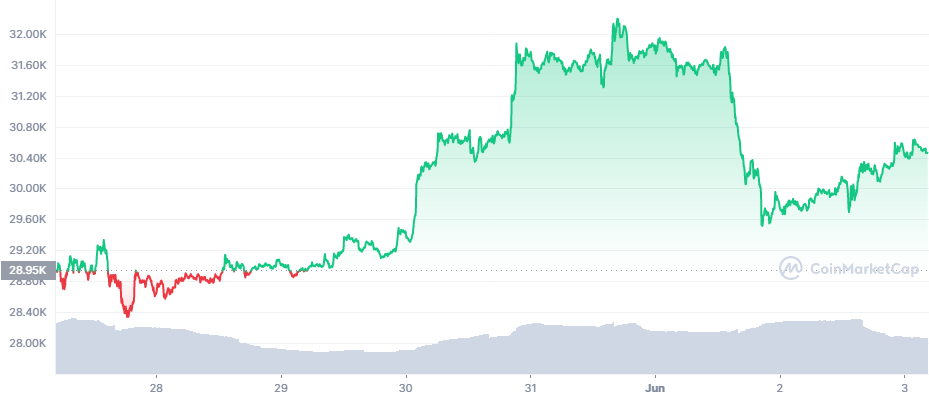 Bitcoin (BTC) continued its choppy trading, after ending the ninth consecutive week with a net loss. BTC traded around the $30,000 level, dipping to the $29,700 range briefly. But the leading coin also showed speedy recovery, rising to $30,458.76. With this price move, BTC cut short the attempt to regain $32,000 and continue upward.
BTC long-term and short-term sentiments are drifting apart. Trading on leverage continues, leading to liquidations due to choppy price moves. But in the long term, some of the older coins remain closely held in wallets. 
BTC has a net loss in the past 12 months, after a turbulent period where the price rallied above $67,000. In June 2021, BTC stood above $39,000, a level that now seems viable in case a recovery starts.
The Rainbow Chart model sees current prices as suitable for accumulation. There are signs of retail buying, building up 1 BTC wallets.
Fears of long-term inflation, combined with skepticism about altcoins, is driving buyers back to BTC for its long trading history, high liquidity and negligibly rare network problems. BTC mining remains near all-time highs above 200 EH/s, showing a readiness to produce and hold new coins.
BTC also slowed it is indispensable to the levels of all altcoins, no matter the level of financial innovation. With BTC recovering, some of the altcoins get a leg up on moving up from their lows.
BTC Grows Lightning Network
The BTC lightning network continues to grow by the day, and now holds close to 4,000 BTC. This experimental tool is pseudonymous and is already accepted by exchanges like Kraken.
Participation in the network is voluntary and the need to keep nodes supplied additionally boosts BTC demand.
Overall Trading Slows Down
The shock of Terra's unraveling drove down some of the risk-taking on the markets. Overall trading volumes remained lower, sinking under $100B in 24 hours for the past few months.
BTC trading volumes expanded slightly above $35B in 24 hours. Tether (USDT) shrank its turnover to $53B in 24 hours, while the supply stabilized around 72.5B tokens. USDT remains at $0.99, creating some disparities on the market. USDC, the other leading stablecoin, returned to the $1 peg after a day of trading one cent lower.
USDT is flowing out of exchanges, undermining the available liquidity.
Funds flow back into BTC, with a long-term outlook despite expectations of a potential price dip. For now, BTC manages to hold onto relative stability, and there is no way to tell which event would cause a deeper crash.
But there are predictions that at least one dip to $20,000 would happen by the end of 2022, instead of another roaring bull market. The biggest risk for BTC is that its price moves happen fast, and a flash crash has happened in the past following periods of relative stability.
There is even talk of repeating the crash of March 2020, which preceded a record recovery.
This time, however, BTC will face its first decade of restrictive monetary policy, both for the US dollar and the euro. A crash to much lower valuations may erase the credibility of BTC as a hedge against inflation, with not enough enthusiasm to drive back prices. This is a worst-case scenario for BTC, which is still only hypothetical. In the short term, price moves may continue to attack certain leveraged levels.
TRON (TRX) Stays Above $0.08
TRX has not rallied, but its price stabilized some of the earlier gains. TRX is at $0.084, steadily gaining more attention as TRON DAO starts to expand the supply of USDD. 
TRX is one of the rare tokens with deflation due to burns. The asset still has a very high supply and new tokens are produced perpetually, but some derive expectations of rallying to a higher range.
For others, TRX is an asset to short, based on expectations of failing in a similar way to Terra LFG. For now, TRON DAO promises a much more conservative approach and no artificial value creation.
TRON has been resilient so far, surviving DDOS minting schemes, high-risk finance, and gambling apps. The TRON ICO also happened at a time when China banned token sales, and the Binance exchange reimbursed some of the early buyers without airdropping TRX tokens.
DeFi value is still unraveling from its highs in late 2021. TVL in Ethereum is now around $55B, down 50% from the peak and lower than June 2021, when DeFi projects locked in nearly $70B in notional value. Former hot DeFi networks like Solana and Avalanche are now reinventing themselves as Layer 1 solutions to host games and NFT, while avoiding riskier value inflation.