News
/ Bitcoin Preparing for the Next Bull Run?
Bitcoin Preparing for the Next Bull Run?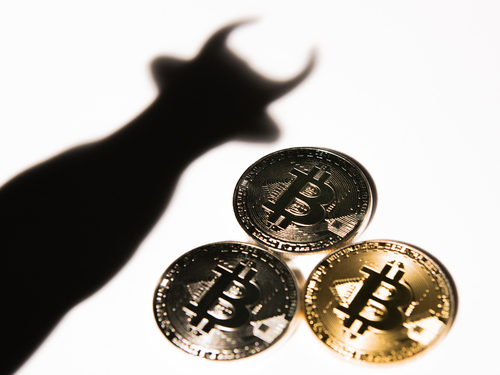 After more than 5 months of lingering at recent lows of $30,000, the Bitcoin market has finally returned to its highs. The market, which had dashed investors' hopes in May, has since done a turnaround and earned back their faith.
With the current bull run, Bitcoin has demonstrated that the sell-off earlier in 2021, which wiped away roughly half of the market value, was merely a temporary setback, allowing purchasers to continue their aggressive drive.
Altcoins, on the other hand, followed their own path. To some extent, Ethereum followed Bitcoin's price movement, but other cryptocurrencies, on the other hand, were trading at their lows, slowly creeping up to their highs, or firmly breaking over the ATH. However, in comparison to Bitcoin, the majority remained underperformers.
Bitcoin is now trading near the ATH highs and is steadily increasing, while altcoins are reaching similar levels. As a result, the whole cryptocurrency market has now started to move in lockstep.
Bitcoin Gets a Network Upgrade
Bitcoin received a big network update yesterday, on November 14, according to Taproot.watch data. It was the first major update since the Segregated Witness (SegWit) project, which resulted in the Lightning Network's establishment and implementation in 2018. The first Taproot proposal was submitted by Gregory Maxwell, a Bitcoin core developer, and previous Blockstream chief training officer, on January 23, 2018.
The previous SegWit upgrade aimed to enhance transaction parallelism and the Bitcoin network's power, whereas the Taproot update intends to enhance transaction efficiency, network privacy, and the network's capacity to support smart contract activities. Bitcoin developer Hampus Sjöberg recently announced on Twitter that the upgrade had been finished after reaching a 90% consensus amongst Bitcoin mining nodes. Sjöberg also built the Taproot.watch website to follow the Taproot upgrade's progress.
Goldman Sachs Compares Gold and Bitcoin
In an interview with Bloomberg last week, Damian Courvalin, Head of Energy Research at Goldman Sachs, discussed the future for gold and cryptocurrency.
Courvalin was asked if he has seen any indication of investors adopting assets besides gold to hedge against inflation, such as cryptocurrencies (Bitcoin). Answering that, he said, "Just like we argue that silver is a poor man's gold, gold is maybe becoming the poor man's crypto."
Inflation worries have caused many people to switch from gold to bitcoin. Paul Tudor Jones, a billionaire hedge fund manager, remarked in October, "Clearly, there's a place for crypto. Clearly, it's winning the race against gold at the moment." He also added that "crypto is here to stay."
Skybridge Capital Founder Bullish on BITC Even at Current Levels
On CNBC last Friday, Anthony Scaramucci, the founder and senior partner of Skybridge Capital, a New York City-based investment business, discussed the US economy, inflation, and bitcoin. In July 2017, Scaramucci worked as the White House director of communications for a brief while during the Trump regime.
When asked if he recommends people acquire bitcoin at its current price of roughly $63,000, he said, "No question about it."
"I still feel we are very, very early" at the current BTC price, he also remarked.
Bitcoin Price Action Explained
On a larger scale and trend, Bitcoin's price fluctuation has been quite fascinating. Even though the Bitcoin cryptocurrency has stabilized, with a market capitalization of over a trillion dollars, the market's volatility remains greater than traditional markets.
The price activity on both sides has been fairly strong since the BTC market suffered a dive in May 2021. As a result, the price range of $30,000 to $40,000 becomes a huge psychological demand.
The positive swings averaged 3% each day when the original trend began in late July. Bitcoin increased by nearly 75 percent in just a few months to hit the $50,000 level.
The price motion from $50,000, on the other hand, was gradual, with the market encountering obstacles along the way to the upward. Despite this, once the bull run began in October, the Bitcoin market managed to exceed the $60k milestone.
There have been no noteworthy swings in either way in the recent BTC crypto price report. The market has a new all-time high of $68,952, though it's still close to its previous all-time high established in the second quarter of 2021.
However, there has been no significant increase in pricing since Bitcoin reached the new ATH. The pricing has remained unchanged for almost 30 days.
When looking at the present price movement in more detail, it can be seen that the market has entered a range with a bottom limit of $60,000 and an upper limit of $67,000. Despite the fact that a ranging market displays strength on both sides, it is clear that the buyers' actions are far more powerful than the sellers. As a result, there is a higher possibility for the market to breach to the upside to make a new set of higher highs.
Now you can get Bitcoin crypto and most of your other favorite cryptos from our list of popular and reliable cryptocurrency exchanges.