News
/ Decred (DCR) Breaks Out Against BTC
Decred (DCR) Breaks Out Against BTC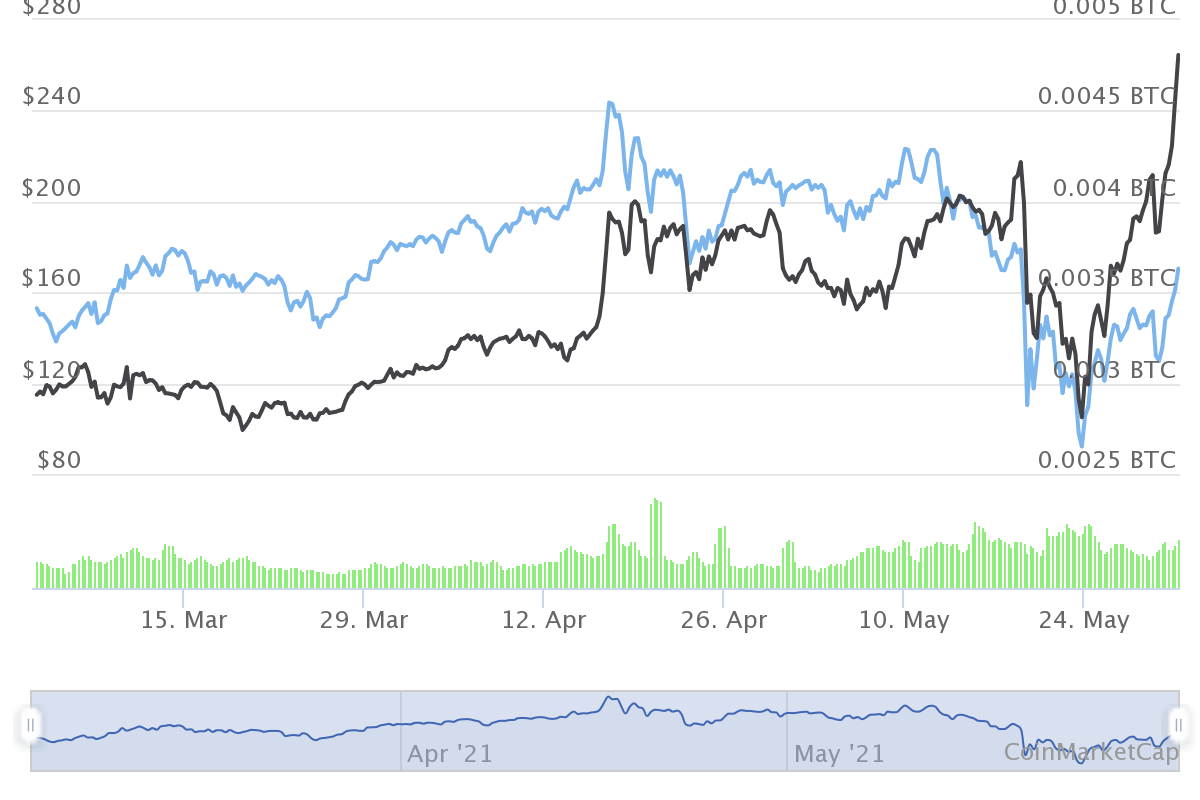 Decred (DCR) is one of the strong recovery stories of the past week. After a dip to the $100 range, DRC added more than 60% to its price, remaining one of the few assets in the green after a lackluster weekend. DCR remains highly volatile and risky, yet attractive because of its short-term growth potential.
DCR expanded above $169 on Monday, with trading volumes above $48M. The asset has been known to rally previously, boosted by its wide fan base and marketing. DCR is attractive for attempting to line up as a large-cap altcoin, competing with the likes of BCH, LTC, and DASH. 
DCR is especially attractive for its growth against Bitcoin (BTC), with the potential to revive the altcoin market. DCR is now at a three-month high against BTC.
What Sparked the DCR Growth?
The highly active Decred pairs are mostly due to highly liquid trading on Binance International exchange. DCR is also one of the few older assets remaining on Poloniex and Bittrex, formerly hot markets that are now barely liquid. 
DCR joins a list of altcoins that rally as an attempt to offset losses in other markets. As there are more signs of bearish BTC moves, some altcoin markets may receive an additional boost. It was precisely this breakout in Satoshi terms that is focusing more attention on DCR.
The rally happens at a time when BTC is struggling to establish itself once again above $35,000.
Is Decred Innovative 
Unlike older altcoins that for now lag on innovation, DCR is proving to be one of the more actively developed coins. While it is not as visible as BTC, it allows for multiple use cases.
DCR is most notable for using ongoing coin mixing technology. For now, the asset has not come under scrutiny for the mixing, despite ongoing attacks against BTC mixing. Using the built-in coin mixer of the wallet means coins cannot be feasibly tracked on the network.
Anonymizing DCR, however, may be unsuitable when using full KYC centralized exchanges. Anonymization and coin mixing have been blacklisted by multiple exchanges, and DCR is currently not available on highly regulated Coinbase markets, or the Kraken exchange. 
Still, DCR is highly active on OKEx and other Asian exchanges, inviting price discovery as investors seek hedges and safe havens with promising altcoins.
Decred Project Dedicated to Growth
DCR expects to expand for more decentralized trading. The project also has active marketing and popularization programs, supported by a treasury. The spending from the treasury is also achieved by a community vote.
The Decred project aimed to fix some of the flaws with Bitcoin's network, while creating a more responsive community. For that reason, DCR copies some of the features of BTC, including having a Lightning network of its own.
Decred has also built Politeia, a voting and proposal platform, to make all decisions about the network's future in one place.
Politeia is instrumental to spending the treasury and deciding on innovation.
Is DCR Mining Feasible
DCR mining is important for both network security and community building. The Decred project treasury is filled when the developer team receives 10% of the block reward. Decred mining is well-established, with no exponential growth in the past year, and a relatively predictable share for most participants.
DCR blocks are created in a mixed process of mining and staking, where miners receive 60% of the reward. Stakers with the right to 5 votes receive another 30% of the coins. The right to stake means coins are locked in for a minimum average period above 20 days, which significantly curbs the selling pressure.
Mining DCR is also a solo possibility, with about 12% of blocks going to competitive solo miners. While the network has a low enough hashrate to allow for mining without a pool, it is also secure based on staking.
Among the Decred miners are also some of the biggest Bitcoin mining operations, including Poolin and Antpool. However, the coin has a variety of smaller pools and almost no possibility of miner takeover due to staking and voting mechanisms.
Can Decred join DeFi
DCR has some of the features of older assets, focusing on payment operations and confidentiality. For now, the project avoids the DeFi craze, instead focusing on its underlying technology.
There are some expectations DCR may become important once again, putting attention on crypto coins alongside DeFi tokens.
One of the expected paths for DCR is to gain a wider decentralized trading basis, to avoid the hype and sudden volatility based on a handful of centralized trading pairs. DCR is still one of the few coins where more than 50% of trading volumes are in the DCR/BTC pairing. A 42% share of USDT trading means DCR preserves some of the speculation in BTC terms. DCR thus may often be used as an offset for BTC price drops, to preserve some of the trading value.