News
/ Dogecoin (DOGE) Spikes on Coinbase Pro Listing
Dogecoin (DOGE) Spikes on Coinbase Pro Listing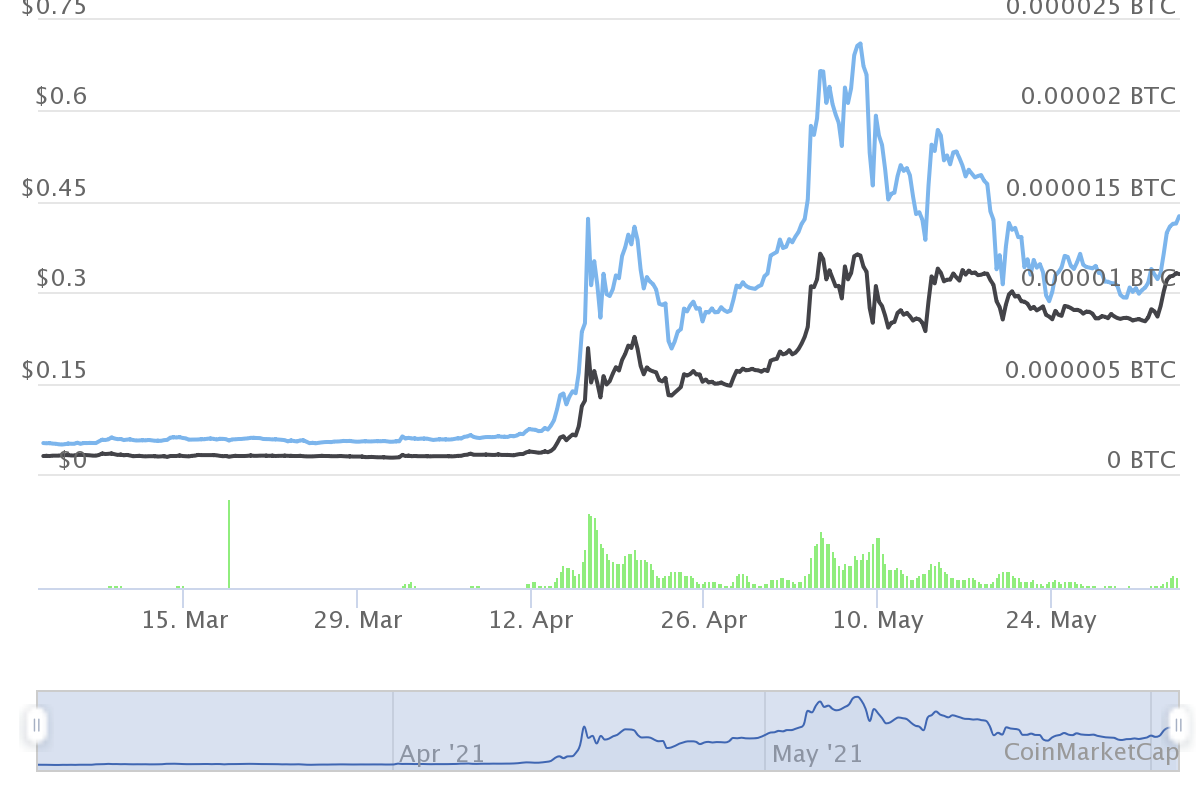 Dogecoin (DOGE) is sprung and set for its first day of trading on Coinbase Pro, after opening wallets for deposits on June 2. 
Coinbase will attempt to slowly raise the market's liquidity, and initially DOGE will start trading in a controlled fashion, with the potential to halt trading if conditions are not met. Initial orders will be post-only or limit-only.
DOGE will start full trading in pairings with fiat currencies USD and EUR, as well as stablecoin USDT. There will also be an additional DOGE/BTC pair. Despite the effect of Coinbase Pro, DOGE continues to trade on the Binance exchange, where up to 30% of its total volumes are concentrated. 
DOGE is carried by Kraken exchange as well, though with much lower liquidity. DOGE relies on spot trading, with the potential for "whales" to both boost or depress the price. The current price spike also happens on volumes of about $10B in 24 hours, just a third from peak level trading. Sell walls indicate there are traders willing to take profits, as most wallets for DOGE are in the money after investing at rock-bottom prices. 
Why DOGE Won't Give Up
Even the market shakedown at the end of May could not bring DOGE back to its previous positions. The coin, with its high meme potential, took over social media and gained mainstream acceptance. DOGE is also boosted by Robinhood users and connected to hype traders on the Reddit platform, who can arrange to act in concert and possibly boost prices.
Coinbase has avoided DOGE for years due to its unserious nature and lack of development. But in 2021, public demand finally led to the listing. For now, DOGE is only available on the Coinbase Pro platform, with no guarantee of a Coinbase listing.
Coinbase is thus capable of becoming one of the sources of DOGE acquisition for the wider US public. The move has the potential to cause another expansion of DOGE prices.
Following the news, DOGE traded at $0.42, up more than 17% overnight. The asset is still far from its peak at $0.70, but has managed to regain most of its positions since the market crash. DOGE is also near its peak above 11,000 Satoshi, keeping its strong gains against BTC.
Can DOGE Still Go to $1
DOGE market prices move based on hype, as they did around April 20, when the "meme" price of $0.69 was attempted. Now, the next barrier for DOGE would be to reach $1.
The asset remains highly unpredictable, and hinges on the overall performance of the crypto market. DOGE also has not received more endorsements from Elon Musk, tech king of Tesla, Inc., which was the initial driver of mainstream attention.
DOGE remains highly speculative, and some of its pairings may still perform rapid price moves.
Whales Hold DOGE
There are some worries that DOGE ownership is in the hands of a few large-scale wallets. The top wallet for DOGE not only holds 28% of the current supply, but also keeps increasing its holdings.
The top wallet started accumulating DOGE in February 2016, and has continuously added new coins. The coincidence with Elon Musk's interest in the coin has raised speculation that it is indeed his wallet.
There are other significant DOGE holdings, with about 50% of the supply held by "whales". At the same time, older buyers or miners have created millions of wallets with insignificant amounts of DOGE, which may be lost to circulation.
Still, because of the large-scale wallet, most users are advised not to buy near the top, due to the risk of 50% corrections happening fast.
Is DOGE Mining Profitable
DOGE mining produces 10,000 new coins every minute. Potentially, DOGE mining is possible with a GPU, though it would require about 20 video cards to achieve a tentative profitability of $23 per day. 
DOGE is also co-mined with Litecoin (LTC), meaning it would be difficult to compete with specialized mining farms. Mining has been especially profitable since the start of 2021, when DOGE moved out of the sub-penny range. 
Mining is thus not the best way to acquire DOGE for the first time, as profitability is also fluctuating.
DOGE-Inspired Tokens Keep Adding Gains
DOGE inspired the issuance of a series of meme tokens, which are taking off based on decentralized trading on the Uniswap exchange. ShibaInu (SHIB) is approaching the top 30 coins by market capitalization, attempting another climb from its recent lows. SHIP is up 11% on the day, though still nearly 90% down from its peak price.
AKITA is also up 24%, though trading at a fraction of a penny and yet to recover its record price.
Dog-meme tokens remain extremely risky, and rely on the thin liquidity of Uniswap trading pairs. They are not guaranteed to repeat the success of DOGE, or its adoption on exchanges.