News
/ Litecoin (LTC) Bullish After Transaction Record
Litecoin (LTC) Bullish After Transaction Record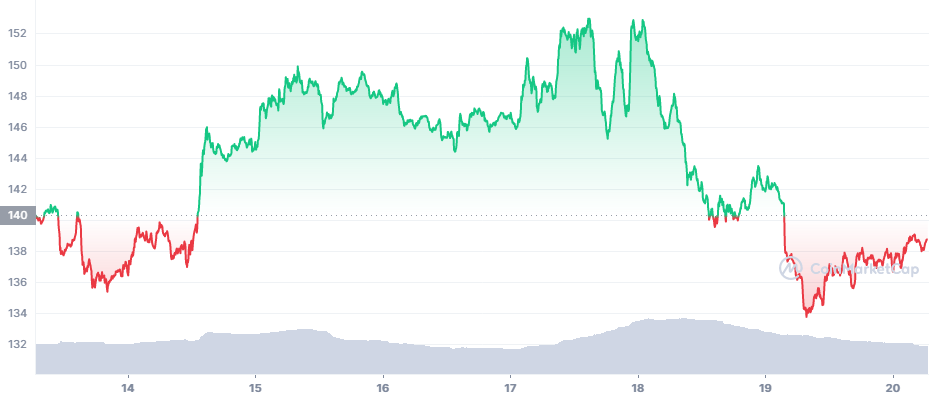 The Litecoin (LTC) network showed a significant, anomalous value transferred in the past days. The network also showed a new transaction peak in raw numbers of transfers between wallets. 
The exact reason for the sudden activity remains unknown. LTC has seen a general increase in transactions, as it is one of the coins with relatively small fees, which also offer fast transfers. Peak transactions were also noted on January 18.
The transaction count does not give a full picture of the origin or destination of the transaction. Some of the value transferred may be the UTXO, or unspent transaction output of coins being returned to a big wallet, after a partial spend.
Is LTC Having Another Dust Attack
One of the explanations for a sudden peak in volumes is the so-called dust attack. In this attack, a small amount of coins is sent to multiple known wallets. The small transaction allows the address to be marked and tracked for future transactions.
Dust attacks are not necessarily malicious, but they create worries about attempted blockchain mapping. Services like Chainalysis are always looking to map out new wallets. At the same time, creating new wallets is always possible for anonymous usage.
However, the current source of transactions used too large sums for a dust attack, as high as 0.01 LTC. The series of transactions originated with a single wallet, moving a few hundred LTC in a series of small transactions. More "whale" transactions were noted in the past few days, possibly signaling overall high LTC usage for exchanges or other purposes.
LTC pairs are highly distributed among exchanges, with no one market having a monopoly on wild price swings. There is no one market pair that could lift prices for a deliberate short-term pump, and LTC price growth would be organic and globally distributed.
Will LTC Become a Confidential Coin
Litecoin is making its latest developments with the goal of becoming a confidential coin. LTC will have the option of sending assets without identifying participating wallets, which may stop the usefulness of blockchain mapping.
While the Mimblewimble protocol has not been launched, the project gets closer to completion. The news of finishing the code review soon may boost LTC.
The confidentiality of LTC will only be possible for user wallets, as exchanges want to see the source of coins.
Is LTC Only Going Downward
For a long time, LTC has been considered a "dead coin". After its 2021 rally to nearly $430, LTC slid to its current levels around $138.28. LTC has also slid against BTC to new lows, with no hopes of recovery.
Despite this, LTC is listed in highly active trading pairs and offers a way to carry funds between exchanges. LTC remains active both on-chain and in terms of trading volumes and has seen no delistings as it is one of the long-lived assets since the early days of cryptocurrency trading. 
LTC failed to fulfill expectations of reaching valuations near $800 in 2021, despite the bullish attitudes. The Litecoin network, however, remains important for mining Dogecoin (DOGE). In the past year, DOGE gained significant mainstream adoption.
Can LTC Recover Previous Price Peaks
LTC is one of the coins that fell the most from its peak, and has lost its position among top 10 assets by market capitalization. The highly active DeFi tokens and platform coins displaced interest for LTC and its simplified functions.
LTC has not participated in DeFi and is not used to lock in value. For that reason, the asset relies on simple trading or investments.
Based on the price drop, analysts once again expect an upcoming recovery.
However, this price move is not guaranteed, and LTC has fallen even more steeply from previous highs. But coming from low positions, LTC may offer gains through its short-term recovery.
The short-term price weakness for LTC hinges on the behavior of Bitcoin (BTC), which is still trying to solidify its positions above $42,000. 
Despite the price weakness, LTC sentiment has switched to bullish. At the moment, 58% of LTC owners are out of the money. The coin has significant long-term holders, with 37% of wallets older than a year.
LTC has long-awaited higher valuations, even moving to four-digit prices. For now, those predictions are not materializing. But with new retail interest and demand for legal, regulated exchanges, LTC may be a source for mainstream adoption. 
The Litecoin network mining activity has also picked up, with double the hash rate from the lows in July 2021. The network now performs around 336 TH/s, still a small fraction of BTC hash rate.