News
/ Markets Absorb Terra (LUNA) Crash, Recovery Starts
Markets Absorb Terra (LUNA) Crash, Recovery Starts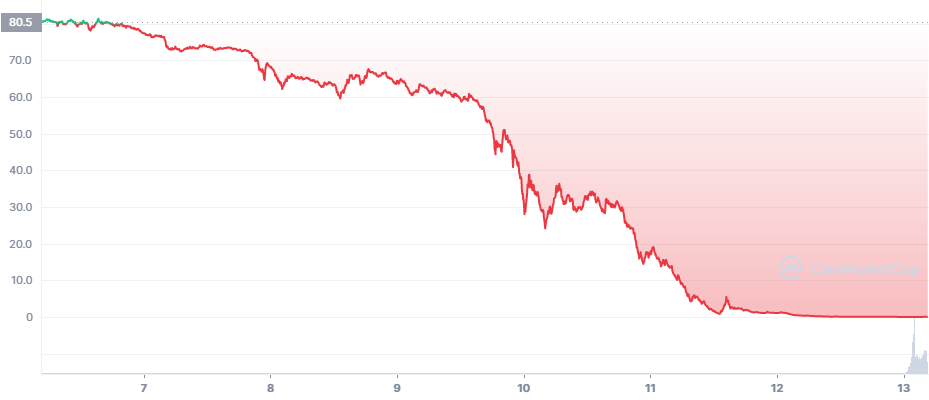 Bitcoin (BTC) is now absorbing the fallout of the Terra (LUNA) crash to zero. So far, exchanges have not yet delisted LUNA, but the asset is considered for all purposes useless. Whether LUNA will relaunch or return in any form is questionable. 
BTC managed to regain positions above $30,404.03, though still on a fearful note. Trading volumes were above $83B in 24 hours, on a mix of peak inflows to exchanges but also renewed buying. Even small retail wallets with under 0.1 BTC were on the increase, with buying happening again at the lows.
At the moment, short-term predictions for BTC see the leading coin slide as low as $20,000 before attempting a rebounce. Ethereum (ETH) is now under $2,000, adding to the risk of decentralized protocols.
From these positions, there is still no guarantee BTC will continue to new highs. It is also possible the shock of LUNA creates a new prolonged bear market, with predictions to last until the end of 2022.
LUNA Falls to Virtually Zero, Shuts Down Blockchain
LUNA is on track to fall to a sub-penny position, going as low as $0.012 in a continued daily slide. So far, LUNA has not managed to claw back any value, performing even worse than other crashing assets in the past. After today's slide, Terra also decided to shut down the blockchain to avoid potential attacks.
LUNA pairs remained active on Binance and FTX for most of the week, though with no way to tell if the asset would continue trading. LUNA was also too volatile and too close to a cutoff price below a penny. A Binance delisting may be imminent especially after the blockchain was halted, with other exchanges following suit. LUNA has already dipped to lows under $0.01 due to its highly unpredictable price, and has no value for trading or holding. 
At this point, LUNA cannot support Terra USD (UST) in any form. UST is now at $0.45 to the dollar, with no recourse to recover the dollar peg. The Terra project is also trying to save UST by burning as many UST coins as possible from its reserves, as a tool to generate scarcity and push the asset closer to its peg. It will also be impossible to move some of the UST through the Terra blockchain, with some parts of the supply created in other protocols.
There is no guarantee the intervention will work, especially with more than $11B in UST supply. The UST asset is still spread among multiple blockchains, potentially affecting other ecosystems.
The Terra crash also pulled down the prices of all affiliated blockchains – Solana, Avalanche, NEAR Protocol, NEXT, ThorChain and others. Those assets saw bigger cuts to their prices compared to other altcoins.
Contagion Did Not Spill to Tether (USDT)
One of the fears for the market was that the UST panic would spill to USDT. At one point, USDT threatened to repeat the scenario of 2018, when it took weeks to recover from a lost peg down to $0.85.
USDT is still listed above $0.99, with some price disparity in the BTC/USDT versus BTC/USD pairs. The USDC stablecoin, which has the most transparent approach to its reserves, was considered a safer option and briefly traded above $1, as high as $1.03. BTC also reached anomalous prices against USDC due to the hike above $1.
The recent stress test for stablecoins actually led to the decision to burn USDT instead of printing new tokens.
Recently, USDT reached peak supply above 83B with a comfortable daily turnover of $64B. But even with a smaller supply, USDT could support multiple markets with a higher daily turnover.
The only stablecoin still significantly below its peg remains Neutrino USD at $0.80, after falling from $0.89. NUSD cannot find support due to the inability of WAVES reserves to restore the peg. Fei Protocol is also at $0.98, but has a smaller effect on the market. 
TRON May be Repeating LUNA Model, Promising Better Collateral
The stress also affected newly launched TRON-based USDD, which also sank under $1.
USDD, however, is not widely distributed and despite the suspicions is still not the target of deliberate attempts to destabilize.
USDD, however, is also spreading to various protocols, including Curve Finance, one of the leading DeFi hubs. USDD will be similar to UST in promising extremely high returns, suggesting similar risks to break apart the DeFi scheme if it is unsustainable. Still, TRON is among the unchanged assets in the past day, still above $0.07.
USDD is also available on multiple exchanges and promises high passive returns, sparking fears that TRON's co-founder Justin Sun is actually recreating the Terra model and possibly setting up the market for another shock.
There is also no way to prove if Terra was deliberately attacked, but it has shown the algorithmic stablecoin model is not sustainable and LUNA cannot erase the bad debt.