News
/ MATIC Blasts North as Tech Billionaire Invests in Polygon
MATIC Blasts North as Tech Billionaire Invests in Polygon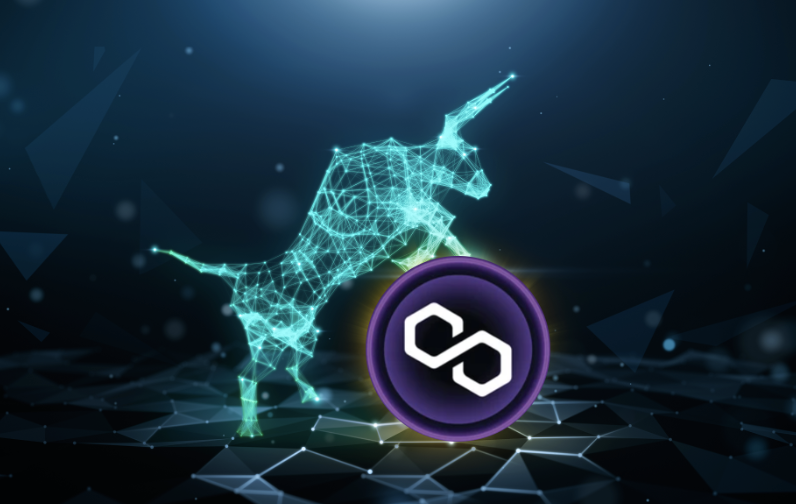 Polygon is now a part of Billionaire investor Mark Cuban's company portfolio.
"I was a Polygon user and found myself using it more and more," said Mark Cuban.
Polygon is currently up 40% in the last 24 hours
The man whose net worth stands at around $4.4 billion (as per Forbes) had made an investment in the thriving layer 2 Ethereum scaling protocol – Polygon. The is the message that came from the co-founder of Polygon, Sandeep Nailwal.
Polygon (MATIC) is an Indian based startup co-founded by three software engineers, namely, Sandeep Nailwal, Jaynti Kanani, and Anurag Arjun. The company was founded in 2017 and is growing at an exponential rate since its inception.
What Makes Polygon Different?
Polygon is claimed to be the first easy-to-use platform for infrastructure development and scaling of the Ethereum network. This well-structured platform's core component, the Polygon SDK framework, support building multiple types of applications with minimal to no hassle.
Polygon is known to transfer Ethereum into a complete multi-chain system, often referred to as the internet of Blockchains. The multi-chain system is similar to that of Polkadot crypto, Avalanche, etc.
Polygon's layer 2 scaling solution is backed by the crypto exchange giants Binance and Coinbase. It is primarily working on solving problems of scalability on several Blockchain to stimulate mass adoption of cryptocurrencies.
Additionally, Polygon implements a custom version of the Plasma framework, which is built on proof-of-stake running through the Ethereum main chain. The framework was originally proposed by the co-founder of Ethereum, Vitalik Buterin, to allow the easy execution of autonomous and scalable smart contracts.
The above technology was highly appreciated by Mark Cuban, as seen from his email, stating – "I was a Polygon user and find myself using it more and more."
Mark's company has investments in over 1000 firms and prominently known for backing Ether and Dogecoin.
The co-founder was overwhelmed to announce that one of the major "Shark" investors in the popular TV show "Shark Tank" is an investor for their growing startup. The investment is huge, not only in terms of capital – as he believes that having like Mark Cuban on the list will certainly attract more top tier investors to look into Polygon and its ecosystem.
According to reports, Mark is planning to integrate Polygon into Lazy.com, a portfolio firm that allows users to effortlessly display their non-fungible tokens (NFTs).
DeFi Protocols Turn to Polygon
The benefits offered by Polygon is being extensively used by Decentralized Protocols (DeFi) protocols lately, as the network fees on the Ethereum blockchain has surged to unacceptable levels. Consequently, the user base on these protocols has also increased exceptionally.
MATIC token on the Rise: As blockchain technology is growing rapidly, the demand for layer 2 scaling solutions is rising at a much faster rate. As Polygon satisfies the demand, the capital inflows have been tremendous in its native token MATIC. Presently, its scaling solutions have observed massive adoption with over 250 apps, about 76 million transactions and users up to 790,000.
The performance of Polygon Crypto (MATIC) is incomparable to other tokens of the same market cap or domain. MATIC has seen a hockey-stick growth in the past year with a surge of over 9000%. Polygon has indeed proved that the technology behind the token plays a vital role in the projection of its price.
MATIC only 12% Away from its ATH
The entire cryptocurrency space has been in a major correction for a week. The top 2 coins, including Bitcoin and Ethereum, has observed a drop of over 40% in the past 7 days or so. In contrast, MATIC seems to not correlate with its peers.
The recent updates from Tesla and China regarding usage of the restriction of Cryptos did affect the price of MATIC majorly but did not last long relatively. Polygon token lost almost 70% of its value in the past week but eventually saw a V shape recovery such that it rose over 200% within 3 days. As on writing, the token is only 12% down from its all-time highs.
Furthermore, MATIC being in the top 15 in market capitalization, has certainly been the leader in its recovery process.
The price, which was hovering around $1 for about 15 days, was taken over by the buyers, where they made new ATH to $2.68. But the profit-taking came stronger than expected, which took the prices all the way down to the Support Equals Resistance. However, this price was completely gobbled up by the big buyers – which can be accounted for the V-shaped recovery.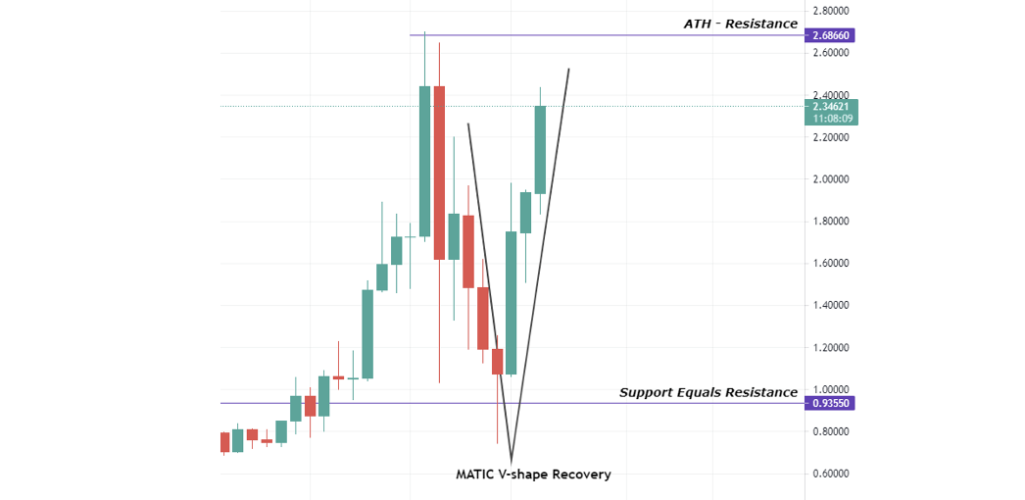 While the biggest fishes are still trading around their S&R levels, MATIC is way par it, aiming for its ATH.
We hope you found this article interesting and informative. If you are looking to get started with trading cryptos, here is the list of reliable cryptocurrency exchanges through which you can begin your journey. All the best.