News
/ Monero (XMR) Rallies During Market Stagnation
Monero (XMR) Rallies During Market Stagnation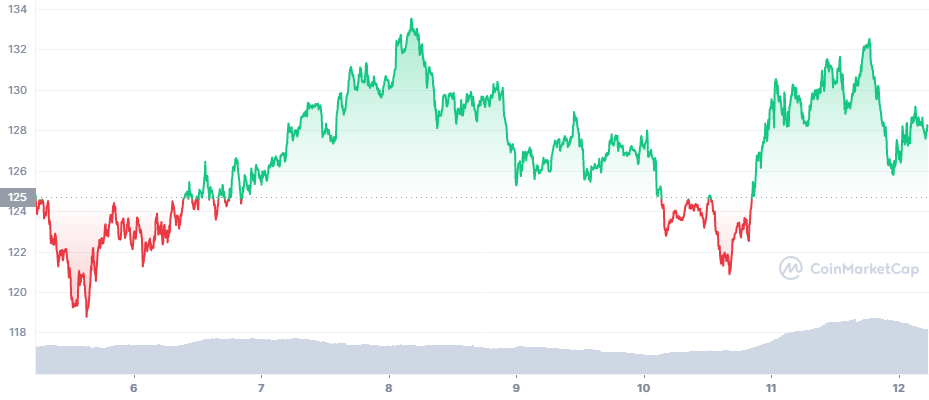 Monero (XMR) is having another moment of rising against the market and attracting attention to itself. In the past, XMR has spent long periods of time as an almost forgotten asset, mostly due to its problematic nature as an anonymous coin.
New regulations required any attempts to exchange or swap XMR to be non-anonymous. Despite this, the coin was delisted from multiple exchanges, abandoning its hope for four-digit prices
Otherwise, XMR has been used by a small community, with small-scale exchanges and swaps still available. XMR is represented in the Exodus wallet, where users have complete custody of their coins. On exchanges, XMR is exposed to risks just like other assets. 
Months ago, there were also fears the XMR on exchanges was not secure enough and may have been used for trades. There is no transparent list of XMR wallets to know which accounts hold the most coins. XMR remains untraceable if the transaction veiling feature is not disabled. Despite this, the XMR network is harder to trace and map, as in the case of BTC or tokens.
Will XMR Keep the Gains
XMR rallied to $132.66, still lower compared to recent June levels above $200. But XMR has shown a capability to bounce from lows, adding value and demand.
Yet XMR markets remain limited, with Binance trading pairs having a relatively low liquidity score of around 600 points. XMR trading volumes on Binance reach $22M with a slippage range of about $500,000 to move 2% up or down. 
The current price movement, especially after adding 8% in a day while the market remained stagnant, led to suggestions XMR is gaining some strength. XMR stepped back to around $128.30 on Tuesday.
The market remains ready to boost selected altcoins, and attention may be shifting to older blockchains with no added features. After months of DeFi boosting its value, some of the older mined coins remained in the background.
XMR also relies on futures trading, with long positions slightly surpassing shorts. XMR may rally based on expectations of offering returns for riskier leveraged trading.
XMR remains a relatively minor asset, especially after the overall decline of anonymous coins and tokens. ZCash (ZEC), another formerly strong asset, has sunk to $58.13, remaining near its lower range, despite rallying to four-digit prices. 
Monero Mining Near Peak
The Monero network faced some bad publicity for its reliance on botnets and hidden mining. At the same time, Monero was one of the few coins to change its mining rules and invite back CPU mining.
This allows even mining with consumer electronics, for a network with a relatively low hashrate. Mining for XMR is still viable to produce scarce, anonymous coins with no traceable history.
Mined XMR is unprofitable at these prices, but may become competitive with lower electricity costs. At a hashrate of 230 KH/s, a miner can hope to produce around 17.3 coins per year, a small yield of non-stop mining. This does not take into account wear and tear or the price of processors.
XMR DEX is Coming
One of the tools for XMR is an upcoming decentralized exchange. Unlike tokens, the Monero technology is not as easily amenable to swaps.
Serai DEX is a node-based exchange that stores ETH, BTC and XMR in a multi-sig wallet, offering swaps between the available liquidity pools.
ThorChain has also added the technology to swap between older existing blockchains with mined coins, though so far with no plans to add a precise list of coins. Serai exchange may remain the focus of XMR trading in the near future.
Having a DEX would also mean a potential for swaps that are more difficult to trace. With smart contracts and automated algorithmic trading, few DEX have taken up the task of de-anonymizing traders. Having a liquidity pool may boost the value of XMR.
XMR Inches Up in BTC Terms
Beyond its dollar price, XMR is up against BTC since the start of 2022. The anonymous coin is up to 0.006 BTC, up from around 0.004 BTC at the start of the year.
Bitcoin (BTC) once agains stagnated around $20,500, triggering the small-scale rallies of altcoins. For now, BTC is also holding up as no more news of liquidations comes from Celsius or other protocols. 
BTC also stabilized to a dominance of 42.9%, where only the stronger altcoins made forays in rebuilding their market capitalization.
The BTC price is also boosted by the recent news that Celsius is also paying down two more decentralized loans, on Compound and Aave. As crypto prices stabilize, the fear of cascading liquidations and losses diminishes. For now, the XMR rally is limited, but the coin has proven its potential to double or triple during an altcoin season.