News
/ Ripple (XRP) Surged By ~20% In The Past 2 Days – Best Time To Buy?
Ripple (XRP) Surged By ~20% In The Past 2 Days – Best Time To Buy?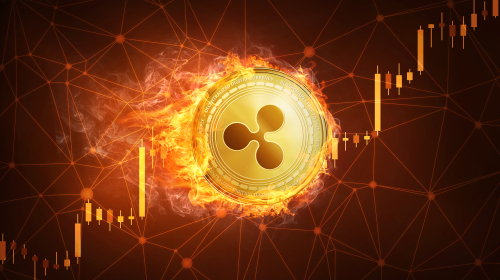 Ripple (XRP) is a cryptocurrency whose development began way back in the early 2000s but was officially launched in 2012. As of this writing, Ripple ranks 7th in terms of market capitalisation ($33.15 billion) and a daily turnover of $11.47 billion. Note that XRP is not minable and used Proof of Correctness consensus protocol to secure its network and verify transactions.
Technically, Ripple refers to RippleNet, the platform which facilitates institutional asset exchange and a vast payment network for international monetary settlements. XRP is Ripple's native currency, and it's dubbed "a banker's crypto" since it was designed for fiat as well as crypto transactions between institutions. Ripple collaborates with over 40 global financial institutions, including Union Credit, UBC, and MoneyGram. Most transactions on RippleNet do not involve XRP, as institutions send fiat currencies across the network. It is estimated that more fiat transactions occur over the RippleNet than transactions related to XRP or other cryptos.
The US SEC Lawsuit against Ripple
In December 2020, the U.S. Securities and Exchange Commission (SEC) initiated a lawsuit against Ripple and its two executives – the chairman, co-founder and former CEO Christian Larsen, and its current CEO Bradley Garlinghouse. The SEC alleges that they breached sections 5(a) and 5(c) of the U.S. Securities Act of 1933 by conducting an unlawful offer and sale of securities.
In the lawsuit, the SEC also points out that the two executives made profits amounting to about $600 million. This is from $1.38 billion proceeds from the public sale of XRP between 2013 and 2020, which the SEC stipulates is an unregistered securities offering.
There have been many challenges to the lawsuit, with the defence lawyers asserting that the sale of XRP is beyond the purview of the SEC. that is because other branches of the U.S. government have legally declared that XRP is a currency and not a security.
The Blowback of SEC Lawsuit against Ripple
Expectedly, when the SEC filed the lawsuit against Ripple on December 22, 2020, several exchanges delisted XRP. Others like Coinbase and OKCoin only suspended XRP trading. Consequently, XRP's price dropped more than 60% in December. Before the SEC lawsuit, Ripple was ranked third among all cryptos in terms of market capitalisation. The resultant delisting and suspension of XRP from trading dropped it to the current 7th position.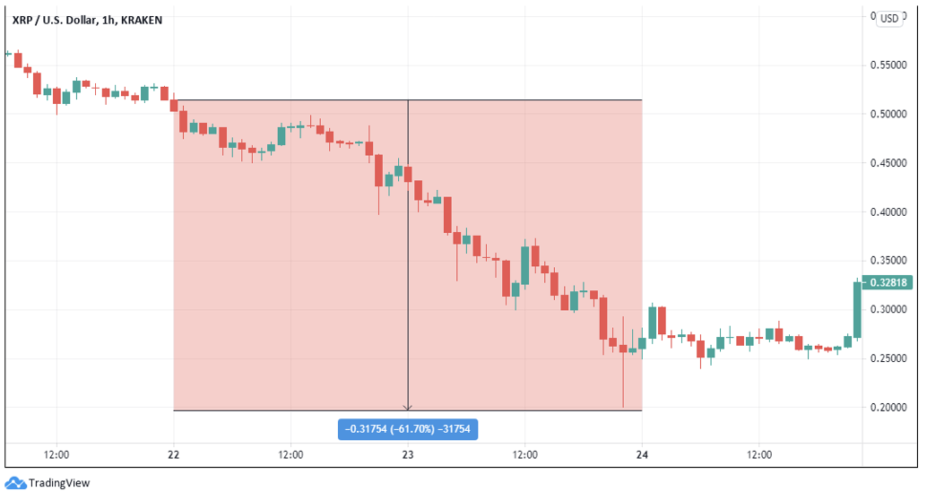 What Happens if Ripple loses the SEC Lawsuit?
In another interview with CNN, Garlinghouse (CEO, Ripple Labs) emphasised that Ripple will focus on its operations outside the U.S. if they lose the lawsuit. He said Ripple's abroad operations are growing exponentially, pointing out that Ripple has signed over 20 new financial institutions globally since the SEC filed their lawsuit.
Ripple 2021
As of April 2021, there have been no settlement talks between the SEC and Ripple, nor is there an ending in sight for the lawsuit. Talking to Bloomberg on March 31, 2021, Ripple CEO Brad Garlinghouse expressed optimism that Ripple will win the SEC lawsuit or at least have a chance for a settlement once Gary Gensler takes reigns as new SEC Chair.
However, XRP has defied all odds and gained over 230% since January 2021.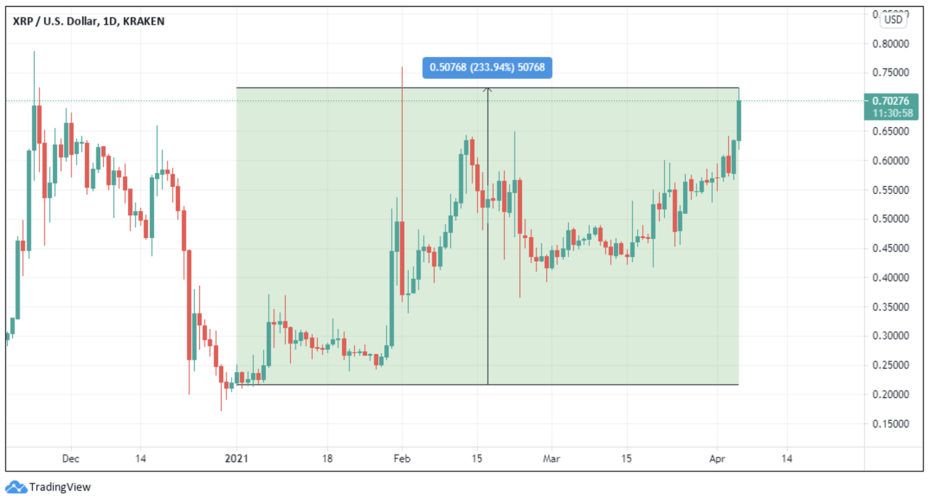 Ripple – Technical Analysis
XRP/USD – On The 'Weekly' Timeframe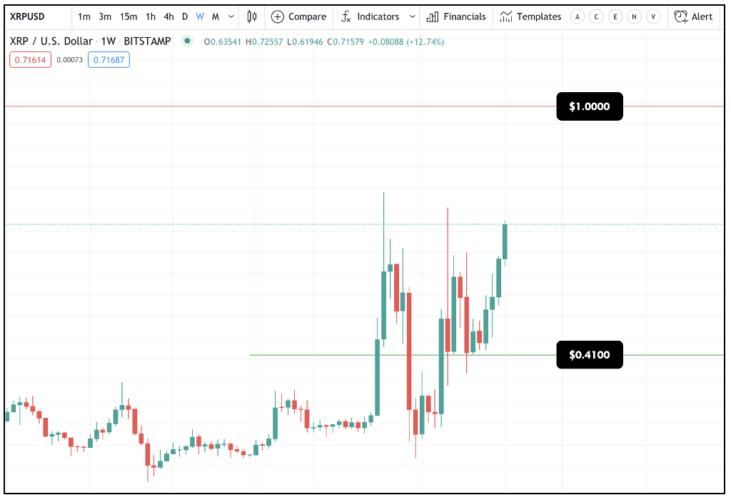 Ripple (XRP/USD) has been experiencing a bullish rally for the past four weeks. As you can see in the above price chart, this crypto has closed four weeks with strong green candles, with closing prices higher than the previous one. We can also notice that Ripple has not experienced this kind of strong bullish momentum in the past. At the time of writing, the price of this crypto was hovering around $0.7148. Note that Ripple touched this price point a couple of months ago, and before that, it was in May 2018. Now let's analyse XRP/USD on the daily and weekly timeframes as we have observed a strong buy strength in the market for this crypto right now.

Ripple (XRP/USD) – On The 'Daily' Timeframe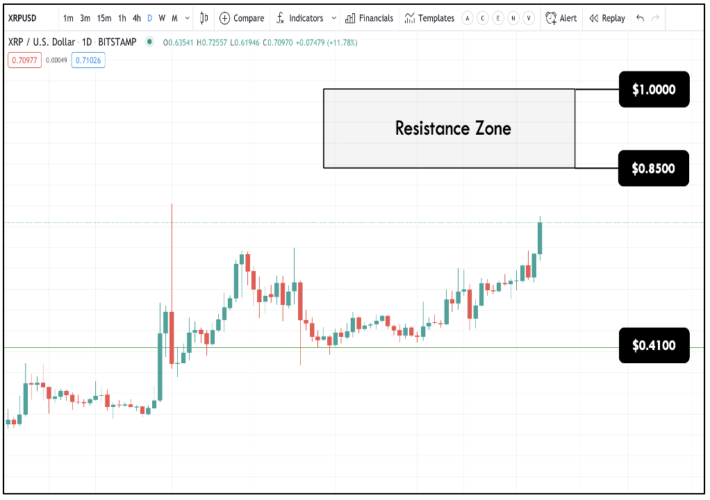 On the Daily timeframe, the support zone for the XRP/USD crypto-fiat pair is at $0.4100. As shown in the above price chart, the resistance zone for Ripple is currently ranging between $1.00 & $0.85. The price could reach the lower end of the resistance zone if the bullish momentum continues. The last couple of green candles indicate a clear buying momentum in this pair. In case of any adverse scenario, the price can take support from the $0.4100 or $0.5908 (4-hour support) levels and then shoot up to the north to make a brand new higher high.
Ripple (XRP/USD) – On The '4-hour' Timeframe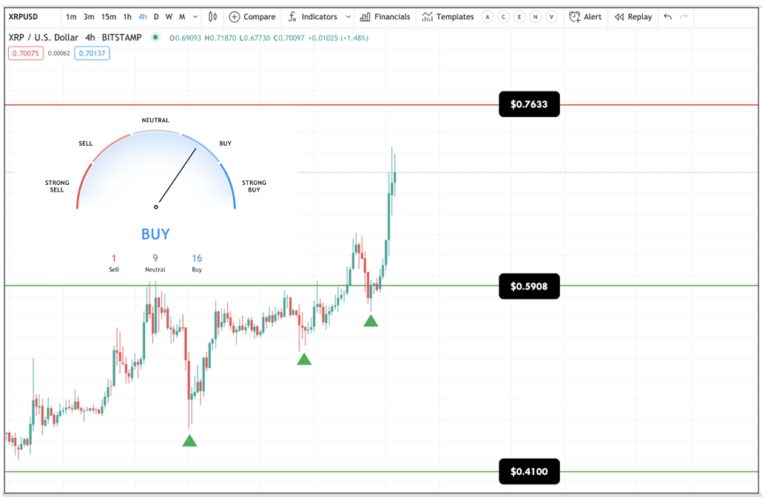 The support and resistance levels on the 4-hour timeframe of the XRP/USD pair are at 0.5908 and $0.7633, respectively. We can see the price making a series of lower highs, as indicated by green arrows. This is a clear indication of the buying trend, and we can also see the market sentiment being in the Strong Buy zone according to many technical indicators and oscillators.
We find this the perfect time to jump in and catch the trend to make the most of this rally. You can easily buy Ripple by comparing its price on our curated list of credible exchanges in the market.
Ripple Expert Predictions  
Investing Haven
Investing Haven has a bullish outlook for XRP through 2021; they have a target of $0.8 in the short term and up to $20 in the longer term. Their research team has one of the most astonishing accurate track records in predicting crypto prices.
Oracle Times
Oracle Times is a crypto news platform. They anticipate that in 2021, XRP will surge over 2000% despite the hiccup with the SEC lawsuit. This means that they expect Ripple to hit $10.
Capital.com
Capital.com's analysts do not have an entirely optimistic outlook for XRP. They anticipate that the fallout from the legal battles with the SEC will weigh down on its price. They have an average price range of $0.3 and $0.5 by the end of 2021.
Ripple Coin News
Crypto analysts at Ripple Coin News have a cautiously optimistic outlook for XRP in 2021. They expect a further 73% bullish rally which would push XRP to a little over $1.1.
We hope you find this article useful and informative. In case of any questions, please let us know in the comments below. Cheers!
Bybit Bonus Bash
Up to $1000 Bonus upon deposit + $10 Coupon regardless the deposit amount. Also check out their $400,000 trading competition
Win Crypto for Free
Compete against others from around the world and the most profitable players each month win real cryptocurrency. It is free to enter so you have nothing to lose..
Crypto, Stocks, Copy Trading
eToro is one of the easiest places to buy crypto and a recognised brand in the financial industry. You can also follow and copy trade the most successful traders on the site
Kraken Review
Kraken has a good reputation for security and protection of your funds and operates across the USA (except NY), Canada, the EU and Japan
eToro Review
An Israeli fintech startup well known as a social trading broker, eToro has now over 10 million users worldwide. If you want to trade CFDs of most popular stocks, gold, shares or commodities as well as some crypto eToro is an interesting choice.
Litecoin Review
An early alternative to Bitcoin, LTC aimed to be a coin for easy, fast, low-fee spending. LTC offers a faster block time and a higher transaction capacity in comparison to Bitcoin.
Ethereum Review
The leader in programmable money, smart contracts and decentralised applications. There have been many copycats but none have the community and level of adoption.