News
/ These Markers Suggest New Bitcoin (BTC) Peak
These Markers Suggest New Bitcoin (BTC) Peak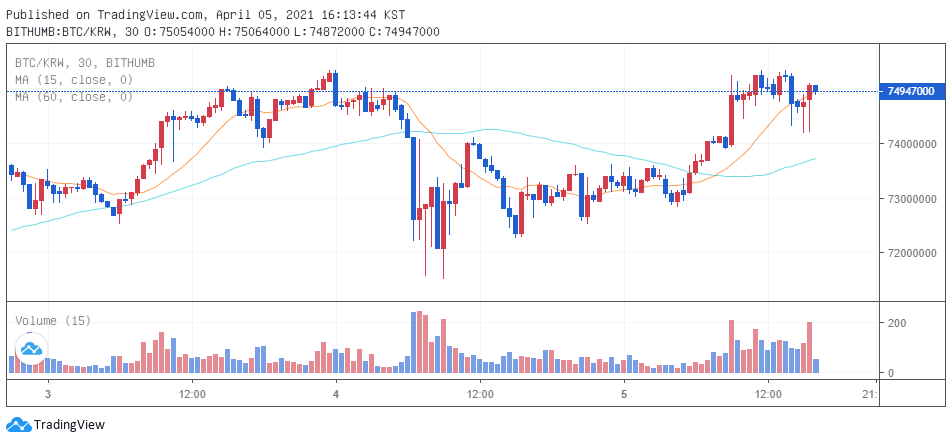 The second quarter of 2021 starts with the realization that there is simply too little Bitcoin (BTC) to go around. BTC was intended for scarcity since its inception, but the real effect of coins not available for sale is starting to look more obvious.
Since the summer of 2020, only 900 new BTC are minted each day. New, unmoved coins are especially valuable and cannot be traced to potentially problematic uses in the past. With corporate demand rising, those new coins are barely enough to satisfy the need to hold some BTC.
Of course, BTC has a futures market which is independent of the actual amount of coins. But there are signs that more and more actual BTC is locked away in personal holdings. There are other signs that spot BTC buying may become more difficult.
One of the most significant markers is that exchanges have very little BTC for sale. The estimation is for around 2.4M coins, after record outflows happened in the past few days. Currently, there are still sellers, though there are expectations for scarcity to continue.
In general, exchange flows for BTC have slowed down, as traders may bet on price swings through stablecoins. This is a risk-free way to hold onto the actual BTC, while speculating on price moves.
Miners Hold onto Coins
After a long stretch of selling to cover costs, BTC miners have shifted their operations. BTC covers costs for most miners at around $10,000 per coin, and the recent spike in valuations managed to boost their balances and foot their electricity bill.
Over the course of 2021, miners slowly decreased the release of new coins on the market, and are starting to accumulate BTC.
Despite the accusations of an outsized ecological impact, mining continues near all-time-high rates, mostly boosted by hydroelectric power. May is peak season for BTC mining due to the rainy season in China, and a traditional time of highly active mining. Most BTC operations rely on renewable power generation, especially downstream electric generation which utilizes water from bigger hydroelectric plants.
Liquidations Slow Down
When it comes to trading, BTC behavior is also signalling a shift in attitude. In the past, liquidations happened often, as BTC prices would swing by thousands of dollars. For a while, markets are showing relative stability, with few positions liquidated.
Long positions are more rarely challenged in the past weeks. Those conditions may change rapidly, but for now, they indicate an expectation BTC will not make rapid downward moves.
Long-Term Owners Won't Let Go
Long-term owners may have been tempted to sell some of their holdings during the run-up to this year's all-time highs. But as prices of BTC held just under $60,000, selling tapered off. Most long-term holders are in the money since BTC crossed $20,000, so waiting out the market moves may be easier.
Currently, most BTC is already off exchanges and into private wallets. An estimated 3M coins may be locked forever in some form, due to lost keys or inactive owners.
In the past few months, there is a prevalence of 1,000 BTC wallets holding onto the coins, while smaller wallets under 100 BTC tended to be sellers.
Consolidation Happening Around $55K
BTC prices are still relatively stagnant just under $60,000. Some of the short-term price boost comes from the Korean markets, where the asset trades at a premium.
Currently, demand for BTC is coming from the attempted creation of exchange-traded funds. Other investment entities like Grayscale also add to their holdings. Since most large-scale BTC deals are often happening on OTC desks, they may not affect the open market that much.
Altcoin Season Points to Strong BTC
The market cap dominance of BTC is going down in the past few days, from its usual range above 60% to around 56%. But this weakness is deceptive. BTC has shown relative stability, and this has allowed altcoins to boom, taking over some of the market value.
Altcoins are already offering faster returns in comparison to BTC. The addition of NFTs has taken the attention off the leading coin, and speculative trading has moved to other markets.
BTC remains the most liquid asset with the most reliable markets. But its price swings are losing out to the upside potential of altcoins.
Over the weekend, BTC hovered just under the $60,000 range, but saw some selling pressure in the short term. On Monday, the market saw a small slide toward $57,900. Due to a trading anomaly on Bithumb and localized Korean trading, the price has reached the equivalent of $66,574 in the pairing with the Korean Won.
Bybit Bonus Bash
Up to $1000 Bonus upon deposit + $10 Coupon regardless the deposit amount. Also check out their $400,000 trading competition
Win Crypto for Free
Compete against others from around the world and the most profitable players each month win real cryptocurrency. It is free to enter so you have nothing to lose..
Crypto, Stocks, Copy Trading
eToro is one of the easiest places to buy crypto and a recognised brand in the financial industry. You can also follow and copy trade the most successful traders on the site
Kraken Review
Kraken has a good reputation for security and protection of your funds and operates across the USA (except NY), Canada, the EU and Japan
eToro Review
An Israeli fintech startup well known as a social trading broker, eToro has now over 10 million users worldwide. If you want to trade CFDs of most popular stocks, gold, shares or commodities as well as some crypto eToro is an interesting choice.
IOTA Review
Also carrying the MIOTA ticker, this asset relied on coordinating multiple wallets in a directed acyclical graph (DAG) instead of a blockchain. The IOTA project had problems with its hashing algorithm and later suffered from lost coins and connectivity problems leading to the need to re-coordinate the network in a series of updates. The IOTA community remains strong, aiming to achieve the coin's initial usage as a tool to facilitate the Internet of Things (IoT).
Bitcoin Review
The first cryptocurrency. It has limitations for transactions but it is still the most popular being secure, trusted and independent from banks and governments.