News
/ US SEC Investigates Binance ICO for Security Status
US SEC Investigates Binance ICO for Security Status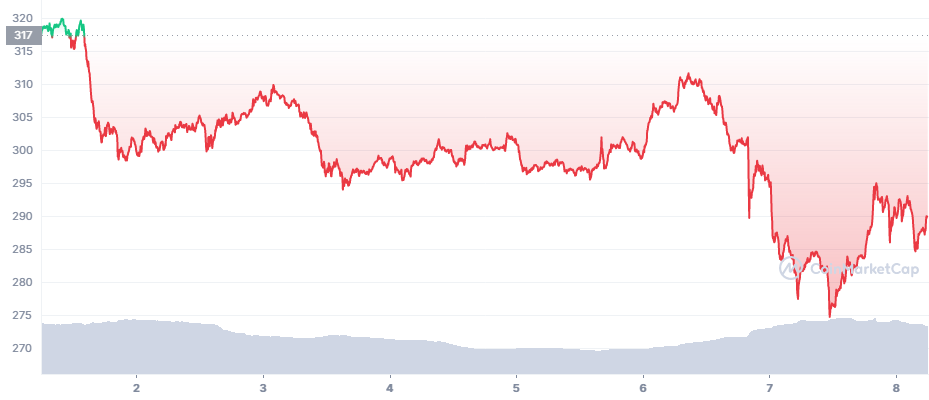 The Binance International exchange, which held its token sale in 2017, has fallen under the scrutiny of the US Securities and Exchange Commission. The SEC investigates whether Binance Coin (BNB) was sold with the intention of acting as a security. 
Binance International does not operate directly on US territory, and US traders are banned from accessing the platform. However, Binance.US offers similar services, through with fewer token listings.
The BNB sale was a relatively modest ICO, selling 100M BNB for a total of $15M. As such, the Binance token sale was actually small by the 2017 standards. Later, projects like Tezos would raise as much as $400M in BTC. However, Binance was one of the most successful crypto-financed projects, turning into a central hub for crypto activity.
BNB ownership does not bring dividends unless the token is specifically staked or locked. The token has limited voting rights as even Binance Smart Chain is controlled by validators with a minimal input from small-scale owners.
Is BNB a Security
BNB is a token with multiple uses, offering special rights to its holders. However, there is no agreement whether BNB was sold in a way that would satisfy US-based rules on unregistered securities.
So far, the US SEC has issued cease-and-desist for some ICO projects, though covering only a small part of the ICO boom in 2017. Most projects continue with no interference from regulators.
BNB gives the right to lower trading fees in some trading pairs. Additionally, BNB holdings are used to determine eligibility for NFT sales on the BinanceNFT platform. BNB is also borderless and can be swapped from within wallets or on decentralized exchanges. 
The BNB ICO happened at $0.15 per token, with the aim of having a digital asset to be used for paying Binance Exchange trading fees. BNB is also burned regularly based on fee inflows, thus decreasing the supply while raising the value of the remaining tokens.
What are the Consequences for Binance
The Binance International Exchange is incorporated in Malta, making use of its special crypto usage regulation. Locally, Binance operates with some limits, for instance taking months without SEPA transactions from the EU before renewing them.
At the current moment, there is just an early investigation of BNB, with no predictable outcome. Similar investigations have happened for Ethereum and Ripple's XRP, overall swept away by other market force. 
BNB Dips Under $300
BNB extended its slide, sinking to $282.62, though the dip coincided with another downturn on the crypto markets. The BNB slide happened right after Bitcoin (BTC) faced resistance above $31K and a liquidation cascade brought it back to the $29,400 range.
BNB also participates in direct trading pairs, giving liquidity to less prominent tokens. After the token dipped, the total value locked on BSC fell to 8.1B, down from a peak of $33B in notional value. BNB is highly important as a source of liquidity for PancakeSwap.
The PancakeSwap DEX is key to a series of projects, including DeFi, gaming tokens and other trades. The DEX makes up for more than 47% of the value locked on Binance Smart Chain. Thus, the performance of BNB will affect not only the 100 trading pairs of the token, but multiple liquidity pools.
The Binance exchange currently carries more than $13B in daily trades, and is one of the most active trading hubs with the potential for unexpected fast rallies. BNB may also become attractive as its current level is seen as too low. During the bull market, some of the predictions saw BNB rising to four-digit valuations.
What are the Consequences of Breaking Security Law
In the past, the US SEC has fined projects for selling their tokens. However, some projects actually went on to pay the fine and continued working.
With value locked in the crypto market, very few projects have stopped working after regulatory scrutiny. The biggest obstacle is that some assets may be removed from exchanges, though that is done in a voluntary way.
However, BNB is so entrenched in the crypto ecosystem that it would be impossible to delist without significant consequences. In the meantime, Binance also turned into a platform for additional token sales.
Is the ICO Model Broken
The ICO model lasted through 2017 and 2018, reaching peak valuations and easy fundraising for multiple projects. Binance extended the model with its selection of projects, performing a more limited fundraised for Initial Exchange Offering.
Binance thus carried the sales for the next generation of prominent projects, including Polygon, as well as games Axie Infinity and Mobox. Most new projects can rarely gain enough attention for a direct token sale, instead choosing to be more conservative and perform a series of token sales on specialized platforms.