News
/ What Supports Avalanche (AVAX) Rising Price
What Supports Avalanche (AVAX) Rising Price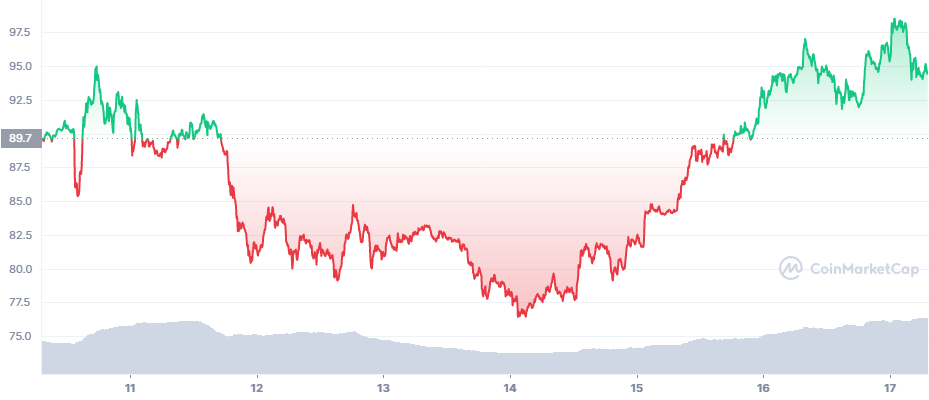 Avalanche (AVAX) turned into one of the more active gainers after Bitcoin (BTC) slackened its rally and returned just under $44,000. With some signs BTC could continue to $50,000 this time, AVAX has the chance to ride along and regain its all-time high. AVAX trading volumes are also close to their higher range, at above $1.7B in the past 24 hours.
AVAX, the native token of one of the biggest protocols, has survived other sell-offs and has performed better in comparison to other assets. It has become a safe haven, often going up together with Terra (LUNA).
AVAX was the sole gainer among top 10 coins and tokens, rising by nearly 6% to $92.88. AVAX recently touched a monthly high at around $95, after bouncing from lows around $55.
Avalanche gained extra attention from a pre-announcement of this year's summit in Barcelona.
Value Locked Protects AVAX 
Protocols on Avalanche lock in more than $11B in notional value, with significant reserves of AVAX staked.
The Aave and Trader Joe DeFi protocols ensure significant turnover for the Avalanche network, along with smaller startups. Avalanche also attracts NFT collections and gaming, due to its high speed and low fees.
In the short term, AVAX was among the most widely traded assets on the Binance exchange, even displacing the trading volumes of Binance Coin (BNB). AVAX has slightly lower liquidity score compared to Ethereum (ETH) and more liquid assets, but still it is relatively easy to move prices both up and down. 
AVAX also managed to displace Binance Smart Chain from its previous position as one of the biggest hubs of value.
The weakening prices of BNB and the rise of AVAX turned the tables, but also demand for an alternative blockchain.
Where is AVAX Going
The immediate expectation for AVAX is to move above $100. AVAX has already moved above LUNA in terms of market capitalization, but would take a higher price tier to "flippen" Solana (SOL).
AVAX mostly depends on its Binance trading pairs and the influence of the OKEx exchange, but is also one of the Coinbase options. AVAX now depends on an eventual revival of bullish trends to move to a higher valuation. 
The current rally remained independent of the BTC price performance, which moved on its own logic based on interplay between leveraged positions.
Can AVAX Crash Again
One of the scenarios for 2022 envisions a new bear market, with this week's rallies just a small blip ahead of a larger price drop.
AVAX has already shown it can erase 50% of its value easily, and has crashed from highs above $134 to the recent lows of $55.
AVAX Added to Wirex Wallet
The AVAX asset and the whole Avalanche ecosystem will be available on the Wirex wallet. Wirex is one of the well-developed fintech applications, also hosting crypto assets.
Wirex has recently partnered to issue a contactless VISA card for US-based users, allowing the spending of all cryptocurrencies held within their wallet.
The wallet will transact in assets on the Avalanche C-Chain, for now not adding X-Chain, the other scaling solution. X-Chain can only be accessed with dedicated Avalanche wallets, while C-Chain assets are also available through MetaMask wallet, compatible with the Ethereum Virtual Machine as well. AVAX tokens can run on both chains and are transferable between C-Chain and X-Chain.
One of the big changes would also be access to all the tokens on the Avalanche ecosystem. Avalanche hosts the tokens of Pangolin Exchange, SushiSwap and other prominent multi-chain DeFi tokens, as well as its own selection of hundreds of token-based projects. Avalanche is compatible with Ethereum, though it has not boasted of being an "Ethereum killer", instead achieving an additional scaling with low fees.
Avalanche Boasts of Green Solutions
One of the advantages of Avalanche is the low energy usage of the network. Avalanche claims it uses under 0.3% of the energy of the Ethereum network, and negligible energy compared to the Bitcoin network.
The Avalanche network's annual energy use is equal to that of 46 US households, compared to Bitcoin's usage of power enough to supply a country the size of Austria.
Because of the ease of use and accessibility, Avalanche is also a hub for NFT collections, with daily airdrops and giveaways. Avalanche hosts Crabada, one of the more popular casual gaming universes, and a potential competitor of Axie Infinity.
The addition of DEX and the passive income potential of Avalanche puts the network as a staple of crypto space, and not only a short-term attempt to pump prices.
Top applications on Avalanche attract thousands of users, a feat for most decentralized startups.