News
/ What the Altcoin Recovery Signals About the Market
What the Altcoin Recovery Signals About the Market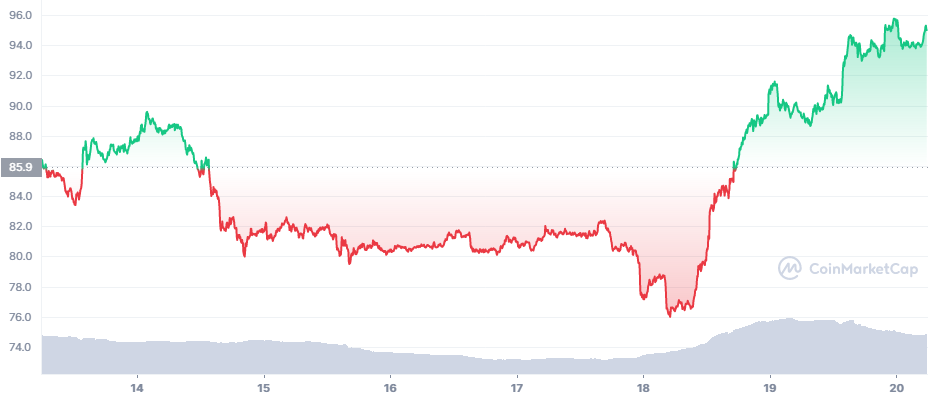 The altcoin recovery followed closely the rise of Bitcoin (BTC) above $41,000. After what looked like a deliberate move, BTC liquidated leveraged positions and set for a new market direction. BTC regained to $41,404.53, while Ethereum (ETH) broke above the $3,100 range.
Among the most active gainers was once again Terra (LUNA), which has built a reputation of going against trends. LUNA added 17% at the peak of the rally, again trading above $97. Terra is a project closely watched for its moves of acquiring vast crypto reserves, with BTC a priority asset. DeFi platform assets were also among the biggest earners, while pure platform tokens and older coins kept stagnating.
Recently, Terra also acquired CVX tokens, becoming the biggest DAO to join Coinvex Finance. 
CVX responded to the news, by adding 5.9% overnight to $27.62. The Terra ecosystem has also bridged to several protocols running hot now, making their assets a potential collateral for UST minting.
The aggressive policy of Terra also made Terra USD (UST) the third-largest stablecoin, surpassing Binance USD (BUSD). UST now carries more than 9.5% of the entire stablecoin market cap, with a supply of more than 17B. UST is still lagging behind USDC and Tether (USDT), which still provide the main sources of liquidity for centralized trading.
UST is also instrumental to the decentralized ecosystem, as it can move between multiple protocols. While Terra is now a growing hub of value, it is also a risk point. To an extent, the price of LUNA may be regulated by using some of the UST, hence the skepticism that LUNA is fairly valued.
Yet the protocol remains appealing to investors, as signaled by yet another rapid recovery.
NFT Mania Returns: APE Moves Again
ApeCoin (APE) is yet another piece of evidence of the exuberance of crypto markets. Half meme coin, half marketing brand, APE rides on the fame of Bored Ape Yacht Club (BAYC), one of the most valued NFT collections. 
APE rose by more than 14% on Tuesday, returning to $13.31. The project has many connections in both centralized hubs and decentralized projects, promising many future developments in gaming and collections.
Apecoin is a project focusing on publicity and adoption from vendors. Similar to BAYC, Apecoin wants to bridge into the physical world community. In a recent partnership, Apecoin hinted at making a movie about the project, and is working on a blockchain game coming in Q3.
What Made THORChain Rally
RUNE, the native asset of THORChain, rallied above $9 after breaking out from one-month lows.
The expansion of RUNE follows a recent liberalization of value protocols, raising the TVL above $1B.
THORChain is still a relatively small-scale decentralized protocol, getting a boost from an expected inflow of whale accounts. THORChain, which suffered a white hat attack against one of its bridge smart contracts, is careful to offer maximum security for its DeFi protocols.
THORChain also benefits from recent mentions on social media, but is yet to prove its power as a DeFi protocol. So far, the project is among the top 10 networks, but has to show its potential to resist market volatility.
Waves (WAVES), a previous speedy winner, had a breakdown from its peak at $63, ending up at around $20. The rapid crash unraveled the basis for its stablecoin, USDN, raising skepticism about multiple startups attempting to push algorithmic dollar-pegged tokens.
STEPN (GMT): Why This New Arrival is at ATH
GMT, a token that started trading a week ago, made a series of all-time highs. GMT rallied by more than 22% in a single day at one point, to stand at $3.76. A new token is capable of such feats, but GMT also rose on volumes above $4.5B, unusual for a newly launched asset.
The chief reason is that STEPN managed to assure an immediate Binance listing with a 857 liquidity score on the GMT/USDT pair. 
STEPN extends the BAYC trend, advertising itself as a Web3 lifestyle app with gamified social media elements. GMT is the asset for a social running app, which also relies on NFTs of customizable sneaker models. GMT and other perks are awarded when the player goes outside and moves with their GPS turned on. The appeal of the game is in selling potentially unique sneakers to be shared as swag for the running achievement.
GMT is yet another show of the exuberance of the crypto market. The asset is still in the price discovery stage, but has appeared as a fully formed opportunity to buy into a new type of play-to-earn game.