News
/ Why Avalanche (AVAX) Shifted its Focus from DeFi
Why Avalanche (AVAX) Shifted its Focus from DeFi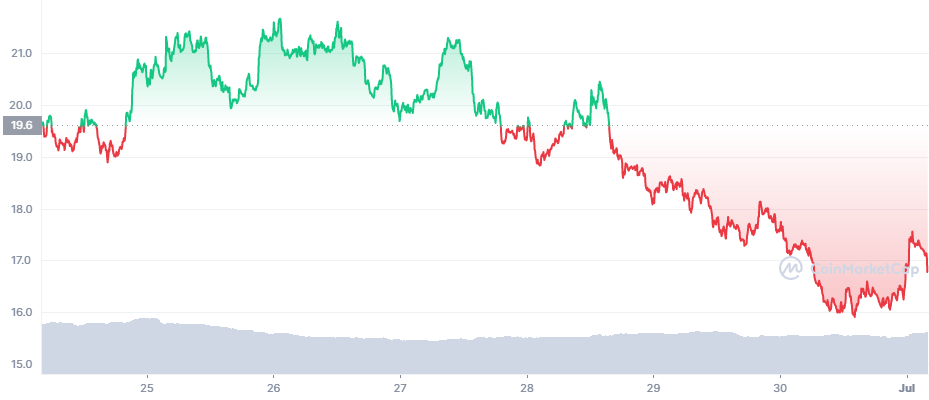 Avalanche (AVAX) is one of the L1 solutions which gained prominence during the 2021 bull market. Along with Solana (SOL), AVAX was a top 10 token with a valuation above $100. 
The unraveling of LUNA and Terra LFG brought down AVAX as low as $15. Later, AVAX recovered closer to $20 and the asset is trying to reinvent itself with new apps. While DeFi brings in an impression of significant value, most of the projects are copies of similar apps.
DeFi Still a Tool for Web3 and Gaming
DeFi projects may still be the key for growing a gaming and Web3 ecosystem. The layer of finance and exchanges allowed for the fast tokenization of projects, creating building opportunities. 
Avalanche shrank its share of DeFi holdings down to $2.7B, down from more than $13B at the peak. AAVE remains the most important protocol, holding about 40% of the value.
But Trader Joe, the leading DEX on Avalanche, is also growing. One of the most powerful tools is the recently launched exchange is a bridge to import Bitcoin (BTC) for collateral purposes and for decentralized trading. 
Now, Trader Joe is trying to offer a different model with new DeFi tools.
JOE, the native token of the exchange, is also highly liquid, trading at $0.22. Currently, JOE is near its lows, but has started a tentative recovery in the past few days. JOE has reached peaks above $4.50.
Avalanche Offers Active Communication
Avalanche and its ecosystem are shifting their message toward Web3 and gaming. Avalanche is creating easier tools for digital ownership and NFT displays.
NFT on Avalanche can work with smaller gas fees, while also gaining more intuitive tools to display and trade. Avalanche recently released Core, a one-stop-shop to all of its projects. The ease of use removes barriers to access, such as the need to set up wallets manually. NFT displays are also easier, with no need to log onto marketplaces or sites to view and move the collectibles.
Will AVAX Recover
AVAX trades close to $20, though still far from its all-time highs above $130. AVAX also fell from the top 10 of assets, with some expectations of returning as a top platform.
The most optimistic price predictions see AVAX as a token with a 10X potential in the case of a bull market. Even with current valuations, the Ava Labs team is one of the most actively adopted networks, hosting games like Crabada and multiple upcoming gamified NFT collections.
AVAX may also go lower in the short term, with expectations of sinking to around $18. Avalanche still has loyal adopters unwilling to sell, and some of the tokens are used for gas fees. This behavior suggests AVAX may not fall much lower, but may cut short most of its rallies as overall market recovery is still far off.
Avalanche Aims at Reaching Institutions
The Avalanche team aims to build up its network to be suitable for business goals and institutions. A full development stack for NFT and Web3 projects raises hopes of attracting venture capital and big partnerships in the industry.
One of the most attractive features of Avalanche is its random sampling consensus. The platform uses multiple validators to ensure no conflict in the distributed ledger. Unlike Solana, Avalanche has not stalled, and it has not lost tokens like other distributed networks built earlier – IOTA or NANO. The other attractor is the speed of running smart contracts with low gas fees.
Subnets are a tool for projects to customize the user experience, while also assigning their own utility tokens. Currently, Avalanche carries five subnets, of which three belong to already launched or upcoming play-to-earn games. There are also two highly active test subnets for projects intending to test Avalanche before committing. There are expectations for up to 50 subnets created toward the end of 2022, with some projects choosing to run a testnet first.
Any person or organization can launch a subnet, taking less than a day and little technical specialization. Subnets are additionally secured by the main Avalanche consensus mechanism, but they can also assign their own nodes and validators.
Avalanche also becomes more attractive for retail investors, with a recent series of free NFT mints offered by various projects. There is no way to determine if the NFT will have significant value, but some collections may take off and rise to the top on Kalao or other marketplaces.
After two years of delayed crypto conferences, Avalanche is also organizing an in-person meeting in New York, following the recent NFT meetup.