News
/ XRP Makes Return on Potential Breakthrough of US SEC Case
XRP Makes Return on Potential Breakthrough of US SEC Case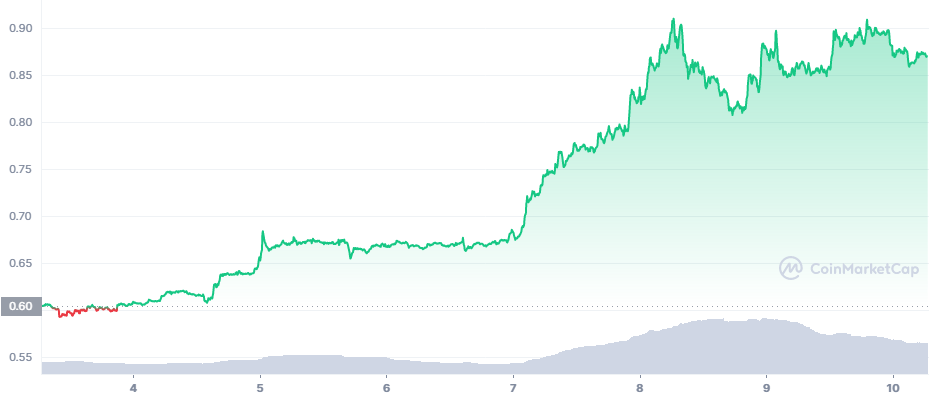 XRP, the asset launched by Ripple, Inc., is breaking out in the past week. XRP spent most of 2021 with no significant growth in comparison to other assets, while also failing to return to its all-time high. One of the reasons is that the uncertain security law status of XRP led to a delisting from Coinbase and a loss of US-based buyers.
XRP also lost the confidence of becoming the go-to asset for the entire crypto market, and was also displaced by other hot coins and tokens with more dynamic trading. But over the last week, XRP reached $0.86 after growing by more than 44% in the past seven days. The immediate challenge for XRP is to vault the $1 tier again, while also aiming to break $2 within weeks. 
XRP's recovery was only approached by Avalanche (AVAX), a token known for its rapid gains. AVAX is up 28% in a week up to $89.65. XRP continued as Bitcoin (BTC) also recovered from its temporary dip and traded closer to $44,000. 
Binance Airdrop Helped XRP Holders
Binance recently announced it completed a new token airdrop to all XRP holdersb. The expectation and run-up to the airdrop helped XRP extend its rally in the past few days. 
There is no expectation for rapidly selling off XRP, as the snapshot for the distribution was completed on December 24, 2021.
The Sologenic (SOLO) distribution will expose XRP holders to th Sologenic network, capable of tokenizing securities. SOLO traded at $0.54, down from a peak of $5.99 as of December 2021.
Binance only airdropped BEP-20 versions of the SOLO tokens, and is still not opening deposits or withdrawals for the mainnet of Sologenic. SOLO is held in more than 194,000 addresses on Binance Smart Chain. SOLO is also a token existing on the Ripple protocol, opening the doors to tokenization. 
SOLO holders may be eligible for Coreum (CORE) airdrop in February, though with unknown Binance support. CORE will have monthly snapshots and distribute tokens to the Sologenic community throughout 2022.
Ripple Vs. SEC: Resolution Not Easy or Near
Despite a breakthrough on the case, the resolution on the exact security status of XRP is unclear. Now, the SEC claims Ripple, Inc. received a fair warning that issuing, airdropping and selling XRP would be problematic under security law.

Ripple, however, claims it did not receive any specific directions from its legal counsel back in 2012. The US SEC also let XRP trade for years before raising issue with the security status of the asset.
In the short term, XRP has reacted before to potential breakthroughs on the case. But a long discussion may still be ahead, with no clear answer on the meaning and impact of the decision of Ripple and the legal counsel. Some of the more optimistic predictions envision April 2022 as the potential day for a resolution.
How High Can XRP Go
When listed on Coinbase, XRP managed to peak very briefly above $3, which became the asset's all-time high, never to be repeated. Since then, XRP moved between lows of $0.19 and temporary highs above $1.
In case of a favorable decision and a relisting, predictions for XRP include a range as high as $10 and reaching outlandish valuations around $100. To compare, Cardano (ADA) with 33B in circulation easily touches $3, and this range remains viable for XRP.
The price appreciation also depends on how much XRP is sent to exchanges. So far, Ripple has not sold most of its holdings held in escrow until 2025. XRP has moved outside the market trends, and may continue to have its own driving factors.
Ripple Predicts Digital Assets as Part of Fintech Space
Ripple, Inc. has shown significant interest in fintech solutions, taking onboard services that do not necessarily require XRP. Initially, the idea was for XRP to be used for transfers and burned, thus eating up the supply and making the asset valuable. XRP was distributed to banks and organizations for testing and airdropped to early adopters.
Ripple now hopes on a pickup in international remittances and an economic recovery, bringing up the numbers in fintech and its own payment services.
Will XRP Appeal to Crypto Supporters
XRP may serve as another low-priced trading entry point with expected rapid appreciation. For critics, XRP is quite distant from traditional blockchain assets, as it uses a series of known servers.
XRP also arrives at a time where mainstream interest has shifted to gaming tokens and NFTs, abandoning previous hot gainers. XRP will have to rebuild its appeal and compete with a new set of asset in a market of growing volatility for almost all types of coins and tokens.