News
/ Bitcoin (BTC) Jumps at Monthly Close, Altcoins Recover
Bitcoin (BTC) Jumps at Monthly Close, Altcoins Recover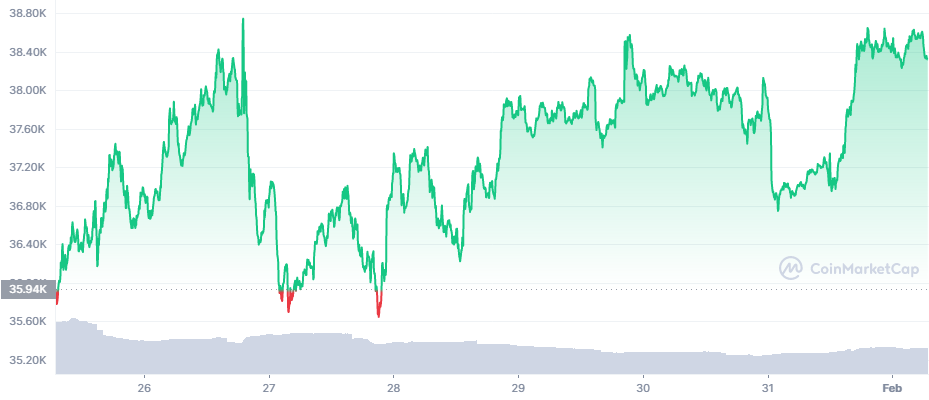 Bitcoin (BTC) only managed to recover to $38,000, while sparking some fears of another "crypto winter" of undetermined length. The last period of sliding prices and no significant rallies continued for nearly three years with significant slides. One of the hopes is for a faster recovery to $41,000 and a new rally, but another downward move remains a possibility.
This time, the list of addresses with 100 BTC diminished again to levels not seen since September 2021. The number of wallets with over 100 BTC diminished to the lowest level in five years, signaling a potential bear market.
The indicator coincided with recent inflows of coins on exchanges, with the potential for an ongoing price slide.
Smaller retail wallets with between 10 and 100 coins also decreased in number, as well as small retail wallets with less than 1 BTC.
At the same time, wallets older than one year keep holding onto the coins, with growth in coins unmoved for 1-2 years, which are still hypothetically in the money. So far, the behavior of BTC retains the trend of performing the biggest price moves within a short time frame, and spending most time sliding or moving sideways.
The wallet statistics arrive at a time when some prediction charts suggest it may be time to actually buy new coins. Little is known about corporate buyers, who continued to acquire coins at higher prices. There are also signs of dedicated holders not affected by the short-term fluctuations. At the same time, long-term whale buying is still happening, with accumulation on some anonymous wallets.
Buying and selling inflows can change within days, and can be only a sign of short-term profit-taking.
BTC Trades on Decreasing Leverage
Both physical ownership and leveraged trading for BTC is growing tentatively, and actually diminishing on some exchanges like Kraken. For other markets, leveraged trading is picking up slowly.
Leveraged trading can exaggerate price moves in both directions. The short-term expectation for BTC is to reach above $40,000 and possibly end the downward trend. A more prolonged "crypto winter" scenario is also possible.
The current price action has not reflected the Chinese New Year event as in previous years. One of the reasons is that traders from mainland China were already expelled from major exchanges, which remained open to international traders.
BTC Monthly Close to Set Trend
The BTC monthly close was expected to give some direction to the market. Some predictions envision a further slide, as low as $30,000.
More dramatic predictions see BTC in a bear market in the coming year, instead of the previous expectations for a short backtrack and a new price high above $70,000.
Pessimistic predictions may also continue to affect altcoins, which remain more risky for heavy losses in a bear market.
So far, the price drop has left BTC with market cap dominance of 42.1%, a slight advantage to altcoins.
Will ETH 2.0 Arrive
One of the hopes for 2022 is that Ethereum will continue to grow, possibly launching as ETH 2.0. The ETH 2.0 smart contract has now locked in more than 9M tokens, and continues to accept deposits, which cannot be withdrawn before the network launches. 
Deposits also accelerated in the past few weeks.
But there are some rumors Ethereum developers may be unable to launch the staking network as a complete product. One of the options is to introduce some form of staking-based verification with passive rewards.
For now, the ETH 2.0 contract still takes away about 9% of all supply from the market. An additional 1.7M ETH has been burned as fees since August 2021.
ETH has lost some of its dominance, taking up 17.2% of the entire crypto market capitalization. The asset stabilized above $2,700 with some signs of slowing miner revenues. 
Altcoins Recover Faster
Despite the shakedown, altcoins still recover relatively fast. Terra (LUNA) returned above $50 after losses linked to Wonderland DeFi.
FTX Token (FTT), the native asset of the FTX Exchange, was also among net winners, trading above $43. The FTX exchange remains one of the growing markets for international traders, building up significant BTC derivative trading liquidity.
The Sandbox (SAND) was among the big winners, adding more than 40% in a single week. The game token returned close to its usual level around $4. The Sandbox has built one of the most prominent blockchain-based games with a metaverse world of blocks and digital land plots. The Sandbox is also the source of NFT items, and hopes to release a public beta of its game. The Sandbox aims to take a cut from demand for Minecraft-like games, and so far the SAND token reflects the success.