News
/ Bitcoin (BTC) Sparks Expectations of Big Breakout
Bitcoin (BTC) Sparks Expectations of Big Breakout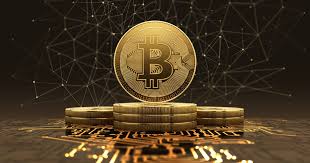 Bitcoin (BTC) has attracted all attention on the crypto market, while tokens and altcoins are still lagging. The rapid hike from months of sideways action to a rally above $55,000 reignited expectations for rapid appreciation in the coming weeks.
BTC traded at 54,739.38 during the Asian trading session, briefly hiking again above $55,100. BTC slid slightly, remaining in the $54,000-$55,000 range while sparking hopes of potential peaks at $70,000 in the coming weeks.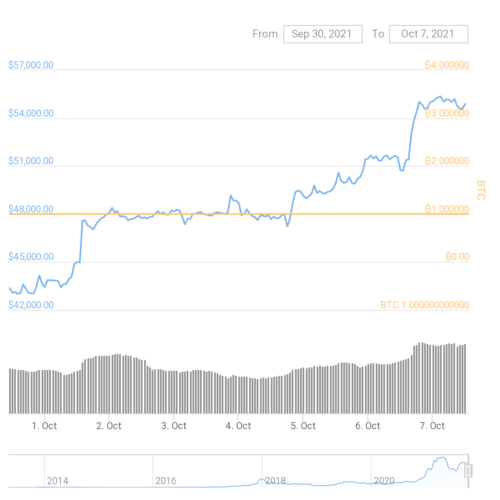 The most recent rally fulfilled expectations that a move above $53,000 would be bullish. BTC is now also gaining dominance, standing at above 45.1% of the entire crypto market capitalization.
The market cap dominance measure suggests altcoins are yet to catch up. Ethereum (ETH) is hovering under $3,500 and while it has received a boost from BTC, its rally is still not realized. 
The most recent BTC hike happens at trading volumes above $49B in the past 24 hours. New Tether (USDT) printing has slowed down, and the coin's supply has stalled at around 68B tokens.
$60K May Be Next
BTC is not showing signs of stopping in the short term. The most recent price hike followed an anomalous, large-scale order on the open market, suggesting a BTC "whale" activity for spot buying.
The unusual order worth $1.6B breaks with the general behavior of large-scale buyers, who either phase out their buying, or use OTC desks to avoid causing price swings.
Rapid price action after a long consolidation re-sparked hopes of BTC recovering its all-time high above $64,000 and continuing to new records. The next stop for BTC is seen as $60,000 with little price resistance.
Overnight, sentiment has shifted to "extreme greed" based on trading behavior, reaching 76 points on the Crypto Fear and Greed Index. BTC trading has touched levels not seen in a month, entering a period of more exuberant trading with rally expectations.
Is Trading Different in 2021
The trading in the last quarter of 2021 may be different compared to previous short-lived rallies. The chief difference is that spot trading is back, with interest in real BTC coin accumulation. The past weeks saw new coins taken off exchanges and entering both large-scale and small-scale wallets.
CryptoQuant notes an outflow of BTC volumes from derivative exchanges and into spot exchanges. One of the reasons may be the phasing out of high leverage for new accounts and the de-risking of Binance futures markets. 
According to CryptoQuant, BTC enters the fourth quarter with support recalling the fall of 2020, when BTC moved to five-digit valuations for the first time in history. The Bitcoin network hashrate is on track to double since its yearly lows in May, when large-scale mining farms switched off their equipment. For now, miners are mostly holding onto their coins and expecting much higher prices to sell.
The other reason may be the decision to hold onto BTC in a self-custodial wallet. BTC has also entered the DeFi space as collateral.
Traders Still Waiting for Altcoin Season
The rapid price appreciation may be starting to create "fear of missing out", pushing even more extreme buying decisions. Crypto demand is expected to surge both for BTC and coming soon, for all other assets. CryptoQuant analysis also supports the growing market hype.
For now, the chief driver of growth remains the BTC price and its drive to a new all-time high, possibly above $100,000. BTC has already recovered the valuation of above $1 trillion. But the value is yet to spill into altcoins.
The Bitpanda index of BTC and altcoin interest is still neutral, suggesting a mostly BTC-based market. Growth of this index may suggest a move to the more volatile, high-return altcoins.
Despite the uncertainty, altcoin accumulation is still happening in anticipation of more significant breakouts.
SHIB Already Leading Altcoin Hype
One of the trading surprises in the past day was SHIB, which continued its upward hike for the second day of rapid growth. SHIB is now on track to repeat its all-time high from May 2021, after adding another 32% to its price overnight. 
The SHIB price reached $0.00003117, a significant feat achieving a factor of 10,000 in growth since the start of 2021. SHIB turned into one of the most actively traded assets, causing a crash on Coinbase markets. 
The SHIB/USDT trading pair on the Binance exchange is also about 30% more active compared to the BTC/USDT market pair. The performance of SHIB is also showing that not all altcoins and tokens are equal, and a large social media community may boost some assets, while others lag.