News
/ Bitcoin (BTC) Rallies, Triggers DOGE, SHIB Exuberance
Bitcoin (BTC) Rallies, Triggers DOGE, SHIB Exuberance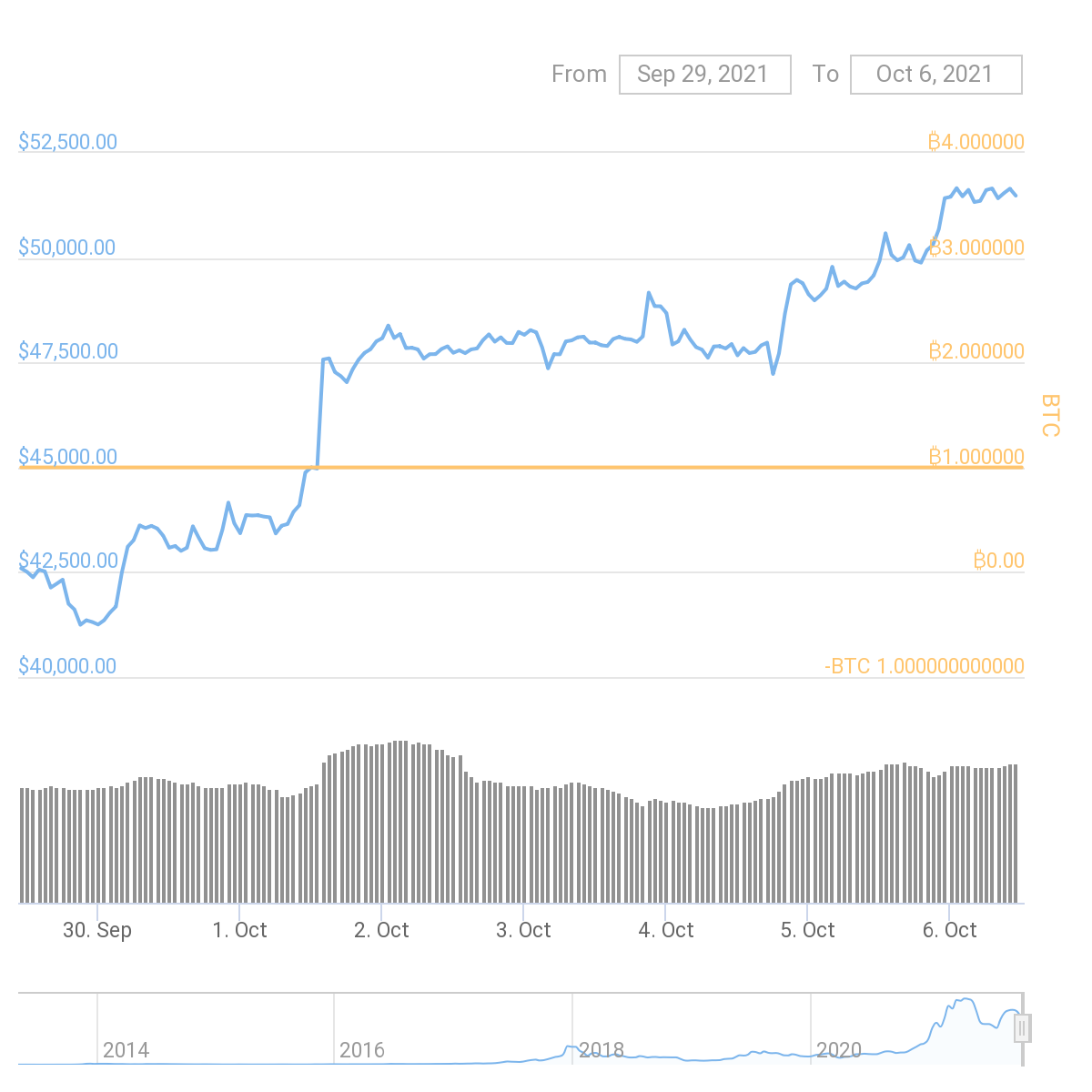 Bitcoin (BTC) reawakened in the past few days, breaking out above $50,000 with ease. Mid-week, BTC continued its upward trek on improved sentiment, trading at $51,727.72. The BTC rally was extended fast, leaping to a new range within minutes. 
BTC trading volumes are also gaining, to above $35B in 24 hours, as the leading crypto coin is giving off signs of a significant October rally. The next step for BTC is viewed as conquering the $53,000 range, potentially staging a bigger breakout. 
The most recent BTC rally is one of the signs for crypto exuberance returning. The BTC market cap dominance is also slightly recovered, to 43.9%, while altcoins are lagging. However, this measure may be temporary, with other assets catching up.
BTC prices have received multiple bullish signs, from increased mining activity to an increase in long-term holding behavior both from corporate buyers and retail.
DOGE Madness Returns
One of the signs of altcoins reawakening for rallies is the behavior of Dogecoin (DOGE). The asset proved that interest had not fizzled out since its last rally to $0.70 in the spring of 2020. The coin, which has traded at below one penny for most of its history, is now solidly above $0.25.
DOGE is up more than 29% week-on-week, and has added another 8% overnight to trade at $0.25. The asset once again stands among top 10 coins by market capitalization. DOGE also has the potential to spark significant social media noise and hype, which end up affecting the market price. 
One of the reasons for DOGE's rally is the news of the US based entertainment company AMC accepting crypto in its movie theaters. AMC gave hints it may soon add DOGE to the list. The recent rally sparked speculation of even more exorbitant gains in a year-end rally for DOGE.
So far, DOGE has not reached valuations above $1, but the asset has the potential to be affected by concerted trading efforts, boosting its price through Binance trading pairs. 
The exuberance of DOGE also affected the Shiba Inu (SHIB) asset, a derivative DeFi token which incentivizes its owners to hold and wait for price appreciation. SHIB was up more than 74% overnight, and more than 200% over the past week, with the most dramatic gains achieved since Monday.
SHIB Gets Ahead of BTC Volumes
The most recent SHIB rally saw a trading anomaly on the Binance exchange. The SHIB/USDT Binance trading pair was the most active one on Wednesday.
SHIB is also listed on Coinbase, and there are speculations of an eventual Robinhood listing. The Shiba Inu project has now expanded to collectible NFTs, in addition to DeFi rewards and side tokens.
The aim of SHIB is to reach a valuation of $0.01, once considered the highest price potential for DOGE. The SHIB token is also supported by a reportedly large and enthusiastic social media community.
ETH Getting Ready for a Breakout
One of the factors that could trigger an all-out growth in the crypto sector is an ETH rally to a higher price range. ETH is now close to $3,500, with expectations of five-digit prices reiterated. ETH will trigger much more than an altcoin rally, as its value will spill over to all related projects and the entire DeFi space.
ETH now triggers expectations it may follow the trajectory of BTC with long-term appreciation based on scarcity and locked or staked tokens.
In the short term, ETH is expected to revisit the $4,000 level, expecting a breakout in the coming days. One of the possible scenarios may be a rally close to $20,000, similar to the BTC performance at the end of 2017.
The past 12 months have been extremely successful for Ethereum's ecosystem. A mix of price appreciation and a constant flow of new projects has lifted the total value locked from around $19B in October 2020, to above $90B. A yearly peak of TVL at $97B was reached in May, and the DeFi space is on track to repeat and improve its all-time record.
Coins Expect First Big Bull Market
For some newly created assets and promising networks, an exuberant bull market may arrive for the first time. Those coins were not around for the all-out bull market in the last quarter of 2017.
Expectations envision Chainlink (LINK) breaking to a new all-time high, following in the tracks of Solana (SOL) and Terra (LUNA).
In 2021, the most active digital assets are those related to various forms of DeFi, usually related to Ethereum or Binance Chain. Older altcoins such as NEO, Tezos (XTZ) and other not connected to DeFi are still lagging. With the new balances in the crypto market, it is unknown if the altcoin rallies of previous years would be repeated.
Cryptocurrency remains highly risky, and short-term retracements can wipe out significant gains. At the same time, there are signs of long-term confidence in the market, with the potential to expand access to digital assets.