News
/ Can Bitcoin (BTC) Drop to $41,000
Can Bitcoin (BTC) Drop to $41,000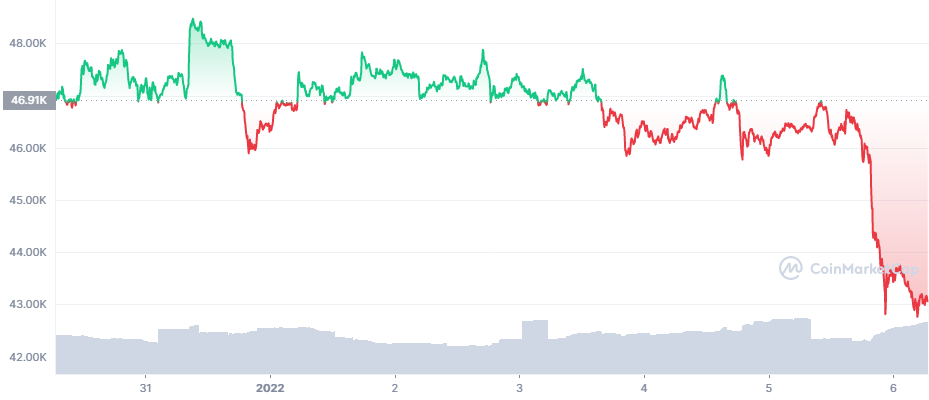 Bitcoin (BTC) once again trades with a depressed trader sentiment. The Crypto fear and greed index stays around 24 points signaling extreme fear, as the market seeks direction and has to wrestle with the potential of a correction and possibly a bear market.
BTC extended a mid-week slump, first crashing under $45,000, then stopping around $43,046.02, sparking additional fears of an extended price dip.
BTC has spent the past month with trading signaling fear, as the year end failed to bring a rally above $100,000. In the meantime, several mid-scale liquidations showed there was still pressure and leveraged positions remained risky in either direction.
In the longer term, the new year is once again setting up fears that BTC has already reached its highs for this bull cycle, and may have another bear market in the coming year. BTC moved up about 78% net in 2021, for another green candle in a row. At this point, a bear market that erases 85% of value may be more difficult to achieve even for bearish traders.
BTC Solidly Under $44K
BTC fell toward $46,500 late on Wednesday, abandoning the previous attempt to go above $55K. Trading volumes slackened, still not coming out of the activity slump during the holiday period. The slide acted as a trigger for additional crashes.
Additional downward pressure comes from the removal of accounts from Mainland China from most international centralized exchanges, such as Binance or OKEx. 
The current prediction allows for BTC to slide further, with the most pessimistic models envisioning a crash to $41,000 before a recovery.
At this point, it is uncertain if BTC can continue with a bull market, or keep to sideways movement. BTC funding was close to neutral, signaling caution with renewing leverage.
The current price, compared to the bands of the Rainbow Chart model, is almost close to "cheap" positions, with the potential for buyers to add more coins in expectations of a rally. In the last quarter of 2021, BTC stopped its rally just as the "FOMO" stage began, but price movements were inconclusive about opportunities to buy the dip at a lower position.
BTC Held Closely for the Long Term
More BTC coins remain unmoved, as the asset is now more rarely used for speculation. Futures trading may also happen with no need for actual BTC delivery, while spot buyers believe the actual control of coins may give them long-term advantages.
After January 3, it is possible more coins were moved from exchanges to mark the day of owning the private keys to wallets. This yearly warning to move coins off exchanges has been repeated for some years now, due to the risk of weak protection on exchange accounts.
BTC Loses Dominance
The slide of BTC, which extended closer to $46,000, is also costing the leading coin its dominance. BTC share of the entire digital asset market is down to 39.2%, from a recent climb to about 42%.
Ethereum (ETH), at the same time, keeps its dominance at around 20.3%. Separate coins with higher liquidity also break out of the pack and achieve outsized gains.
Bitcoin Network Turns 13
On January 3, the Bitcoin network accrued 13 years in its blockchain history. The size of the entire blockchain history is now more than 395 GB, with data from 717,323 blocks mined. At this point, the accelerated mining schedule means more than 90% of all BTC to ever exist have been produced.
During that time, multiple forks of the blockchain were created, but even the most successful one, Bitcoin Cash (BCH) now hovers under $1,000.
In the coming year, it is possible some of the oldest owners may receive compensation from the Mt. Gox collection of wallets. The Tokyo-based exchange, which crashed in 2013, has not liquidated most of the coins.
2022 BTC Prediction: Can Bull Market Continue
BTC may reach $100,000 by the end of the year, runs the Goldman Sachs prediction, without pointing to a period where this may happen. For others, the current subdued trading may extend the sideways movement and price weakness into the first half of the new year.
Some predictions see Ethereum (ETH) making another attempt to move to the top spot based on market capitalization. For now, the asset has not managed to outperform BTC based on the measure of total market capitalization.
In 2022, there are some expectations for ETH moving into becoming a staking coin, possibly affecting the market price. ETH-based open finance is also quicker to recover, and once again locks in more than $100B in notional value.
BTC Miners Continue at High Pace
BTC miners have maxed out their hashrate, supporting levels around 175 EH/s. For now, the exponential growth of BTC mining has stalled, but there are no significant dips.
The past year saw some Chinese facilities close, while Foundry.USA managed to join the top 4 block producers.