News
/ Why Bitcoin (BTC) is Stepping Back This December
Why Bitcoin (BTC) is Stepping Back This December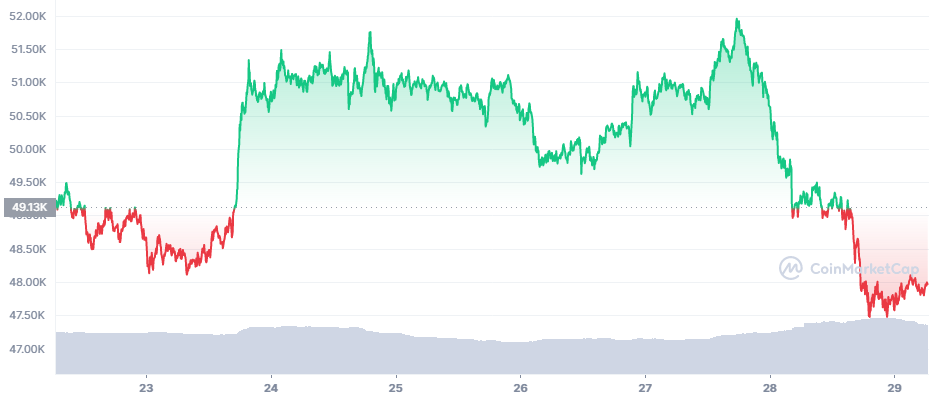 In the final days of the year, Bitcoin (BTC) sank under $48,000. After a breakdown of the expectations for six-digit prices in December, BTC is now once again charting a path based on short-term trading attitudes. 
BTC retreated to $47,920.73 just days after seemingly preparing for a rally above $50,000. But the leading coin remains range-bound as a bulls and bears fight is once again emerging. With $30B in daily trading volumes, there are some fears extreme selling pressure may prevent a rally.
Futures Expiration Put Pressure on Market
The futures expiration on Friday, December 31, is putting the interests of bulls and bears against each other.
The positions taken on the futures may be causing preliminary selling or buying pressures in an attempt to have the futures expire at a favorable price.
There are also signs of short positions where traders attempt to see the price fall to $47,000. In the coming days, BTC may see dramatic price moves in either direction.
The S2F Model Sparks Doubts
The BTC stock to flow (S2F) model is now showing a one standard deviation distancing from the trendline. According to Plan B, one of the popular BTC predictive accounts, the model is not invalidated this December.
There are also expectations that the BTC bull market has the potential to continue in the coming year. However, spot and leveraged trading may be diverging, with futures traders becoming
more fearful or wrapping up by the end of the year.
BTC did have a significant rally in the fourth quarter, but stalled at under $50,000 with some signs of accumulation. The current price weakness may also be an effect of overall low activity during the year-end holiday season. 
Funding Rate Remains Low
The current funding rate shows there is not yet overwhelming interest in derivative positions. In the past, a negative or low funding rate signal price may yet rally.
BTC is thus in a gray zone as to its next move, during a period of traditionally low activity. Still, BTC has yet to see its price survive the start of a new year, where the makings of a bear market may be visible.
BTC Taken Off Exchanges
The buying of spot BTC accelerated in the past year, which is a sign potentially associated with bull markets.
BTC speculation was possible on futures markets, while both retail and corporate buyers continue to increase their cold storage holdings. Distrust of exchange wallets also drives the need to move coins to a safer storage. Recent reports show 75% of long-term BTC holders are in the money even at levels around $50,000.
Short-Term Selling Drags Down BTC
In the short term, BTC prices may also be pressured by short-term selling. Significant sell volumes on the Binance exchange were noted lately. 
One of the reasons for selling are liquidations ahead of the new year. Binance International and other exchanges has warned users from mainland China of no longer offering services in the new year. However, the recent selling may be an attempt to drive down the price to benefit short position holders.
Is BTC a Buy at Year End
Based on the Rainbow chart, BTC is not underpriced at $48,000. However, the best strategy is to hold onto the assets with a long-term view, and only buy after a more significant breakdown. BTC is still setting expectations of running to six-digit prices in the coming year.
The past months showed the altcoin rally is also not a fluke but a larger trend of value building, with most of that value not finding its way back to BTC.
The cryptocurrency market in 2021 almost touched a total valuation of $3 trillion. The activity level is supported by a turnover of 78B Tether (USDT) and an equal amount in smaller dollar-linked stablecoins. USDC, TUSD, BUSD and others make up more than 50% of the available liquidity. Not all of those coins can be traced easily, as they exist in variants across multiple blockchains or as wrapped coins on DeFi protocols.
BTC still relies on USDT liquidity, with more than 57% of volumes relying on this token. BTC trades at a slight discount on the Binance BTC/USDT pairing. The USD pairs also hold significance, with more than 17% of volumes happening on those markets. Coinbase is among the big contributors to price discovery, as well as the potential to buy coins directly.
BTC has almost lost its premium against the Korean Won, but held a premium in EUR prices late on Tuesday, trading at $49,172.12 on the Kraken exchange.