News
/ Crypto Market Lags on Low Volumes
Crypto Market Lags on Low Volumes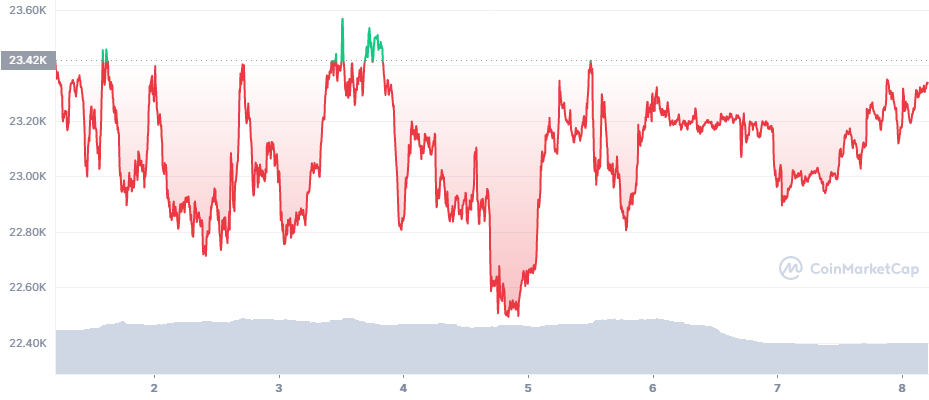 August is turning into a month of stagnation for the entire crypto market. Bitcoin (BTC) still takes the leading position and small BTC rallies often translate into more significant pumps for altcoins and tokens. 
Weekend trading volumes weakened significantly, down to about $15B in 24 hours for BTC. Other assets also had subdued activity, with very few exceptions. BTC was also volatile at low volumes, moving by above $200 within hours. The choppy trading trend of the past weeks is repeated this time on a smaller scale. Early on Monday, BTC rose to $23,337.66.
BTC barely held above $23,000 as there is once again a conflict between an expectation for a rally or a breakdown under $20,000. The upside target is as high as $28,000, which is still within reach. A new dip, however, could take BTC down to $14,000. BTC still has more than one quarter to go until the end of the year, where most of the predictions for a bear market lie. But a bigger breakout is seen as possible only in the years ahead.
At this point for BTC, buying and wallet building continues, as the price is closer to the lower range before a hypothetical breakout. Still, there is also profit-taking when BTC ranges higher.
BTC retail buying continues, despite a slowdown in derivative trading. Over the weekend, BTC had under $1M in liquidations as no positions were attacked in very inactive trading.
What drove derivative liquidations of short positions was an unexpected rally of Ethereum (ETH) above $1,700. In the past weeks, ETH open interest exceeded that of BTC, drawing in traders to attempt liquidations. ETH is also more volatile and easier to swing on lower trading volumes. ETH liquidations exceeded $2M over the weekend.
Will Mt. Gox BTC Finally Hit the Markets
The Mt. Gox trustees are set to receive 140K BTC, which they have waited for years. Periodically, the potential to have the coins hit the market has been used to scare traders.
This time, there is some probability the coins will be released in August, with an unknown potential to be sold. The market is still capable of absorbing this amount with little problems though, and the launch is expected to create temporary stress.
BTC is still bought during dips, though some of the coins return to exchanges during peak trading levels. BTC is also showing a trend of higher lows since July, potentially entering a more bullish streak. After the June capitulation, BTC achieved lows under $18,000 and has since taken smaller dips, bringing even the lows above $20,000.
AVAX Makes Surprise Move
Another surprising mover was Avalanche (AVAX), liquidating more than $585,000. AVAX is less liquid, but this time entered the top 5 of liquidations, signaling renewed interest. The Avalanche network is growing its presence through gaming, while still preserving a list of DeFi projects.
As AVAX rose above $28 during weekend trading, previous attempts to short the token were liquidated. AVAX added more than 13% week-on-week, becoming one of the biggest gainers in the top 20 of digital assets.
AVAX may have a goal to re-enter the top 10 of digital coins and tokens, which will only serve to expand its visibility. Avalanche is a close competitor to Solana for Web3 projects and is growing its own community of supporters.
One of the immediate reasons for the AVAX rally is that the token was added to the Binance Card, bringing more retail popularity. AVAX is still far from its three-digit peak, but has recovered some ground since the lows in June.
The Avalanche blockchain hosts the Aave DeFi hub, carrying around $2.39B in liquidity. AVAX also trades at close to $1B in 24 hours, still well within the 2% slippage rate of Binance for the AVAX/USDT pair. AVAX market prices often move together with Solana (SOL), signaling a recovery in the broader ecosystem.
AVAX supporters are also expecting a bigger pump as the asset recovers closer to $30. The Avalanche network also reached a peak in daily transactions, possibly linked to the Binance card launch.
However, Avalanche is also growing its list of side projects, which are also building subnets, or side blockchains for specific project needs. Subnets avoid the need to pay AVAX fees, which remain low, but can still grow on days of higher activity. Avalanche is thus extremely scalable, as the busiest projects can choose to launch a subnet and return to low fees.
AVAX may also be extremely risky to short at the current moment, as the price is seen potentially on the verge of a bigger breakout.