News
/ Filecoin (FIL) Recovers All-Time High, Adds New Records
Filecoin (FIL) Recovers All-Time High, Adds New Records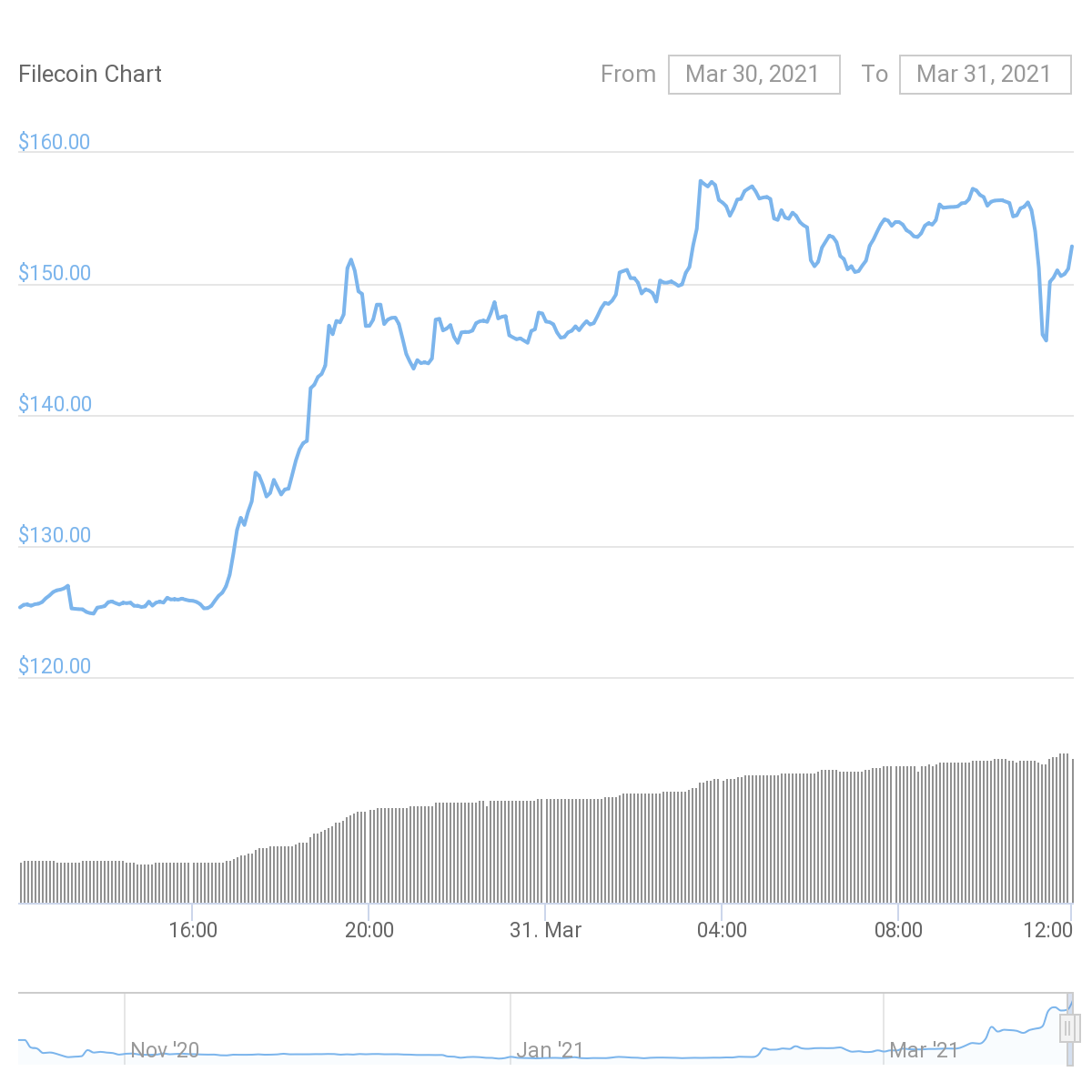 Filecoin (FIL) is another alternative asset that lingered at relatively low prices during the bear market. For years trading sideways under $30, the asset finally broke out in March, with a rally that looks set to continue in price discovery territory. 
The success of Filecoin follows other newly active altcoins such as THETA and Klaytn, which are making forays into the top 20 of coins by market capitalization. As the asset continues its expansion, it's attracting more attention in the crypto community with high-profile social media mentions. 
At this point, FIL prices are near a peak and backtracking is not excluded. But the asset shows there is still interest in altcoins and side projects beyond Bitcoin (BTC).
What is Filecoin
The Filecoin project is part of a special class of crypto startups dealing with distributed storage. Other similar projects include Siacoin and Maidsafe. The Filecoin mainnet went live in October 2020, after migrating from the ICO token. The mainnet launch also sparked interest in the project, leading up to the current breakout.
Filecoin marked one of the biggest token sales during peak ICO season in 2017. In September, just before the big altcoin price hike, Filecoin raised more than $258M. 
Filecoin uses a complex network of storage users, storage providers and data retrieving nodes. Users can pay in FIL to have their data stored in decentralized venues, not relying on large data centers. Entities that provide storage space earn FIL for their service. The network also has retrieval miners, who gain FIL for locating the files.
Decentralized storage also relies on a technology of file splitting and encryption, making sure user data cannot be exploited by third parties. Files can be split and have guaranteed online access despite some of the storage facilities coming offline.
What Sparked the Filecoin Rally
The recent interest in the Filecoin project followed the decision of Grayscale Capital to expand its offerings with new altcoins. FIL was among the new batch of assets added to an exchange-traded trust.
The Grayscale funds for BTC and other assets are a measure of interest spilling over into retail investing. Just days after listing, the Filecoin Trust held more than $530 in investments, at a price of about $127 per FIL. Grayscale prices often diverge from crypto spot trading, but may change as retail interest shifts.
FIL Trading Profile
Spot FIL trading is highly active on Asian exchanges, especially Huobi Global where the price has the least slippage. The Huobi Pro exchange also has a large FIL trading share, and more than 64% of all FIL trades are in the pair with Tether (USDT).
Like other altcoins, FIL trading may have limitations for US-based traders. Kraken exchange offers a smaller FIL market.
When it comes to retail trading, FIL is available on Coinbase Pro, for large-scale traders. Since the end of 2020, FIL is also traded on Coinbase.
One of the sources of interest in FIL is the creation of WrappedFilecoin, or wFIL. This synthetic asset can be used on the Ethereum network and participate in DeFi protocols, including staking and liquidity mining.
Holding Filecoin
Holding Filecoin may be difficult for crypto newcomers. The Coinbase online wallet may be the easiest option. FIL is still not hosted on Exodus wallet, where some altcoins have immediate swapping functionality.
Currently, Filecoin offers its native wallets and node software through its website, and may pose some technical difficulty in holding the assets. Caution must be taken to avoid unverified apps and never input private keys in unverified sites or mobile wallets. 
Another easy tool to hold FIL is TJ Wallet. For now, FIL is still waiting for active status on the most widely used hardware wallets Ledger and Trezor. FIL is available on the desktop version of the Ledger app.
Filecoin Mining
Filecoin mining means providing significant resources to the network, to satisfy the requirements for becoming a node operator. Mining the coin requires significant computation assets, including a powerful 8+ core processor and a large HDD for the actual file storage.
Mining Filecoin also requires holding some FIL as collateral. In October 2020, some miners faced headwinds due to insufficient FIL available, and had to borrow the assets. FIL can be staked for various periods, from six months to three years, to be able to become a node operator. Currently, Filecoin mining is too resource-intensive for new crypto enthusiasts.
Still, the block reward of 26 FIL at current prices may offer an incentive to continue the process. The Filecoin network has more than 1,500 mining nodes, with expectations for continued interest in decentralized file storage. The Filecoin network is an example of a relatively successful ICO delivering a product and also riding on the next wave of a bull market with a notable market price growth.
Bybit Bonus Bash
Up to $1000 Bonus upon deposit + $10 Coupon regardless the deposit amount. Also check out their $400,000 trading competition
Win Crypto for Free
Compete against others from around the world and the most profitable players each month win real cryptocurrency. It is free to enter so you have nothing to lose..
Crypto, Stocks, Copy Trading
eToro is one of the easiest places to buy crypto and a recognised brand in the financial industry. You can also follow and copy trade the most successful traders on the site
Kraken Review
Kraken has a good reputation for security and protection of your funds and operates across the USA (except NY), Canada, the EU and Japan
eToro Review
An Israeli fintech startup well known as a social trading broker, eToro has now over 10 million users worldwide. If you want to trade CFDs of most popular stocks, gold, shares or commodities as well as some crypto eToro is an interesting choice.
Best Staking Coins
We discuss how staking works, the risks and rewards and some of the main coins offering staking
Ripple Review
This is a specific digital coin running on a series of servers. XRP promises utility in handling cross-border transactions to compete with the SWIFT interbank payment system. Being controlled by banks, many question if it is a true cryptocurrency.
Litecoin Review
An early alternative to Bitcoin, LTC aimed to be a coin for easy, fast, low-fee spending. LTC offers a faster block time and a higher transaction capacity in comparison to Bitcoin.