News
/ Is Celsius (CEL) Insolvent or Illiquid
Is Celsius (CEL) Insolvent or Illiquid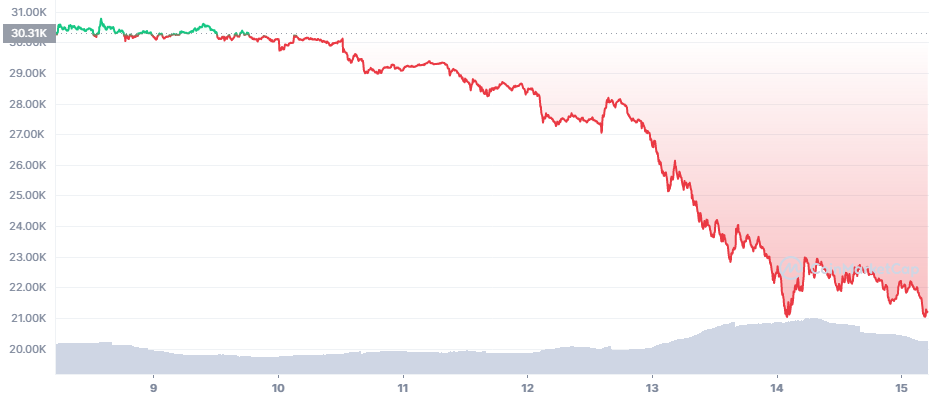 Celsius (CEL) is still around and even managed a wholly illogical rally. From lows of $0.25, CEL recovered close to $0.98 before sinking down again to $0.75. The project now raises the question of its future and the potential losses. 
Unlike Terra LFG, Celsius did not deplete its reserves and may currently be illiquid but not insolvent. The latest move by Celsius was to aggressively increase its Maker DAO collateral and ensure its loan will hold even if Bitcoin (BTC) dips under $17,000. 
CEL Wrecks Short Positions
CEL also caused unexpected losses on its way up. While the recovery may not last, it also caused a short squeeze and liquidated positions taken at the first signs of Celsius problems.
In the short term, the high funding rate and demand for more CEL to cover shorts may lead to additional price anomalies and a rally.
CEL remains extremely volatile, with both rallies and the potential for more crashes. Even with a 100% gain, CEL stepped back to $0.58. But at one point, the asset reached as high as $1.29, making its price action extremely risky for leveraged trading.
What Did Celsius Lose
Terra LFG managed to lose more than 80K BTC within days. Celsius claims to have most of its assets, in the form of still-unliquidated loans on various DeFi protocols. The Maker DAO loan for more than $250M in value is the biggest danger.
Celsius reported around $28B under management at the peak, a relatively smaller potential loss compared to the $44B wiped out by Terra LFG and the crash of LUNA. The inflows to Celsius grew gradually since 2019, as more users got on board and the promises managed to entice a new batch of investors during the hot 2021 bull market.
Celsius accelerated its deposits until it grew to its peak size, by its aggressive campaign to "buy, borrow, swap and earn" crypto. Currently, Celsius claims it still has 151,534 BTC, worth about $3.3B at the current lower price range.
But additionally, evidence has been found of Celsius transferring out assets, with a transaction to the FTX derivative and spot exchange.
Celsius was supposed to be a custodian for user crypto, offering an easier wallet for internal swaps. But the catch was that no user was in control of the assets, so Celsius could either resell them or not allow withdrawals.
TRON (TRX) Slides, Adds to Worries
The TRX market price is also falling rapidly each day, down to $0.058 from a recent peak above $0.088. The token expected more robust growth, possibly above $0.10.
But the fate of LUNA sparked more fears of any project attempting to create a stablecoin with a crypto collateral. One reason for this are fears that a deliberate attack may be made on any assets and loans that support the stability of the project.
The smaller the project, the bigger the risk, as in the case of WAVES and NUSD, which only took hours to push down from the peg and erase 50% of all value.
Tether Fears Resume
The biggest fear is that more than 72.45B USDT tokens may not have adequate coverage and the biggest stablecoin may collapse.
USDT has been the chief source of liquidity for a market, and a loss of its peg or going to zero would return BTC and all other assets to a much lower trading range.
The biggest problem is that iFinex, the company behind USDT and Bitfinex exchange, has not been entirely transparent on the asset's backing. For now, USDT has not lived through a loss of trust, but its overall value is more than Terra and Celsius combined. Without that value, trading volumes would also fall rapidly, relying on USDC or small fiat markets.
While a Tether collapse has been predicted before, currently there are claims of exposure to Celsius. The claims also suggest any agreements may be non-transparent and impossible to verify. However, the fears may help keep the panic longer for BTC, while undermining trust in crypto.
Will BTC Recover
BTC remains the leader of all coins and tokens, setting the direction and also working to calm the fears of DeFi. BTC has an effect not only for retail, but for the safety of decentralized lending in wrapped BTC. BTC traded at $21,176.46 with another slump, after hovering above $22,000 for a day. 
While for some the current cycle bottom may be around $20,000, there are also fears of an attempt to liquidate the already known Celsius loan, bringing BTC to $18,000 or below.
The Crypto Fear and Greed Index is at eight points, an all-time low not even noted during the March 2020 crash after the announcement of the Covid-19 pandemic.
Publicly known positions of Tesla, Inc., MicroStrategy and even the government of El Salvador are underwater, with fears of further drops or a different type of event that may trigger a deeper bear market.