News
/ Is the Cardano (ADA) Rally Just for the Short Term
Is the Cardano (ADA) Rally Just for the Short Term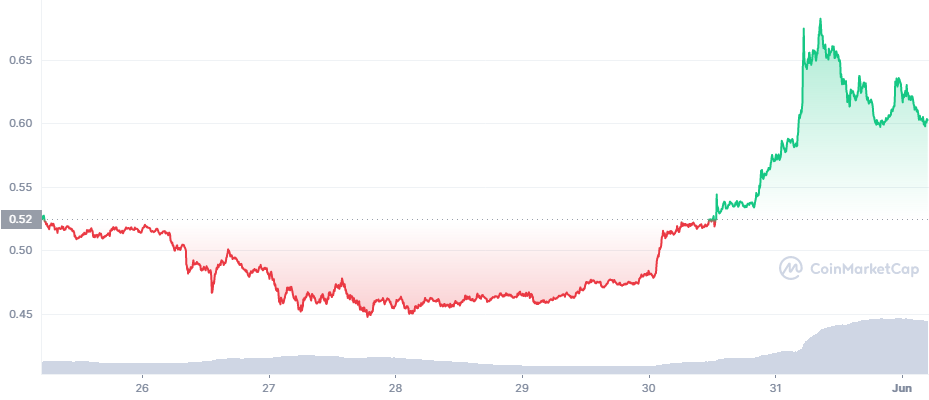 Cardano (ADA) rallied by more than 15%, marking the second day in a row when the asset sprang ahead of the market trend. ADA got a boost to reach $0.61 and the current recovery starts from a lower range.
The expansion of Bitcoin (BTC) above $31,700 lifted all assets, but ADA was the exception among top 10 tokens. Even TRON (TRX) is relatively flat, only reaching $0.08 after expanding its influence as a DeFi network. 
Why ADA is Rallying
After about three years of low activity, the Cardano network finally opened up for decentralized apps. However, most Cardano games are still incomplete.
The DeFi growth is also in the preliminary stages, still aiming to build the infrastructure of decentralized exchanges. Cardano has had some success with NFT collections, though those may be struggling to set prices and are at risk for a sudden withdrawal of interest.
But even those long-term factors failed to boost ADA during the six-month bear market. ADA had the occasional short-term rally based on hype from its community, or short-term speculation.
Cardano Foundation Conference Boosts Price Action
The short-term reason for the current rally is the Crypto Valley Conference, expected on June 2-3. The Cardano Foundation, based in Zug, Switzerland, is highly active in improving the image of the project. The conference also adds to the bullish news of new positions open at the Cardano Foundation, showing the group's readiness to expand its activity.
The days leading up to the conference may add to the hype for ADA, though also raising the question if the rally would be sustainable. ADA has shown that it can also erase value rapidly, becoming one of the biggest losers when a downturn arrives.
ADA has the advantage of a high token supply above 33B, staying in the top 10 of coins and retaining its visibility. ADA thus managed to outpace other assets that are forgotten, even big ones like Avalanche (AVAX).
Cardano Still Has Minimal Value Locked
Cardano may have an advantage in not building up a large and complex DeFi selection. The network hosts around $149.31M in notional value, whereas more well-developed networks carried upward of $10B. 
This relative lack of DeFi projects may be a benefit for ADA, which is not involved in backing other assets. Currently, the Minswap DEX carries nearly half the value locked on Cardano. The network carries a selection of less than a dozen running apps, with even smaller treasuries.
The NFT market adds another $27M in notional value based on turnover, though this will not reflect directly on Cardano due to lack of data reporting.
Those NFT are also limited to the Cardano community, as listings on top marketplaces are scarce.
How High Can ADA Go
The current rally raised the question of whether ADA could go again above $1, which at one point turned into its usual price range. The highly active recovery shows this may be a possibility. 
ADA is also among the most liquid assets with a low per-unit price and wide exchange availability. Buying the dip on this token may be chosen as a high-risk strategy to achieve faster gains when ADA recovers.
ADA reached a peak in May at $0.89, failing to break above $1. The current rally is yet to recover this month's losses, especially as there is no guarantee it would gain traction.
ADA has the advantage of being a risky bet with days of unpredictable gains. The asset is highly accessible and trades on Binance in ADA/USDT pairings, as well as on Coinbase and Kraken. 
What is the Bearish Case for ADA
Just as Cardano has a dedicated community, there are just as numerous Cardano skeptics. For some, ADA is a token headed to prices under $0.10, especially given its slow path of development.
Compared to projects like Solana or Avalanche, Cardano has taken a long time and has little to show for its efforts. Some predictions see ADA never making another significant bullish rally.
ADA is not as pressured as Ripple's XRP and so far has not seen any regulatory trouble. However, the failure to rally to higher tiers has erased some of the hype. And ADA has proven it is not easy to claim levels above $5, despite previous bullish predictions.
ADA also spent most of the highly active time of DeFi project building as a network waiting on the sidelines. The complexity of building on ADA also prevented fast growth. Protocols that prioritize collaterals and locking in value are doing better, while ADA's hypothetical games and dApps fail to spark inspiration.