News
/ Kyber Network (KNC) Rallies to All-Time High
Kyber Network (KNC) Rallies to All-Time High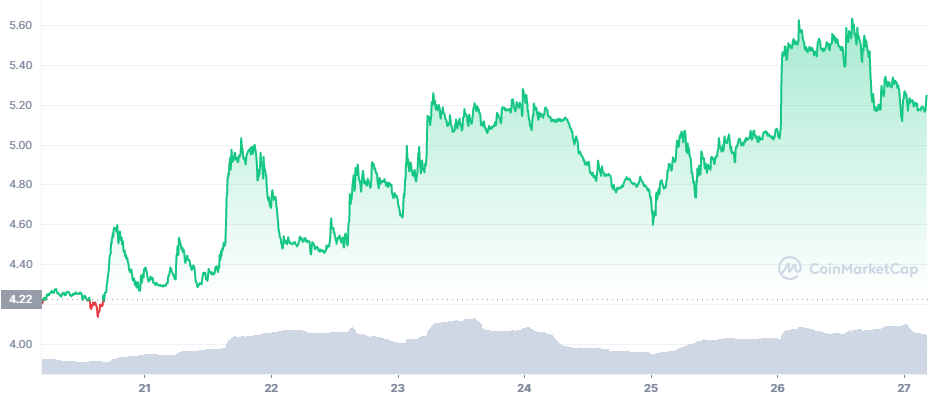 Kyber Network Crystal V2 (KNC) is an eye-catching crypto asset that went against the market trend for the past weeks. KNC reached an all-time high around $5.63, keeping close to that range for the whole day. KNC only stood for a short span at that level, starting to correct later toward $5.18. Still, the past few weeks showed the potential of KNC for expansion, underscoring the multiple sources of value and liquidity within its ecosystem of projects.
KNC is yet another asset breaking out with no regard for the direction of Bitcoin (BTC). During the KNC rally, BTC had a volatile day, moving as high as $41,500 and dipping again to $38,700 in what looked like a short-term bull trap. At the same time, other projects and platforms move on their own logic. The market remained volatile and recoveries may not hold for a long time. KNC resembled the price move of Terra (LUNA), which briefly regained positions around $95 before sliding under $90.
What is Kyber Network
Kyber Network aims to become a multi-chain DeFi and liquidity hub, offering decentralized swaps and token movements. As such, it competes with similar protocols offering connectivity between chains through various technologies and bridges.
The rise of DeFi helped Kyber DEX, though the project still carries only around $15M in registered locked value. Kyber DEX itself claims it has more than 138M in locked value, based on the estimates of decentralized trading pairs.
Kyber Network spans three main blockchains – Ethereum, Polygon and Binance Smart Chain. The protocol offers multiple swaps between different assets on multiple blockchains.
What Triggered the KNC Rally
KNC is within the top 100 of tokens by market cap, and may be considered undervalued and unnoticed compared to other protocols.
KNC is also in an ongoing process of migrating tokens, which may be speed up after a prompt from Coinbase. KNCL, the legacy token, can still be swapped through Kyber Network portals. However, exchanges like Kraken no longer accept deposits in the legacy token. 
A more recent event to boost price action was the decision of Binance to add KNC on cross margin. 
Thus, KNC can be used to satisfy margin calls, with a new added pair KNC/USDT. Binance is responsible for 14.32% of the KNC trading volume, with a liquidity score of 670. KNC trades with volumes close to $500M per day, close to a one-month high. On some days, KNC trading activity rises to $1B in 24 hours.
KNC started active trading as a new asset in August 2021, and has only expanded since. The chief driver is again the usability of Kyber DEX.
Is Kyber Network V2 a Good Investment
Kyber Network was famous for being one of the top ICO sales in 2017. The project raised $52M in dollar value, and sold KNC at 0.00166 ETH. The ICO was a success, but in the long term, KNC had 1.11 times the earnings in ETH terms, and 1.23 times in BTC terms.
In dollar terms, KNC was a relative success, with 13.88 times growth, which was tame by ICO standards. KNC hovered for years, losing the initial hype, before reshaping itself as a DeFi project.
The new KNC may hold a different set of opportunities. As Kyber DEX grows, the platform will also aim for a V3 migration. KNC already staged one rally in April, after expanding to a total of 10 highly active networks.
Perhaps the most important partnership is with Avalanche Network, one of the busier DeFi value hubs. KNC participates in a liquidity fund on Avalanche, and is counted as an asset on the Avalanche ecosystem.
What Kyber Network Achieved in DeFi Space
The success of KNC thus depends on demand for DeFi risk and decentralized protocols for passive income. Kyber Swap also has an Avalanche version, which ensures significan liquidity for altcoin swaps.
Kyber Network is also a source of several active AVAX decentralized pairs. Kyber Swap is ranked 21 among the largest and most active DeFi protocols on Avalanche. Reported value on the network differs based on the DeFi Llama data, and is around $64M.
Kyber Network is one example of a relatively older project coming back through joining a new trend. Not all top ICO projects from the crypto boom of 2017 managed to achieve the best use cases. Some lagged the DeFi boom, and could not gain access to the locked value.
Over the past years, Kyber Network built an even wider network of partnerships. It has onboarded multiple stablecoins and offers sources of passive income. The Baklava protocol is one of the hottest new hubs of value, where stablecoin deposits fetch a risky but high 28% annualized interest rate.