News
/ Market Devastated as Bitcoin (BTC) Dips Under $35,000
Market Devastated as Bitcoin (BTC) Dips Under $35,000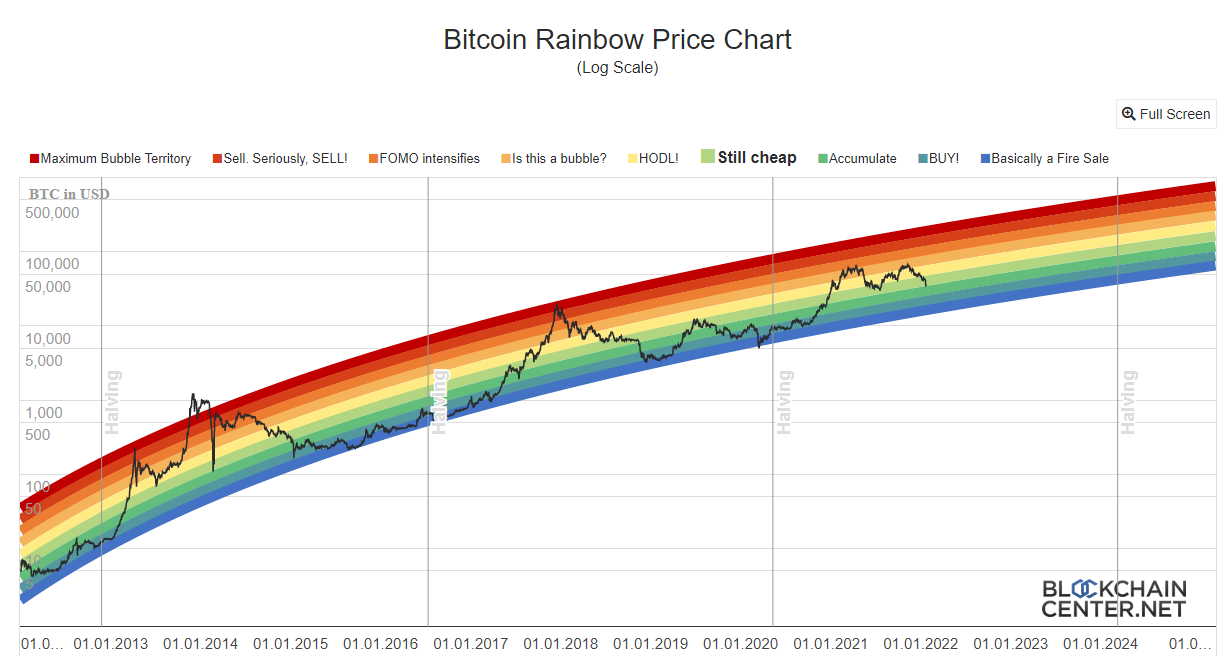 The first weeks of the new year opened expectations for several scenarios for the crypto market. Bitcoin (BTC) seemed set to achieve a bottom around $40,000 and renew its climbing trend. But over the weekend, BTC unraveled even more rapidly, reaching a low of around $34,349.25. Early on Monday, the leading coin traded around $35,320.25, continuing with uncertainty and bearish expectations.
BTC is now in the play between cheap-to-buy prices based on the Rainbow Chart, and fears of dropping further. The crash also erased even more value from Ethereum (ETH) and altcoins. ETH sank to the $2,400 range, now fully 50% under its 2021 peak. 
Why BTC Crashed
BTC crashed based on a mix of factors culminating in fearful trading sentiment and cascading liquidations. The drop to a lower tier works by itself to erase some of the hopes for recovery. 
BTC has already dipped twice to $30,000 from highs above $64,000 and managed to regain some positions. But this time, there are additional factors potentially weighing the coin down and causing a longer bear market. With 40% of buyers out of the money on BTC, the question is will those owners hold out and hope for higher levels in the long term, or continue to panic-sell.
The long-term holders of BTC remain, but at the lower price range, there may yet be surprises based on leveraged position liquidations.
Is BTC a Good Buy After the Drop
BTC has been propped up by renewed buying from El Salvador's treasury, despite fears the country may be taking up significant risks.
The latest reports saw El Salvador buy another 410 BTC to add to its cold storage.
At the same time, BTC at current prices may not have reached its short-term lows, with more price drops to be expected.
There is no guarantee BTC will even touch that range, but the historical support level over time suggests the leading coin may be in the last stages of the recent dip. Barring short-term anomalies, BTC is sparking hopes of renewing its climb.
BTC Remains More Stable than Altcoins
Altcoins, with their inherently riskier profile and high slippage, erased more value over the past weekend crash. BTC increased its dominance relative to the market to 41%, while ETH dominance crashed to 17.9% after months of holding above 20%.
BTC may be ending its crash, as suggested by the opening of some long positions above $34,000.
BTC has erased almost all gains after last 12 months' rallies, standing with a relatively small year-on-year gain as of January 22.
Altcoins Saw Challenges to Network Performance
The latest price crash also caused problems with some of the well-used networks. Congestion or other slowdowns may affect trading, distributed apps, and lead to losses.
The network outage for Solana (SOL) especially exacerbated the price slide, sending SOL down to $98.33. The Solana network has had several outages in the past year, a record not comparable to other blockchains that at least run without interruption.
The latest sell-off also affected Ethereum (ETH), causing network congestion and high fees. The latest price slide is worrying for altcoins, as the building of dApps on most networks hinges on a growing or at least stable prices.
Is a Bear Market Really Coming
The opinions still vary on whether the coming year will come with another prolonged bear market or just a larger temporary correction. 
In the short term, shock events have dragged down BTC prices. This time, talks of the Russia-Ukraine conflict and the overall stock market slide is a trigger for short-term panic. 
At the same time, data points to an upturn based on long positions and signs of accumulation, as well as diminishing BTC reserves on exchanges. During the latest crash, some investors cashed out to cut losses, leading to a larger slide.
The overall cryptocurrency market capitalization has fallen to 1.6B, getting close to a 50% loss from the peak. The Crypto Fear and Greed index fell to 11 points, close to its lowest positions, and has not moved from fear territory for weeks.
But there is still no way to tell if the latest price slide precedes a bear market, or if it is an extraordinary event.
BTC expects the news of overall stock market performance in the new week, along with other macro-developments. As a less regulated and unpredictable market, both BTC and altcoins have the potential for dramatic short-term movements.
There is also no guarantee on BTC taking a prolonged period of sideways movements with very little change.