News
/ Harmony (ONE) Recovers Peak Despite Market Crash
Harmony (ONE) Recovers Peak Despite Market Crash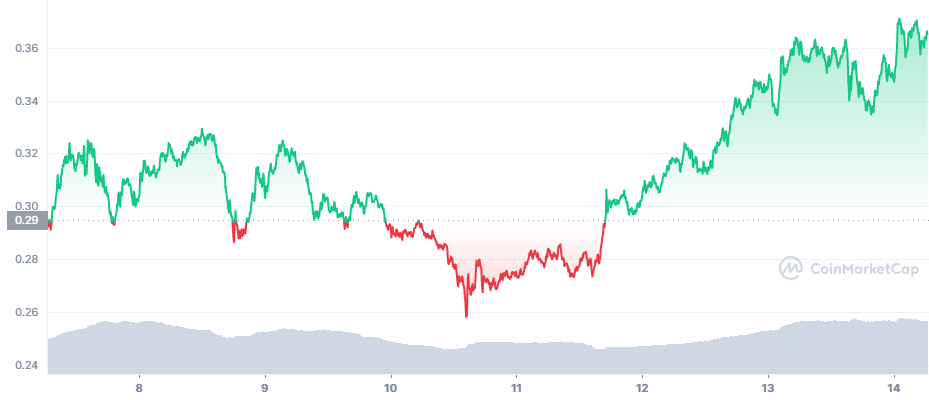 Harmony Protocol (ONE) turned into one of the platform assets that brought back its previous high from 2021. ONE regained positions above $0.36 and near its all-time high after a dip to $0.16. ONE is viewed as a lagging platform coin, with volatile price moves, but also capable of moving to a higher range under favorable conditions. 
ONE moved up actively, in tune with the stronger recovery of altcoins, while Bitcoin (BTC) did not manage to vault the $44,000 level in one go. BTC dominance diminished, while smaller projects regained positions faster. ONE appreciated further after Ethereum (ETH) recovered above $3,300 with signs the market bottom was left behind.
Harmony Locks In More Value
The new year arrived with signs of more active adoption for Harmony Protocol. DeFi Llama statistics show total value locked on Harmony is now more than $1.12B in notional value. Part of that value is due to the higher ONE market price, but part is due to inflows of funds locked for liquidity or staking in various DeFi startups.
Only a few weeks ago, Harmony locked in less than $500M in value.
Harmony to Connect to Cosmos
Harmony also gained attention for its partnership with Cosmos (ATOM), the cross-chain compatibility network. Cosmos aims to become "the internet of blockchains" and connects to multiple networks, uniting the crypto space. 
The partnership will be achieved by the DataChain startup, and the connection will be an asset bridge from Harmony to Cosmos.
Harmony Attracts DeFi Projects
Harmony is one of the projects lining up as the go-to network for DeFi projects. Multi-chain deployment has become the norm for most platforms, with the perk of avoiding too high gas fees on Ethereum and overall reaching wider communities of token owners.
Harmony already hosts projects like SushiSwap and Curve Finance. With this, Harmony stands beside the likes of Avalanche (AVAX) and even Solana (SOL) for being chosen to carry established DeFi projects.
Unfortunately, ONE is still far from the top 30 of tokens, but its ecosystem grows by leaps. Demand for financial operations, NFTs and gaming has turned Harmony into one of the potential hot hubs of activity.
Despite the relative low visibility, Harmony is one of the hubs for active development and blockchain innovation. Harmony has also partnered with the Komodo platform to join with its Atomic DEX.
Additionally, one of the biggest DeFi hubs, Aave (AAVE) will be represented on Harmony in January, bringing along traders and liquidity. The coming months may show the potential of Harmony Protocol to successfully carry out some of the more established tools.
Harmony already hosts a trustless bridge to the Ethereum (ETH) network, meaning all ETH-based assets can be moved to the new chain. Trustless bridge technology is riskier due to potential flaws in smart contracts, but may be less risky in comparison to custodial bridges. A trustless bridge does not give access to assets to a third party, and the owner of the private keys controls the asset moves completely.
Harmony Joins NFT Craze
Harmony Protocol has already been adopted by NFT minters as a tool to spread images and tokens with lower fees.
NFT collections are here to stay, with a market that has seen volatility, but still manages as much as $17B in daily trades. New mints arrive to Harmony in the new year.
Harmony is the hub for NFT innovation, including NFT staking back into DeFi projects.
How High Can ONE Go
ONE may have short-term success after some signs of awakening for altcoins. As the new year opens for more active trading after the holiday season, promising tokens are in demand.
ONE is propped up by relatively liquid Binance trading pairs against Tether (USDT) and with a low per-unit price appreciation can arrive fast. The ONE/USDT pair takes more than 30% of all ONE activity, making the token potentially open to concerted price movements. 
ONE trading volumes are above $628M, not too easy to sway, but still smaller compared to more prominent platform coins.
In the short term, ONE sets expectations of moving above $0.39 and possibly continuing to a higher tier.
The Harmony project itself has shown to be bullish, with a recent price prediction of ONE reaching $1.
This valuation with a supply of 11B ONE coins is not impossible, especially seeing Cardano (ADA) stick to prices above $1 with a supply of more than 33B tokens. ONE has the disadvantage of no Coinbase listing, and no access to US-based audiences.