News
/ Near Protocol Rallies on Upcoming Lisbon Meetup
Near Protocol Rallies on Upcoming Lisbon Meetup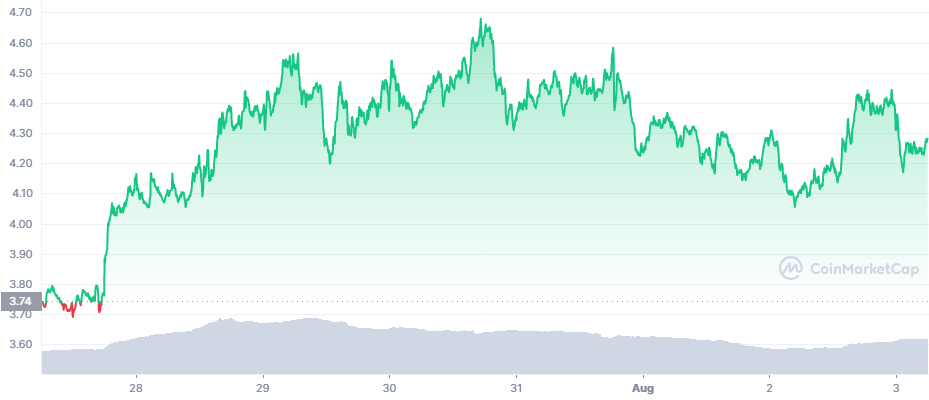 Near Protocol (NEAR) took its turn to become one of the hot tokens in the new week's recovery. Bitcoin (BTC) briefly recovered the $23,300 level, triggering additional pumps for some of the more active tokens. BTC later retreated back to the $22,900 range.
NEAR belongs to a protocol that is slowly gaining attention for its efforts in building Web3 apps. Near Protocol aims to be a platform for scalability, though for now, it has lagged behind the bigger tokens, such as Solana (SOL) and Avalanche (AVAX). 
NEAR was also less affected by the fallout of DeFi and the effect of Terra LFG, Celsius and Three Arrows Capital.
Conference Brings Attention to NEAR
The immediate driver of price action is the announcement of NearCon with early signup open. The conference is planned for September 11-14 in Lisbon. After a pause, crypto events returned and becoming a marketing tool to bring attention to tokens.
Near Protocol is riding the Web3 hype, offering a platform for decentralized content creation. The network is thus becoming another hub for potential game creation, as well as a tool for a more accessible NFT minting.
While the value of NFT is questionable, with some of the collections losing value, the tool to create blockchain records remains valuable. Web3 is offering another form of owning digital items, unlike the centralized approach of Web2.
Projects using minting technology are trying to bring users with a promise of always holding their in-game assets. Crypto tokens and coins are also used as a substitute to microtransactions and in-game purchases.
New projects are appearing, attempting to generate their new type of digital items. Currently, traditional gaming companies are either very tentatively trying out NFT or outright rejecting them. Mojang, the creator of Minecraft, was among the skeptics, going as far as to ban the generation of NFT based off the Minecraft world.
Will the NEAR Rally Last
NEAR is still stuck relatively close to its lows for the past three months. Currently, NEAR is close to its monthly high range, standing at $4.36. Despite the 21% weekly rally, the NEAR breakout is not changing the coin's direction.
NEAR may keep up its pace, as it is among the most widely commented tokens on social media.
What is the Near Protocol Utility
NEAR remains attractive for being a potentially undiscovered Layer 1 solution. For now, it is uncertain which network would be picked by NFT mints and game studios. Some blockchains remain niche or are outcompeted by leaders such as Ethereum and Binance Smart Chain.
Near Protocol is among the platforms tracked by DappRadar, for its potential to host games or other blockchain activities. Top apps include DeFi, exchanges, marketplaces and NFT games.
Near Protocols relies on 100 Validating Nodes and more than 700 online nodes for additional network support. The blockchain produces a block in less than 2 seconds with relatively low gas fees. Currently, NEAR is seen as a token with potential, to accumulate during a bear market. Near Protocol carries more than 700 projects based on its latest July report.
The most liquid pair for NEAR is on the Binance exchange, with a liquidity score above 702 points. About 15% of all NEAR trading is concentrated in the Binance NEAR/USDT pair, creating some potential for short-term pumps.
NEAR May Become More Accessible
Near Protocol has one flaw that may be preventing it from catching up with some of the other L1 solutions. Until recently, the only access point was a native wallet created by the Near Protocol team. NEAR is not accessible through MetaMask or any of the widespread browser extension wallets. This creates an extra step in using Near-based apps.
With additional wallet providers, apps may gain traction and add to the importance of NEAR. The protocol currently holds around $362M in notional value based on DeFi Llama, lagging behind the achievements of bigger protocols.
Ref Finance is the biggest DeFi hub for value, carrying more tha 68% of NEAR deposits. Ref is currently supporting a native Near-based algorithmic stablecoin, growing more slowly than other projects.
Algorithmic stablecoins can have a positive effect on a protocol's token, but can also lead to a crash and panic. In some cases, using the native token for collateral could open it to attacks and deliberate destabilizing of the protocol.
NEAR trades with volumes around $324M in 24 hours, of which more than 62% is ensured by the USDT stablecoin. NEAR has never broken above $20 and is seen as a token with the potential to repeat the performance of SOL and AVAX. NEAR has about double the supply of SOL and is seen as potentially reaching a higher price range.