News
/ NFT Overload Freezes Solana (SOL) Network
NFT Overload Freezes Solana (SOL) Network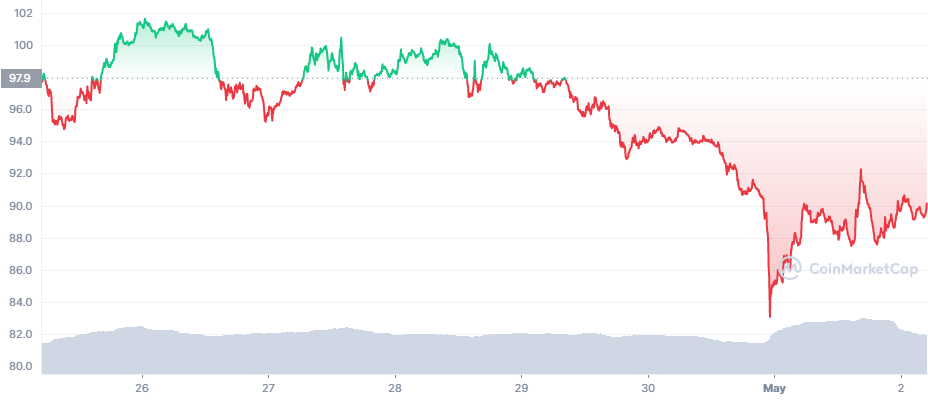 Solana (SOL) had another deep network problem, where the entire blockchain had to be shut down. An inflow of transactions overloaded the nodes and consensus was lost. Shutdowns are an ongoing problem for Solana, with the last one happening in December 2021. For a few hours, deposits and withdrawals were lost, though SOL trading continued.
This time, the reason for the overload is a pre-announced NFT mint. Solana has relatively low fees if only regular buyers try to get the new items. But with bots joining in, there were too many attempts to buy.
Mints are usually highly competitive, especially for projects that did not use prevention such as whitelisting or another form to stop speed and fee wars. Most mints have some precautions, but some still offer NFT collections as a free-for-all, leading to chaos. The event led some projects with new NFT issues lined up to postpone their mints until it was clearer Solana could carry them without crashing again.
NFT sales are growing for Solana, especially after the OpenSea listing. Solana became the third network to be added to the biggest NFT online store, after Ethereum and Polygon. Some of the hotter collections have a 33SOL floor price, with rare items selling at higher prices.
Solana has much more diverse collections compared to Ethereum, each one competing for attention and prestige.
Will Solana Censor Transactions
The NFT outage lasted for seven hours, according to the record of Solana validators. The problem arose with the Solana Candy Machine NFT minting software, which allows anyone to set up a collection mint.
Bots tried to spam the machine, eventually overloading the network. The event was also a stress-test for the Solana blockchain. Candy Machine has inactivated its site and shared no details on its social media profile.
The most worrying effect is that the Solana Foundation has the opportunity to censor some types of transactions on L1. This goes against the general idea that blockchain projects are censorship-free and neutral. However, the instructions for anti-bot measures are suggesting Solana validators may have a greater level of control on transactions.
The decision is up to node operators to implement, as Solana has one of the fastest-growing NFT communities. The message to node operators was that Candy Machine transactions suspected of mint botting could be removed for periods of 30-60 minutes, only when noticing unusual activity.
SOL Price Slides Under $90
After spending some time above $110, SOL followed the overall trend of crypto markets and slid under $90. SOL dipped to $88 before regaining positions to $90.15 late on Sunday.
Solana now locks in more than $6.21B in notional value. Most of that is locked in DeFi projects, lending and decentralized trading. SOL remains solidly a top 10 asset, with a market cap above $30B and trading volumes at $1.7B. SOL also slid following a Bitcoin (BTC) reversal, to touch levels just under $38,000. 
Short-term predictions for SOL and the crypto market in general suggest price weakness periods in 2022. For others, SOL may end the year with net gains and much higher valuation.
So far, SOL has not repeated its all-time highs above $200, but has kept above the $100 mark for weeks.
NFT Mints Increase in Competition
The Solana minting event coincided with another high-profile mint. The Bored Ape Yacht Club announced a competitive mint to buy exclusive digital land plots. 
The mint was not curated, causing high gas competition. This led to a record for daily fees, extending for all users.
For Ethereum, the network load only led to congestion, and regular users had to delay their transactions, as they ran into the hundreds of dollars. An estimated $100M in transaction fees or burns were dedicated just to the BAYC mint. Immediate resale data showed land plots were flipped at 27 ETH, explaining the interest in grabbing the airdrop. BAYC remains one of the most widely kept collections, mostly for the perks of additional airdrops or special access.
Apecoin (APE) stepped back after a period of hype where it peaked above $22. APE sank by nearly 17%, down to $16.89. STEPN (GMT), another highly curated NFT and gaming token, stalled at $3.45 after the initial period of price discovery.
The Coinbase NFT experiment is still in its early stages, with just about 60 NFT changing hands through the platform. The reason for this is that the market is still expanding slowly from a waiting list, looking for potential flaws.
NFT growth has stabilized, but there is still demand for new mints and resales. However, traders keep cautioning this may signal a market top, and that NFT minting remains wasteful.