News
/ Apecoin (APE) Breaks Series of Records
Apecoin (APE) Breaks Series of Records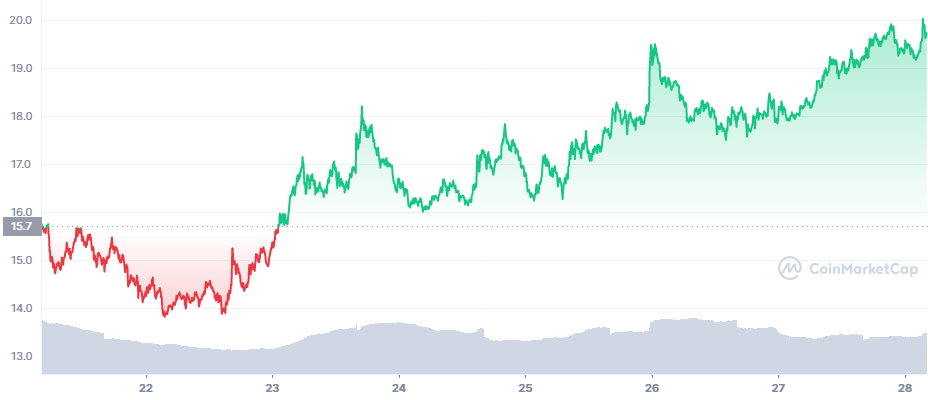 Apecoin (APE) turned even more bullish, despite the recent weakness of all other assets. APE rallied to $19.70 after a series of records, with trading volumes above $1.5B in 24 hours. The immediate event that may be triggering the APE rally is a pre-announcement from Yuga Labs, awaiting the launch of a metaverse game which will also probably use the token.
The rise of APE happens despite the recent phishing attack against Bored Ape Yacht Club (BAYC), where several valuable NFT items were stolen from wallets via a malicious link. But this only added to the hype around APE, which is one of the most widely exposed projects.
The value of the stolen NFT was estimated at around $3M. Recent sales of Ape avatars reach 179 ETH, and the items are featured on Coinbase NFT, a test marketplace and social media that for now hosts multiple blue chip NFTs.
Why APE is Rallying
APE combines blue chip appeal with liquid trading, and its wide social media meme potential. Driven by the popularity of BAYC, APE may also afford to rise without direct reasons or triggers. A concerted pump from whales is not excluded for this token, given its exposure to Binance exchange trading pairs. 
APE is also still in its relatively early trading days, and a hike to a higher price range is part of its price discovery process. The price rally of APE may also be a self-fulfilling prophecy based on the hype surrounding this asset.
APE Has Governance Powers
Apecoin DAO is the newly formed body that has decision-making powers for the protocol. All APE owners who received the airdrop for holding BAYC avatars will have the right to vote.
This is also the chief incentive for holding onto the coin instead of dumping. APE may follow the path of BAYC, where most owners are not in a rush to sell their avatars. This led to wild price appreciation and even more fame, as floor prices for a single Ape reached 147 ETH.
Recently, the Apecoin DAO board presented its potential to all APE owners, with a view to future governance participation.
APE Spills to Other Projects
APE itself is not following the logic of earlier altcoins, where the chief goal was to sell to naive buyers. Instead, APE is showing potential to be held for the long term.
New NFT and DAO projects are also gaining access to APE and even using it as a treasury item. The fame of BAYC is thus helping organize similar NFT and token-based organizations and value hubs. Apecoin itself helps adoption through airdrops.
The structure and fame of the BAYC collection is used as a reputation tool for other NFT mints and decentralized projects, aiming to repeat the success. The advantage of the BAYC brand is that it has high-end positioning and real-world acceptance.
The influence of Yuga Labs is unique for crypto space, and spills over into trading, play-to-earn gaming and even in the real world. One of the goals of BAYC is to serve as an exclusive access card to events, or as a pass to buy unique physical items.
What is the APE Trading Profile
APE is held by more than 54,000 wallets, again courtesy of airdrops and giveaways. Currently, the asset is a regular ERC-20 token, using the Ethereum network. For now, Apecoin has not shared plans of building a new network or migrating. In general, it is possible to create versions of APE on other networks, increasing the token's influence.
APE may also have use cases within the NFT trading ecosystem, as some Apes are also sold with a token bonus.
Toward the end of 2022, APE may also be used as a native token within a new game intended by Yuga Labs for the last quarter of 2022. So far, there is little information on the trading profile of APE. Still, the token has an encouraging liquidity score of 800 points on the APE/USDT market pair. This pair makes up more than 30% of all APE activity, making the token potentially swayed by concentrated trades.
APE was also the fifth most actively traded asset on Binance as of April 27. This token also rides on the fame of STEPN (GMT), another recently added and vetted asset linked to NFTs and gaming. APE is showing that this sector has credibility, though the quality of assets and projects varies widely.