News
/ Outliers: Why MATIC, ATOM and RUNE are Rising Faster
Outliers: Why MATIC, ATOM and RUNE are Rising Faster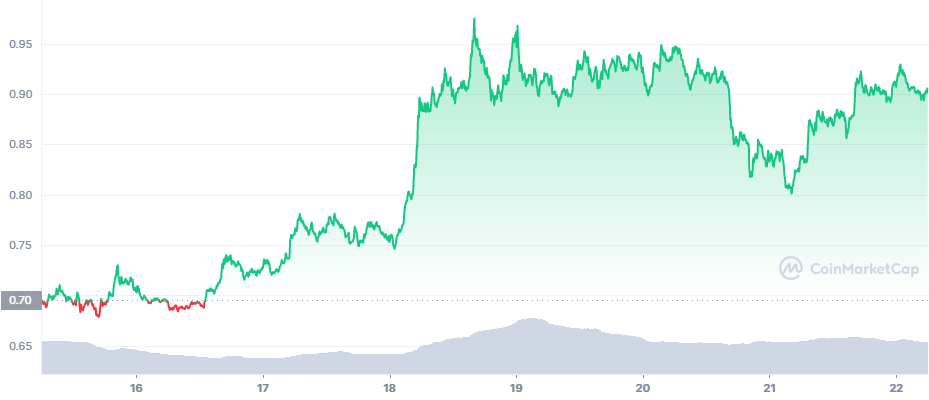 After the recent breakout for Bitcoin (BTC) and a return to just above $23,000, most altcoins also stalled or slid back to lower levels. Ethereum (ETH) retained some gains above $1,550, but most smaller assets lost around 5% overnight.
But some smaller niche altcoins also had outsized jumps regardless of the overall market conditions. The change affected Polygon (MATIC), as well as Cosmos (ATOM) and ThorChain (RUNE). All three tokens rose together on Thursday as other altcoin pumps ended.
Polygon Rises on Anonymous Scaling Solution
Polygon recently announced its newly launched scaling feature, an L2 solution to Ethereum with ZK rollups. The new feature will allow the running of any Ethereum smart contract similar to using the Ethereum Virtual Machine.
The advantage of Polygon lies in lower gas fees, paid in MATIC tokens. For that reason, the network has been used to create blockchain games, DeFi protocols and other distributed apps. Polygon carries copies or migrations of former apps that were available on Ethereum. Polygon carries $1.82B in notional value, with Aave (AAVE) being the most dominant protocol.
The announcement lifted the MATIC price to $0.91, after months as a stagnated asset. MATIC saw former bullish predictions of trading above $5 and as high as $10. MATIC remains a utility token and has not grown its size artificially or by hype to rival the likes of Solana (SOL) or Avalanche (AVAX). The high supply of MATIC, with 8B tokens outstanding, still limits the potential price growth.
Despite this, there is always demand for MATIC and since Polygon had a relatively early ICO, the asset has established high liquidity.
Polygon does not intend to issue new tokens, making MATIC highly important for the entire ecosystem. Polygon also carries wrapped ETH, but MATIC is also a source of liquidity and a tool for fees, NFT minting and other decentralized tasks.
Cosmos (ATOM) Due for Breakout
The rise of ATOM has a less clear-cut reason compared to MATIC. The token was used for speculative trading, breaking out after a more stagnant period.
ATOM was up to $10.93, breaking out by 29% in the past week, and reaching the predicted levels around $11.
Trading for ATOM remains cautious, seeing some selling at the current levels. ATOM may have some added hype from an upcoming meeting to discuss the growing ecosystem of Cosmos.
Cosmos operates an ecosystem of inter-operable blockchains, with KAVA being the most dominant one. ATOM serves as the tool to move between the chains and perform decentralized operations. ATOM is attractive to holders, allowing for staking, as well as for regular airdrops from side projects.
Cosmos also keeps adding new projects, with prominent airdrops additionally encouraging users to buy and hold ATOM.
ATOM is also inviting some short selling, as trading volumes and price action reached a temporary peak. ATOM may benefit from Binance liquidity and a representation on Coinbase, but has not lined up among the top traded assets. 
ThorChain (RUNE) Reaches One-Month Peak
RUNE reached a one-month peak, adding more than 35% in a single week. The rally accelerated late on Thursday, taking RUNE to $2.96.
ThorChain is trying to offer a decentralized liquidity network, locking in $346M in value. The network offers speedy decentralized swaps even for larger coins like BTC and ETH.
The biggest success for ThorChain was to launch its multi-chain main network and leave the Ethereum network. The RUNE token swap is still ongoing, with a drive to exchange all assets to the so-called native RUNE.
The drive for ThorChain is to compete even with centralized exchanges, while offering safe access. Previously, ThorChain has been the target of a bridge exploit, where a white hat hacker took away around $8M in value. Since July 2021, ThorChain has performed with some problems, but ended up expanding its multi-chain ecosystem.
The advantage of RUNE, ATOM and MATIC is that the assets belong to platforms mostly relying on fees and holders. The platforms themselves are not offering DeFi or forms of risk exposure, and have not attempted to create stablecoins.
Platform coins and tokens are booming, riding on the potential of Ethereum to carry more applications, drive traffic, and increase adoption. Most platform solutions are trying to integrate Ethereum and not compete outright.
Niche projects attempting to work as a hub for other apps are one of the sources of value during a bear market. The long-term prospects of the tokens still do not guarantee short-term stability. There is also demand for short-term gains from relatively liquid tokens, to offset the stagnation of BTC.