News
/ Polygon (MATIC) Boosted by Coinbase NFT Rumors
Polygon (MATIC) Boosted by Coinbase NFT Rumors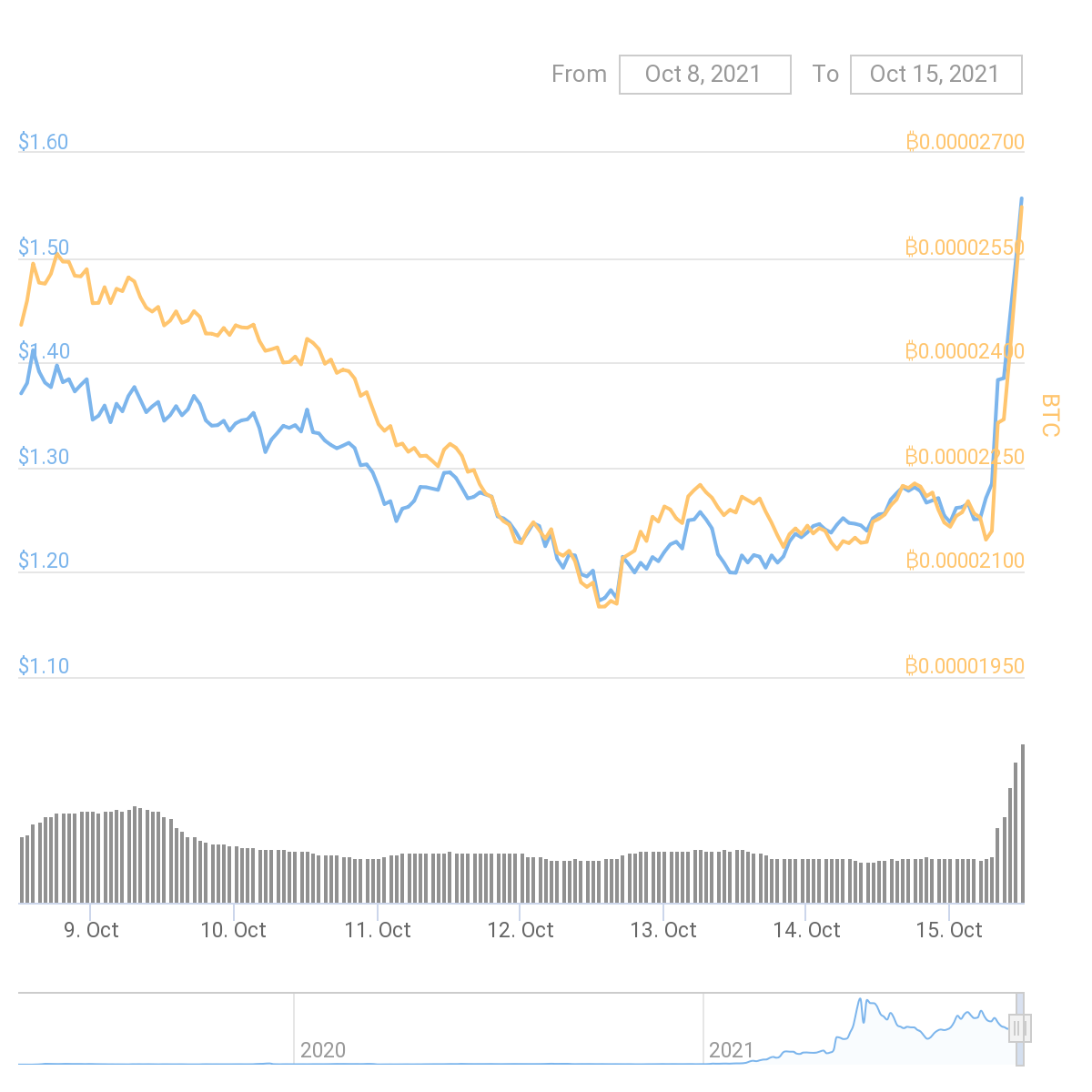 Polygon (MATIC) may be entering another stage in its development, with expectations of Coinbase building its native NFT marketplace on the platform. So far, there are no confirmations on which network would be chosen to build the NFT market for one of the leading crypto brokerages.
The boost for MATIC prices comes from its historical partnership with Coinbase, as a Layer 2 solution for faster transactions. 
However, it is possible that Coinbase builds or chooses another network. Coinbase has not set a launch date yet, but expects to build its marketplace by the end of the year. MATIC may have an advantage over other networks, as it has been used for new NFT mints without the pricing wars on Ethereum.
The NFT space showed robust growth both in new collection airdrops and on the secondary market, becoming one of the drivers of mainstream blockchain adoption.
Coinbase will enter an already competitive NFT trading market, where Opensea is the dominant operator, in addition to Rarible and Sorare, as well as multiple smaller platforms and collections. The crypto brokerage may offer custodial wallets for token-based collectibles, and will have to face the issue of verifying and vetting collections to avoid faked tokens and scams.
MATIC Reaches for New Price Record
The MATIC market price responded immediately, adding another 20% overnight in dollar terms, while breaking the $1.50 barrier, with a hike to $1.53 and a potential to continue upward during the US trading hours. MATIC also got a boost from the overall optimistic market direction, where BTC prices moved closer to $60,000. MATIC is up 16% in BTC terms, and appreciated more than 15% against ETH.
MATIC managed to break its previous all-time high of $1.42, on significantly higher trading volumes of $1.33B in the past 24 hours. MATIC has performed similar price feats in the past, for now managing to keep above the $1 range. The recent rally sparked expectations of MATIC taking over the $3 range, while realistically aiming for $5 in the medium term.
Some of the most optimistic predictions see MATIC move to $10 or higher, based on wider adoption. So far, MATIC has received a boost from the DeFi space, becoming one of the most used protocols to save on Ethereum fees.
Despite its popularity, MATIC has kept to a relatively low per-unit price, sparking expectations of a rally to a much higher valuation.
MATIC Boosts DeFi TVL
The Polygon network locks in a reported $8.37B in notional value, based on deposited ETH and other tokens. Polygon is the seventh largest network in terms of value locked, but remains close to the TVL within other significant protocols – Solana (SOL), Terra (LUNA), Avalanche (AVAX), and Fantom (FTM).
MATIC remains attractive for its significant upside, as it lags in terms of total market capitalization compared to some of the larger DeFi tokens.
At higher valuations, MATIC can bid to line up against the top 10 coins by market capitalization. A total of 10B MATIC are available, of which only 6.2B are in circulation. The demand for the native token to bridge networks, participate in DeFi, mint NFTs or pay for other activities may boost scarcity.
A significant fraction of MATIC remains locked up in various reserve smart contracts, leaving even the largest exchanges as relatively small holders. MATIC has close to 223,000 users based on wallet data.
MATIC continues to exist chiefly as an Ethereum-based token to be used within smart contracts. However, the asset can be bridged to other networks, and there are new bridges added constantly, making MATIC a versatile token to participate in multiple crypto platforms.
For Polygon, DeFi and mostly yield farming is the most dominant type of distributed app. The network also keeps adding new collections of NFT-protected images, though still attracting only dozens of users, based on DappRadar data.
General DeFi Boom Boosts MATIC
Despite the news specific to MATIC, the token has often risen in unison with other major DeFi protocols. As the DeFi space keeps adding value, other high-profile tokens are also booming.
Solana (SOL) reached $162.80, recovering ground with a 8% rise overnight. Polkadot (DOT) is at $41.08, up more than 20% over the past few days.
The rise in Ethereum-based DeFi assets follows the recent expansion of ETH toward $3,800. Additionally, Binance Smart Chain boosted Binance Coin (BNB) and PancakeSwap (CAKE).
DeFi Moves Close to All-Time High
The DeFi space is on track to repeat its all-time high in terms of value locked. The most recent price hike of ETH to $3,809.14 resulted in a boost to DeFi reserves. The TVL for all Ethereum-based projects is now above $95B.