News
/ Polygon (MATIC) Goes Vertical on DeFi Demand
Polygon (MATIC) Goes Vertical on DeFi Demand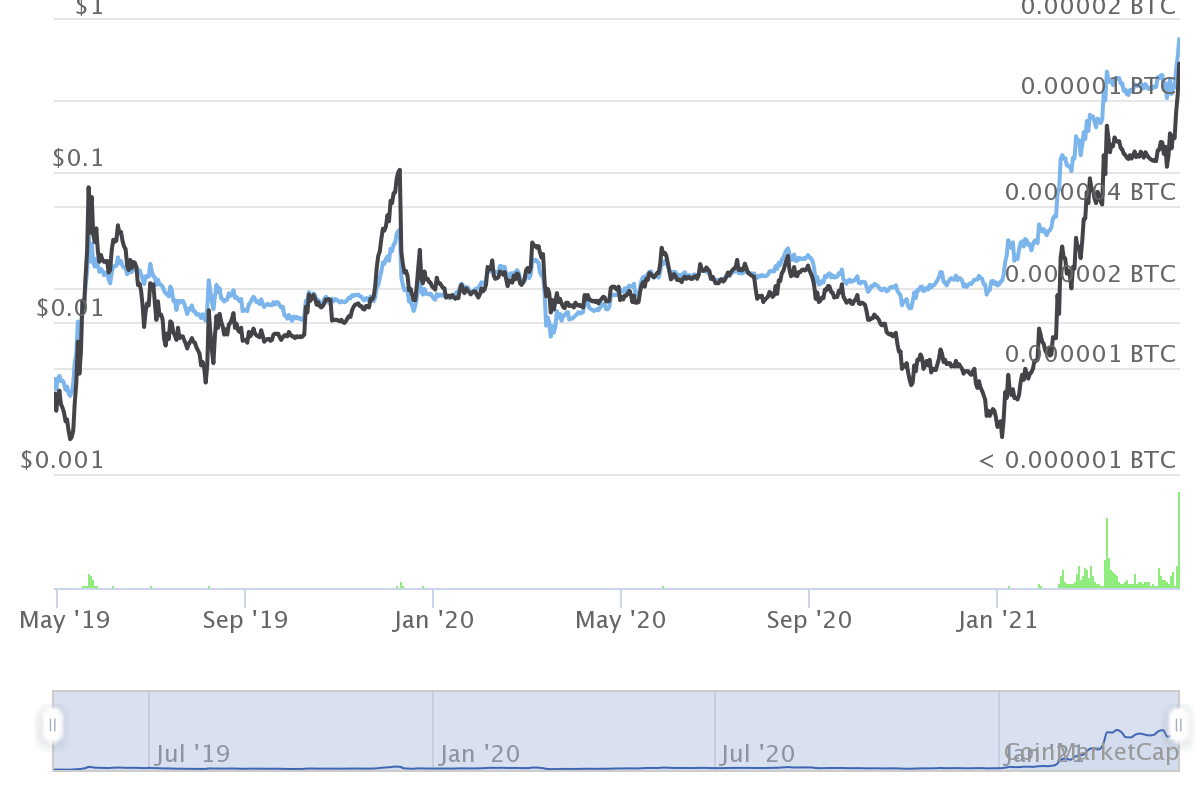 Polygon (MATIC) turned into one of the strongest performers in the past 24 hours, getting a boost from its rebranding into a DeFi platform. MATIC, which traded sideways just under $0.02 in 2020, added nearly 30% to its price in a day, to reach a peak of $0.75. MATIC remains volatile, sinking to $0.67.
MATIC is also above 1,400 Satoshi, its peak price against Bitcoin (BTC), and has entered another stage in the project's lifetime. The token's price and wider adoption hinge on real development and the accumulation of projects and experience over the past two years. The MATIC token is thus another asset to come out stronger out of the recent bear market.
The peak of MATIC arrives at a moment when Ethereum (ETH) market all-time highs above $2,600, and most DeFi tokens received an additional boost. MATIC moved just as BTC prices recovered from their recent dip below $48,000.
Coinbase Boosts MATIC Liquidity
The MATIC token moved sideways for a long time, despite its relatively early listing on Coinbase. Demand for high performance and a confidence in a strong altcoin season finally caught up with the asset, potentially boosting prices to $1.
MATIC also sees predictions for potential significant backtracking, as the market remains volatile. The token is available through decentralized trading, but most of its price discovery hinges on its Binance Exchange pairing with Tether (USDT). This price mechanism is entirely dependent on short-term trader sentiment with rapid shifts in interest and trading volumes.
MATIC Token Fuels DeFi Ecosystem
The Matic project rebranded to Polygon in February, already sparking predictions of a bull market. The DeFi boost of 2021 also put the project in the spotlight, through its offers for Ethereum scaling solutions.
The rebranded Polygon project arrived at a time when Ethereum gas fees were making even trivial token swaps prohibitively expensive. Polygon is now an addition to the DeFi space, competing with Binance Smart Chain (BSC) for low-fee financial operations.
At the same time, the MATIC asset will remain the only native token for all the related proof-of-stake blockchains under the Polygon brand, and will also be compatible with the Ethereum network. MATIC can access the DeFi project space through WalletConnect and MetaMask, as well as WalletLink that uses the Coinbase wallet.
The MATIC token launched first in 2019, during the project's ICO. The token sale raised $5.6M, with an initial price of $0.002.
Polygon Carries Top DeFi Apps
The Polygon proof-of-stake blockchain is already attracting its own ecosystem of distributed apps in the DeFi space. DappRadar opened new tracing for Polygon dApps, as the blockchain has become competitive with other widely used platforms. 
Most notably, the Aave liquidity provider decided to expand its ecosystem with an alternative blockchain, recently launching on Polygon. Aave quickly lined up among the top 3 dApps on the Polygon network.
Activity on Aave immediately picked up, as Polygon promised the same functionalities and earnings, but without the high network fees on the Ethereum main chain. Polygon took over where Ethereum developers are still lagging, creating its own network of side chains to carry tokens without mainnet gas fees.
Following the Polygon launch, AAVE prices also received a boost. AAVE is back to the $430 range, up 24% in the past week. AAVE marked 2,800 new Polygon addresses and $256M in transaction volumes on the new blockchain.
DeFi Space Expands Value
The MATIC success happened at a moment when the DeFi space set a new record for total value locked. The assets on lending platforms or liquidity pools are valued at above $63B, growing by more than 100% since February.
DeFi tokens also became their own class, expanding total valuation above $125B. Large-scale tokens that serve as hubs take the bulk of investment, but their success hinges on the creation of smaller tokens and the building of liquidity pools. 
Polygon's MATIC is still a small-scale asset compared to the UNI market capitalization. But the trend to seek low-fee blockchains is favorable for MATIC adoption.
DeFi remains the space where early adopters of new tokens can easily see 100-times gains. However, those tokens remain extremely volatile and there is no guarantee investors can realize the higher value.
Polygon also expects additional inflows of users and investment from the Polyfarm yield aggregator. Because yield farming tokens are too numerous, an aggregator can collect and compare the most successful ones in terms of liquidity and potential passive income.
The MATIC token itself can already be used to generate liquidity on the QuickSwap protocol. For DeFi tokens, locking in the assets in liquidity pools increases demand and scarcity, and can be an additional factor for price expansion.
For Polygon, the biggest boost may come from already popular Aave liquidity pools, which aggregate well-established tokens like DAI, USDT as well as wrapped BTC and ETH.
Win Crypto for Free
Compete against others from around the world and the most profitable players each month win real cryptocurrency. It is free to enter so you have nothing to lose..
Crypto, Stocks, Copy Trading
eToro is one of the easiest places to buy crypto and a recognised brand in the financial industry. You can also follow and copy trade the most successful traders on the site
Kraken Review
Kraken has a good reputation for security and protection of your funds and operates across the USA (except NY), Canada, the EU and Japan
eToro Review
An Israeli fintech startup well known as a social trading broker, eToro has now over 10 million users worldwide. If you want to trade CFDs of most popular stocks, gold, shares or commodities as well as some crypto eToro is an interesting choice.
Ethereum Review
The leader in programmable money, smart contracts and decentralised applications. There have been many copycats but none have the community and level of adoption.
IOTA Review
Also carrying the MIOTA ticker, this asset relied on coordinating multiple wallets in a directed acyclical graph (DAG) instead of a blockchain. The IOTA project had problems with its hashing algorithm and later suffered from lost coins and connectivity problems leading to the need to re-coordinate the network in a series of updates. The IOTA community remains strong, aiming to achieve the coin's initial usage as a tool to facilitate the Internet of Things (IoT).