News
/ Quant (QNT) Keeps Close to One-Month Peak
Quant (QNT) Keeps Close to One-Month Peak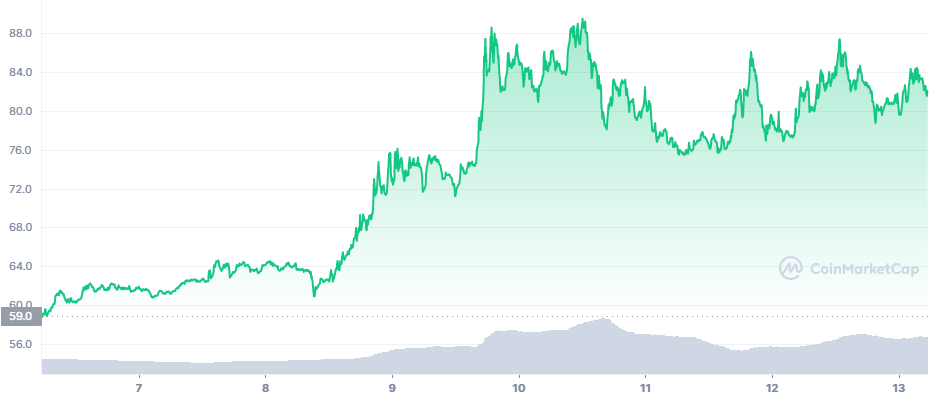 Quant (QNT) is among the series of assets going for relatively short rallies. QNT traded above $89 late on Tuesday, near the recent one-month high, reminding of itself as the rest of the market stagnated. 
Bitcoin (BTC) slid slightly under $19,500, still providing a relatively predictable range. Under those conditions, previously forgotten tokens can return to profitability for the short term. QNT is one of the assets that appeared during the previous bear market, planning to offer blockchain tools for the business. 
Because of its distance from DeFi and decentralized trading, QNT remained on the sidelines. Still, QNT had its bull market rally in 2021, peaking at $357.42 in December. Since then, QNT has been sliding for most of the time, excluding short-term relief rallies. This time, QNT is looking near a temporary peak, so trading may become more cautious.
QNT was the sole asset rising among the overall slump for most altcoins and tokens.
During the past day, none of the rallies continued to erase recent losses, inviting caution for QNT. However, this asset is also viewed as undervalued, based on its low supply.
QNT has a limited community and most of the trading may be speculative. Altcoins may also continue to lag without a more decisive price move from Bitcoin (BTC). Currently, BTC remains stuck under $20,000, once again with weakening trading volumes, leaving asset pumps as an anomaly.
In the case of QNT, another breakout is expected, extending the current pump. While QNT stepped back, there are also considerations for a bigger price move in the making.
QNT trading volumes are not unusual, but stick close to their one-month high, ensuring enough liquidity for more significant trading. The momentum that made QNT one of the big weekly gainers is expected to continue.
Quant Bases QNT Rally on Utility
Quant appeared during the bear market in 2018, promising to build a network of blockchains. The project aimed to build closed blockchains for business, but still offer access to public blockchains.
The approach of Quant resembles an older set of projects, which aimed to offer blockchain solutions to the financial and insurance business. Those projects, which included to an extent XRP, have failed to gain traction. Instead, the more prominent networks were those that built a world of decentralized finance and a pool of liquidity brought in specifically for crypto trading.
At the same time, Quant supporters suggest the price of QNT may reflect adoption, movint to a much higher range based on utility and use cases. Some predict four-digit prices, or at least a hike to the previous highs above $300.
So far, the Overledger concept remains relatively obscure when it comes to crypto-based finance.
The idea of tokenizing real-world assets has been suggested multiple times as well, including as a form of NFT assets. However, Quant aims to become the go-to solution for blockchain-based finance with a more secure technology. In this approach, Quant resembles Internet Computer (ICP). The project's bid is for the long term and may face regulatory difficulties or barriers to adoption.
QNT has made dramatic price moves in the past, starting out from a range under $5 after its trading launch in 2019. To its advantage, the asset took years before peaking to all-time highs.
Despite its claim to building closed blockchains, QNT itself is still an Ethereum-based token, highly accessible for most types of wallets. Based on blockchain data, the token is held in 57,507 addresses. Quant still holds more than 21% of the entire token supply, with the rest distributed evenly across larger wallets and exchanges holding around 2% of tokens.
QNT has the advantage of an earlier launch and is listed with a Binance trading pair against USDT. The asset has a relatively low liquidity score, potentially sliding with a small change in volumes and selling.
What's the Downside of QNT
Despite its relative liquidity, QNT is somewhat removed from the current crypto ecosystem. On the one hand, this helped the project avoid some of the entanglements with crypto lending and DeFi, as well as exposure to risky projects like Terra LFG, Celsius, or Three Arrows Capital.
But QNT is also relying on a rather closed community, remaining removed from some of the trends in crypto.
With a longer bear market predicted, the QNT rally may stall and take time to take the asset to its predicted new peaks.
QNT staking may be coming toward the end of 2022, a tool that could potentially remove tokens from the market. The Quant team is currently focusing on drawing in new apps on the demand side before offering passive returns to token holders.