News
/ These Five Altcoins are Waking Up: XTZ, TRX, NEO, EOS, XVG
These Five Altcoins are Waking Up: XTZ, TRX, NEO, EOS, XVG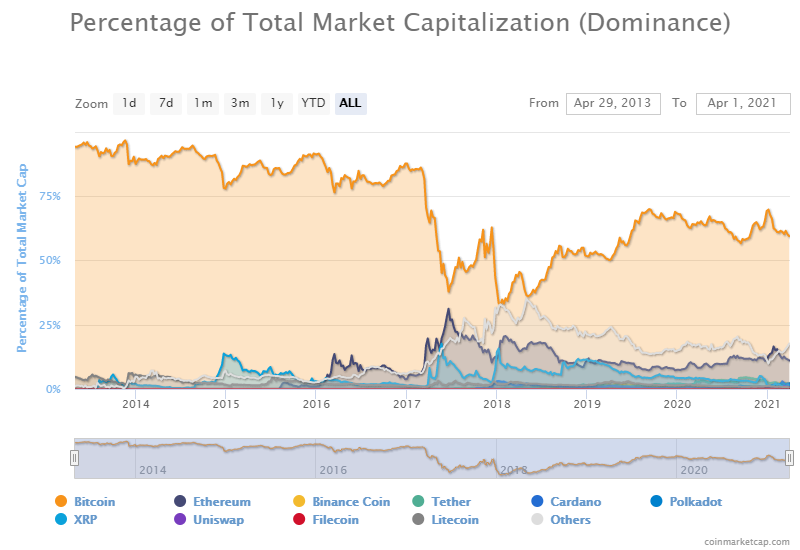 The 2021 bull market held some questions on whether altcoins would be capable of pulling off more significant growth. But trading is starting to look more and more like altcoin season, where assets are moving up from their lows and often repeating their records or reaching new highs. 
In the past few days, Filecoin (FIL) and THETA performed remarkably. Until recently, older altcoins and token-based projects remained dormant, with little price action. Predictions included prolonged stagnation. But now, slow movers seem to be waking up with a price growing by leaps. Here are the old coins that are starting to regain their activity. 
Tezos (XTZ) Breaking $5
The Tezos (XTZ) project overpromised, but over the past few years seemed to under-deliver. Despite the $400M raised in an ICO, the project had troubles launching its code. For now, Tezos is yet to attract as many live applications and financial startups as other networks. 
During the lows of the bear market, XTZ fell close to $0.40 in early 2019. Since then, the asset made a few recoveries, but slid back again. Now, XTZ is once again above $5 and standing before bigger opportunities as interest in crypto assets is heightened once again.
For XTZ, the next challenge is to improve its price against Bitcoin (BTC), where the price in Satoshi is near an all-time low.
TRON (TRX) Closer to $0.10
The TRON network is one of the most active carriers of distributed apps and decentralized finance. Additionally, the network secures billions of USDT tokens prepared for multiple exchanges. Despite this, the TRX asset hovered around $0.03 for years.
In late March, however, TRX prices moved up above the 5 cents barrier, then continued as high as $0.09. TRX volumes reached an all-time high in the past week, suggesting the asset may soon enter price discovery territory.
TRX sentiment is still low compared to other assets, but the network is a staple of crypto space and promises continued growth. 
NEO Boosted by Network Relaunch
The NEO network was one of the earliest projects to try competing with Ethereum. However, the NEO network had trouble with its delegated proof of stake, and decided to relaunch to a new network. The exact date of the relaunch is uncertain, but it is giving some visibility to the project.
NEO recovered to above $50, with the potential to revisit its highs near $200. The asset spent years depressed under $10 during the bear market. However, the price gains may be riding on top of the BTC performance, as the NEO price is relatively flat against the leading coin.
EOS Rides Market Momentum
EOS is one of the most active networks, with a significant share of decentralized finance assets. However, the coin's price remained depressed and is just breaking out. EOS lagged behind other altcoins, but it is catching up in the past week. 
The EOS project claims to support thousands of transactions per second, and lines up as one of the most active networks. However, EOS transactions can also be spammed to imitate real activity.
The new bull market may push EOS to higher valuations. In the past, the asset easily traded above $10, though with some speculations of a deliberately inflated price. Now, EOS is just under $5 and seems to be coming out of the stagnant trades under $3.
Verge (XVG) Looks Like Wild Card
Verge (XVG) is a crypto coin with a low market price and an expectation for larger potential gains. XVG has not broken out yet, except for tentative growth in the past week. Still, the asset is one of the older projects that are coming to the forefront again.
The Verge project faced headwinds due to a mining attack which undermined the network's security and reputation. However, the project preserved its community and became one of the established altcoins. XVG is still barely in the top 100 coins by market capitalization.
The attraction of XVG in the past weeks saw the price emerge from sub-penny positions, to its current levels above $0.04. The project is not seeing anything close to the publicity of 2017, when John McAfee made XVG one of his promoted coins and pushed the price briefly to $0.18.
Altcoins remain highly volatile, and are capable of much more rapid price moves in either direction. Low liquidity risks may see some of the coins lose their gains within hours. For XVG, trading holds additional risk as exchanges like Yobit have closed withdrawals.
Altcoins are best traded on reliable platforms, such as Binance Exchange or the Kraken market for EU buyers. Smaller, less liquid exchanges pose the risk of total loss for altcoins. 
Bybit Bonus Bash
Up to $1000 Bonus upon deposit + $10 Coupon regardless the deposit amount. Also check out their $400,000 trading competition
Win Crypto for Free
Compete against others from around the world and the most profitable players each month win real cryptocurrency. It is free to enter so you have nothing to lose..
Crypto, Stocks, Copy Trading
eToro is one of the easiest places to buy crypto and a recognised brand in the financial industry. You can also follow and copy trade the most successful traders on the site
Kraken Review
Kraken has a good reputation for security and protection of your funds and operates across the USA (except NY), Canada, the EU and Japan
eToro Review
An Israeli fintech startup well known as a social trading broker, eToro has now over 10 million users worldwide. If you want to trade CFDs of most popular stocks, gold, shares or commodities as well as some crypto eToro is an interesting choice.
Best Staking Coins
We discuss how staking works, the risks and rewards and some of the main coins offering staking
Litecoin Review
An early alternative to Bitcoin, LTC aimed to be a coin for easy, fast, low-fee spending. LTC offers a faster block time and a higher transaction capacity in comparison to Bitcoin.
Cardano Review
An innovative digital asset utilizing a fully decentralized consensus protocol called Ourobouros. The network aims to compete with Ethereum in offering smart contract functionalities. However it is lightyears behind Ethereum in terms of adoption.