News
/ 'Visa' to Settle Transactions in USDC – Bitcoin Rocketed to $58K!
'Visa' to Settle Transactions in USDC – Bitcoin Rocketed to $58K!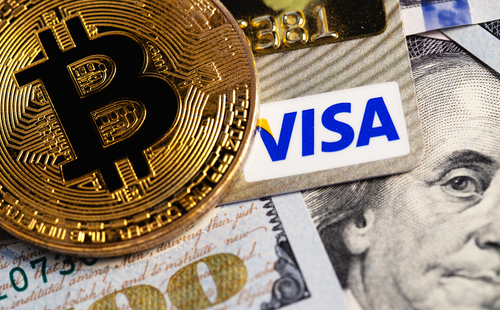 Visa becomes the first-ever payments processing giant to allow cryptos to settle transactions on its network. According to the press release, Visa said that it would be using USD Coin (USDC), a stablecoin pegged to the value of a US dollar, for settling transactions using the Ethereum blockchain. This decision of Visa to allow cryptos as a form of settlement currency marks a strong sign for the acceptance of cryptos by the conventional financial industry.
This move also helps Visa's network strategy as it is designed to improve all forms of money movement, be it on the Visa network or beyond. Visa is trying to add great value to the ecosystem by exploiting the opportunities in the crypto space and partnering with trusted brands in this area. In a way, this move by Visa will eventually allow cryptos to be more useful, secure and appropriate for everyday payments.
Visa is partnering with Anchorage – a federally charted bank for digital assets, to accept and settle transactions using cryptos. In their pilot launch, Visa chose its longtime partner Crypto.com to test the feasibility of their decision. They also clearly stated that apart from Crypto.com, they would be expanding their partnerships for USDC settlements in the 3rd and 4th quarters of 2021.
How does this work?
Crypto.com Visa cards are already in distribution, and people are using them to pay for their typical transactions daily. However, the current process that goes behind the system to enable crypto transactions possible is hefty. For instance, if you are a holder of Crypto.com's Visa card and you want to buy a drink at a convenience store; the following is the process that goes in the background.
The cryptos stored in your Cypto.com's wallet will first have to be changed into the respective fiat currencies. The wallet will then deposit the fiat money to the receivers' bank account. These payments are wired up to the Visa network to settle transactions. This adds additional cost for making those transactions in the backend and increases the business complexity to accept cryptos as a mode of payment at the moment.
But with Visa's latest move, the entire process of converting cryptos to fiat money is eliminated. By busing Ethereum blockchain, the USDC on your Crypto.com's wallet will get transferred to the receivers' Visa ETH address enabled by Anchorage digital assets bank. In this method, the payment confirmations are instantaneous, and the transactions fees are minuscule compared to the previous process.
Talking about this revolutionary move by Visa, Cuy Sheffield (head of crypto at Visa) said,
How did this move by Visa impact the price of top cryptocurrencies?
Bitcoin
Although this move by Visa is not directly linked to Bitcoin, Crypto investors and traders saw this as a stronger sign of the growing adoption of cryptos in our daily lives. This has resulted in the Bitcoins' price surging by almost 4% right after this news release.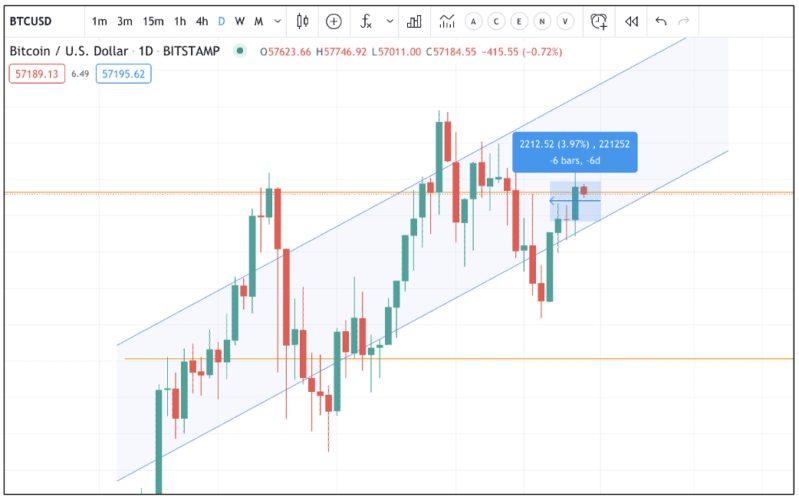 As you can see in the above price chart, the last bullish candle is formed after the news release. The price of BTC/USD is now hovering around the $58k levels, which is a strong raise from its previous week's low of around $50k.
Technical analysis suggests that the bullish momentum in this pair is strong, and the price is expected to reach $65k levels shortly. The price continues to respect the channel and creates a few fakers above and below before making a brand new higher high. The support is currently at around $48,100, with $57,360 being the resistance on the daily timeframe. We believe that the price could make a higher high from this point and create a brand new all-time high value.
Ethereum
As discussed, Bitcoin might not have a direct linkage to Visa's decision, but Ethereum does. Ethereum network is an integral part of Visa's move to adopt cryptos into our daily transactions. Right after the news, ETH/USD pair has broken the $1.8k level and is now trading around $1815. Similar to Bitcoin, the price of Ethereum has surged by ~8% after the news release compared to its previous daily candle.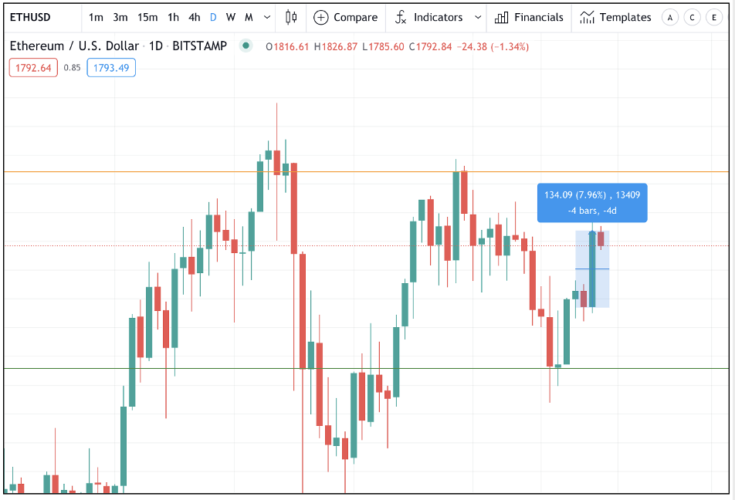 The support and resistance levels of ETH/USD are at around $1579 and $1920, respectively. The market continues to move in a consolidation state, but the buying market is expected to continue shortly in this pair.
Apart from Bitcoin and Ethereum, the prices of other popular cryptos like OMG Network (+10.1%), Tezos (+7.2%), and Litecoin (+6.8%) surged after the news from Visa.
You can buy these cryptos and take advantage of these price surges from a well-curated list of reliable and popular exchanges we have.
We strongly believe that this move by Visa will help crypto native companies like Crypto.com to come up with brand new business models where the usage of fiat currencies is eliminated. Visa's partnership with Anchorage digital assets bank will also strengthen this company's ability to support the Central Bank Digital Currency (CBDC) as they emerge soon. Cheers!
Bybit Bonus Bash
Up to $1000 Bonus upon deposit + $10 Coupon regardless the deposit amount. Also check out their $400,000 trading competition
Win Crypto for Free
Compete against others from around the world and the most profitable players each month win real cryptocurrency. It is free to enter so you have nothing to lose..
Crypto, Stocks, Copy Trading
eToro is one of the easiest places to buy crypto and a recognised brand in the financial industry. You can also follow and copy trade the most successful traders on the site
Kraken Review
Kraken has a good reputation for security and protection of your funds and operates across the USA (except NY), Canada, the EU and Japan
eToro Review
An Israeli fintech startup well known as a social trading broker, eToro has now over 10 million users worldwide. If you want to trade CFDs of most popular stocks, gold, shares or commodities as well as some crypto eToro is an interesting choice.
Best Staking Coins
We discuss how staking works, the risks and rewards and some of the main coins offering staking
Ethereum Review
The leader in programmable money, smart contracts and decentralised applications. There have been many copycats but none have the community and level of adoption.
IOTA Review
Also carrying the MIOTA ticker, this asset relied on coordinating multiple wallets in a directed acyclical graph (DAG) instead of a blockchain. The IOTA project had problems with its hashing algorithm and later suffered from lost coins and connectivity problems leading to the need to re-coordinate the network in a series of updates. The IOTA community remains strong, aiming to achieve the coin's initial usage as a tool to facilitate the Internet of Things (IoT).