News
/ What Brought VeChain (VET) to One-Month High
What Brought VeChain (VET) to One-Month High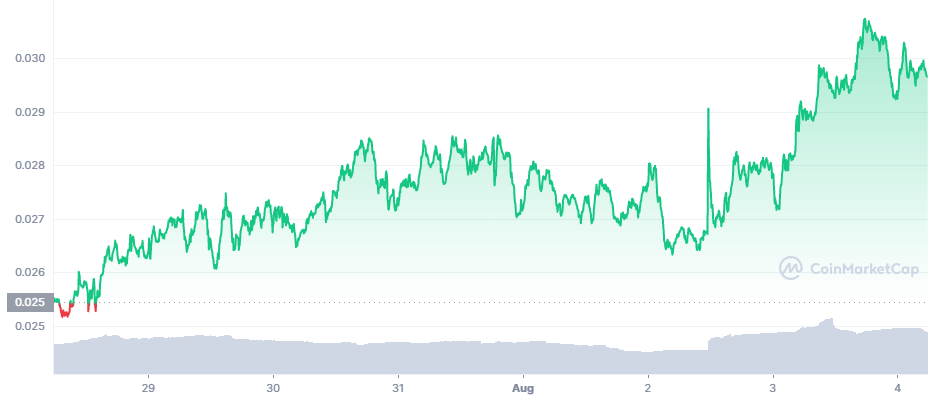 VeChain (VET) is another one of the serial pumps, which are creating a minor altcoin season. VET rallied to $0.03, the highest level in the past three months, though still closer to the three-month lows. Later, VET retreated to $0.029, putting some doubt on the expectations for a bigger breakout.
VET rallied while Bitcoin (BTC) recovered once again above $23,400, setting the pace for more bullish expectations at least in the short term. BTC for now manages to stay close to $23,000, giving the altcoin market some time for growth.
The current price action, adding more than 27% on a weekly basis, set expectations for a bigger VET breakout.
VeChain is one of the older projects aiming to bring tokenization to real-world goods. VET is the native token of a Layer 1 scalable network, which aims for low energy usage compared to mined coins.
VeChain was also one of the projects with early ideas about NFT use cases. Unlike avatar pictures or other purely cosmetic NFT, the idea of VeChain was to create a token standard that could authenticate physical goods. VeChain partnered with luxury goods and even WalMart, using its network for supply chain management and authentication. VeChain also tracks the activity of the smart contracts belonging to its big partners.
VeChain is considered a project building under the radar and achieving multiple partnerships. VET remains close to the top 30 of coins and tokens, but has lagged behind the bigger L1 networks like Cardano, Solana, Avalanche, Next and others. VET is also priced low and may be attractive for its potential to return to previous peak levels.
What is the Next Step for VeChain
VET is expected to attempt a climb to $0.04 and later $0.05. There are also warnings that VET may go the way of other short-term pumps and retreat to a lower range.
VET is one of the older tokens with multiple Binance trading pairs both against USDT and several fiat pairings. This brings together about 25% of all VET activity. The token has a highly active community, though with somewhat lower hype compared to other coins and tokens.
VET also suffers from relatively low liquidity and has not attempted any independent rallies. The current price hike happens on low trading volumes of around 77M in 24 hours. VET has briefly touched peak trading at $3.6B per 24 hours, during peak bull market at the end of 2021. VET peaked at $0.25, a price achieved after a token split and relaunch. This achieved the current low price below $1, as VET traded in the dollar range. The team created a new asset with a larger supply to serve the needs for the Internet of Things and Web3.
Will VeChain Achieve Real World Adoption
One of the talking points for VeChain is that it has the potential to become a global protocol with real use cases.
VeChain has been building for years, with the initial idea appearing in 2015 but was heavily marketed since 2018. 
VTHO Token Also Rallies
VeChain also hosts an auxiliary token, VTHO, used to pay for transaction fees. VTHO trades at a much lower range, though still closer to its one-month peak. VTHO reached $0.002 after last week's appreciation.
VTHO follows the rise of VET, though at around $5.1M in daily volumes. VTHO is mostly used as a utility token and more rarely for speculative trading.
VTHO is also listed on Binance and is essential for using and moving VET tokens. Hence, the rise in VeChain activity also requires owning some VTHO. The token is rewarded also for VET holding, with small amounts for even small users. 
Is VeChain Carrying DeFi Projects
VeChain reports more than $6B in value locked, competing with bigger protocols. Currently, most of the value is locked in VexChange, the network's native decentralized exchange.
VexChange carries more than 91% of the $6.1B in notional value locked. VeChain, however, does not carry high yield or lending mechanisms like other networks.
VeChain wants to encourage the building of more distributed apps, by introducing Connex2. The Connex2 protocol is an interface for anyone to build a distributed app. The ecosystem growth will then increase demand for VTHO, while also encouraging VET staking.
VeChain is slightly lower in popularity due to the usage of a different set of wallets. MetaMask and browser extension wallets are not compatible with the network, and users must resort to Thor mobile wallet or Atomic Wallet. This hampers the building of simple apps as in the case of Ethereum or BSC.
VeChain reports more than 1.8M addresses created, with more than 19,500 existing smart contracts. The network is secured by 101 validator nodes. VeChain also carries the VeUSD stablecoin, with a supply of around 5.5M tokens.