News
/ Why Synthetix (SNX) is Rallying in a Bear Market
Why Synthetix (SNX) is Rallying in a Bear Market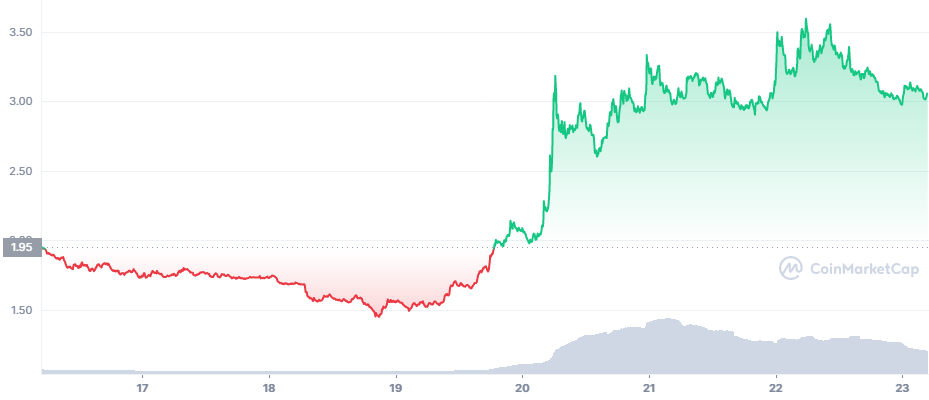 Synthetix (SNX) is one of the few assets to double its price during the past week. While Bitcoin (BTC) still holds above $20,000 with fears of a new slide, SNX is outperforming even after the past few weeks of shocks for the crypto market. 
This time, altcoins also stepped back more than BTC, possibly extending their losses. The overall market mood remains bearish, with talks of an already established "crypto winter".
What Caused the Synthetix Rally
SNX rose to nearly $3.20, one of its highest levels in the past month. This time, the rally only repaired the damage from the mid-June selling. SNX is still closer to its lower range, after falling from highs above $7 in the past quarter.
SNX reached its peak above $27 during the DeFi boom of 2021, a significant achievement for an asset starting out at $0.04 during the previous crypto winter. The current relief rally is relatively small and is still a bounce off the lows, with no guarantee of extending to a higher price range.
The current rally may be an anomaly for several Polygon-based assets.
Trading volumes also grew by more than three times late on Wednesday, suggesting a sudden interest in the asset and a possible extended pump. The sudden interest and exposure of the token may extend the rally. There are suggestions that SNX may be going for a concerted pump based on Discord discussions.
After a pump, SNX may be especially volatile or start backtracking fast. SNX relies heavily on its leading Binance trading pair, which takes up more than 23% of trading volumes. But the pair is also prone to slippage as well as rallies with relatively small liquidity. During bear markets, concerted pumps may be one source of gains while other assets remain stagnant. However, those trades are also extremely risky, especially if using leverage.
Even in a bear market, altcoins and tokens can go through short-term pumps. SNX is also widely accessible through Coinbase, adding to its outreach. With a relatively small per-unit price, SNX may continue its rally to previous price ranges.
An additional reason for the pickup in SNX activity is the addition of new synthetic trading pairs reflecting cryptocurrency price action.
Synthetix Offers Price Exposure Without Underlying Assets
Synthetix has a different model compared to other decentralized trading protocols. The hub creates synthetic assets that reflect the value of crypto, stocks, bonds, or other asset classes. 
The trading platform contains more than 342M in value, much lower compared to bigger DeFi protocols. Synthetix is transparent about its type of assets and trading technique, though it mentions the existence of leverage of still unknown depth.
The rise in SNX is thus still in doubt, mostly due to the overall leverage in crypto finance. It is unclear how many of outstanding crypto loans are collateralized sufficiently and not at risk of liquidations.
Because of the synthetic asset, Synthetix can also offer lower fees and faster trades. The platform recently voted to add sTSLA trading, reflecting the price of Tesla, Inc. Additionally, trades are offered for oil, commodities, gold, forex pairs and indexes. Decisions on adding assets are taken by the Synthetix community by voting. The synthetic services are used in other DeFi protocols like Curve Finance.
Synthetix Continues with Active Development
Synthetix is a lively project aiming to add technological solutions to known crypto bottlenecks. The team has worked on their own form of atomic swaps, which can exchange two assets on-chain in a single transaction, without access to a centralized exchange. Atomic swaps offer fewer steps than using a DEX.
Synthetix alo distributes a part of its trading fees to SNX stakers, making token ownership more attractive. The Synthetix platform reaches trades of around $200M per day, offering a democratized tool to access multiple asset classes. However, the crypto owned through the platform cannot be freely stored in a wallet.
The staked SNX are also used as collateral for some of the liquidity present on Synthetix. This is the biggest risk factor for the token as it may pose withdrawal issues or lack of liquidity.
Synthetix and SNX also use a Layer 2 solution for Ethereum with optimistic rollups. This means SNX buyers need to bridge their tokens and pay fees to use the right version for staking. After being moved to L2, SNX tokens will incur lower fees.
SNX is rewarded with sUSD for a more intuitive reward schedule. The rewards are organic and due to the activity on Synthetix. So far, this relatively small protocol supports DeFi without toxic exposure to over-leveraged projects, ensuring fairer trades. The diversified tools also mean Synthetix is not so dependent on the crypto market for its whole liquidity.