News
/ Is DogeCoin (DOGE) Now the Elon Musk Crypto
Is DogeCoin (DOGE) Now the Elon Musk Crypto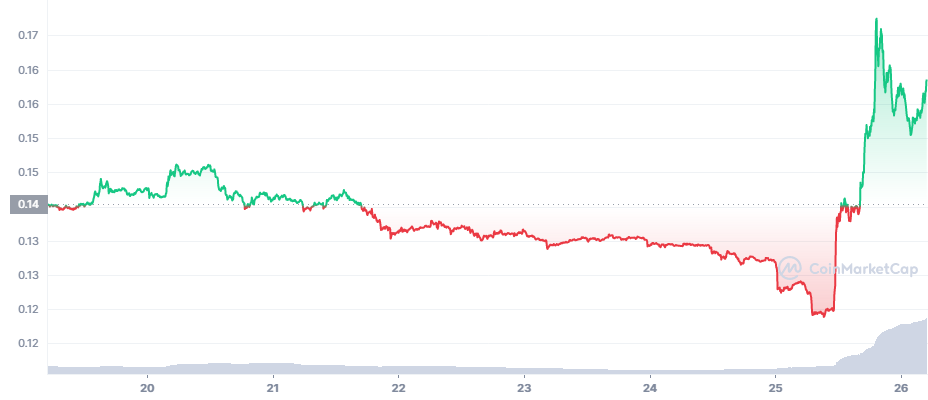 DogeCoin (DOGE) has always managed to surprise the markets. After the almost obligatory rally on 4/20, when DOGE only inched up, the asset once again bounced. This time, the news that triggered the rally were different. 
After weeks of negotiation, the buyout offer of Elon Musk to acquire Twitter may be approved, with the intention of taking the company private at $54 per share.
DOGE broke above $0.15, adding more than 15% to its price at one point. It is still early to predict whether DOGE is just making a short-term move, though some see a potential for a higher valuation.
DOGE has touched $0.70 during a trading frenzy in 2021, though this was a concerted effort to drive up the price. At those prices, DOGE was rather illiquid and trading had to stop on platforms like Robinhood.
Can DOGE Climb to $1
Just like a price of $0.01 was considered peak value for DOGE, the new price range may be $1. So far, DOGE has failed to rally this high. Still, the coin has a price floor at around $0.12 and relatively low volatility in the past year.
If DOGE gains more serious liquidity, a new rally to a higher valuation is possible. So far, Elon Musk has been linked to one of the biggest DOGE wallets, which may remain in cold storage for the foreseeable future. The top DOGE wallet carries more than 22.5% of the current supply, with a value of about $4.6B. The top two addresses together hold more than 30% of the DOGE supply, though inflated away by constant daily production.
The humble meme coin is also becoming a more trusted tool for payment, testing a direct transfer via Starlink.
Currently, DOGE uses the Litecoin network to produce new blocks and sign transactions. The Litecoin hashrate has tripled since the lows in 2021, to stand above 491 TH/s, making the network more difficult to attack. So far, there are no double-spends for DOGE or LTC, or other attempts at hacks or exploits. DOGE is a proof-of-work coin sharing common traits with Bitcoin's network. While the mining process is less energy-intensive, it still relies on ASIC and significant electricity usage.
DOGE use cases include social media tipping, as well as various forms of fundraising. DOGE has extremely low transaction fees, though it only currently carries around 21K transactions per day.
DOGE has the same use cases as in the past, being a simple coin for payments. The asset is also used to move funds between some exchanges. Added to its appeal is retail buying with the hope of a speculative price rise. The movements of DOGE are also viewed as a prediction of the altcoin market, signaling reawakened demand for risk and upside potential. 
Will DOGE Copies Thrive Better
DOGE also had another effect on the crypto market. Starting with ShibaInu (SHIB), it sparked the growth of a series of meme tokens. Unlike DOGE, those tokens also had a strategic plan of burning their supply to ensure price growth.
SHIB also had a DeFi protocol attached, as well as NFT collections and an attempt at play-to-earn games. But the biggest boost for SHIB were the regular token burns.
SHIB remains within the top 15 of coins, while DOGE is in the top 10. After the rally, SHIB stood at around $0.000024, a significant expansion since earlier sub-penny prices.
DOGE May Switch Direction
The positive thing about DOGE is that it has not returned to sub-penny prices, and even during bearish periods has managed to hover sideways around $0.12. Currently, trading sentiment shows most traders are bearish on DOGE.
The coin still has no supply cap and no plans for technological changes. Still, more than 64% of DOGE holders are in the money and may not sell to pressure the market any time soon.
Nearly half of DOGE trading activity is happening on Binance trading pairs, depending on Tether (USDT) liquidity. This also means traders can concentrate their efforts on a single exchange to pump the DOGE price. Yet DOGE is rather liquid, absorbing more than $2.4M in notional value for 2% slippage.
DOGE Decouples from Bitcoin (BTC)
The DOGE price move happened at a time when BTC moved in the opposite direction. The leading coin dipped to the $38,700 range, before recovering above $39,600. BTC later recovered to $40,540.57, while DOGE stuck to the $0.15 range.
BTC has a different logic and has not been affected so easily, despite Tesla, Inc. being one of the biggest BTC holders. The other outlier was, as usual, Terra (LUNA), which recovered faster above $94. Even Ethereum (ETH) returned under $3,000, though within a small distance of regaining that price level.