News
/ Bitcoin (BTC) Falls to $38,000 After Coinbase Bug
Bitcoin (BTC) Falls to $38,000 After Coinbase Bug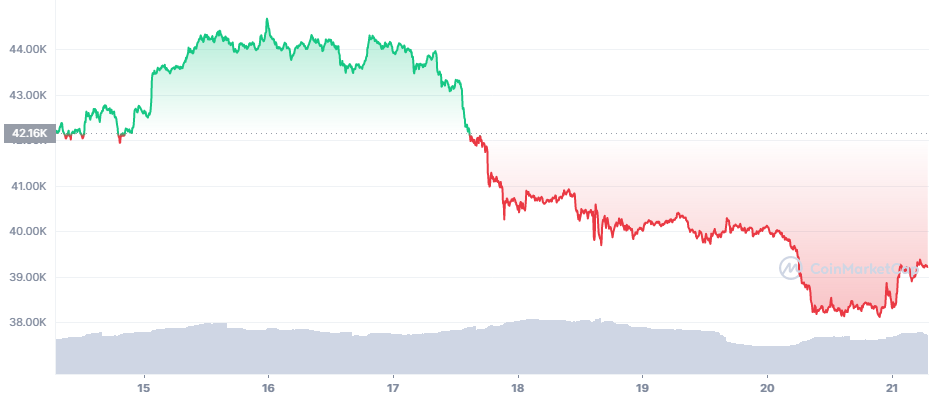 Bitcoin (BTC) failed to hold onto the $40,000 range, already giving off signs of weakness ahead of the weekend. Late on Sunday, BTC traded above $38,200, but setb up new unknowns for the coming week. With monthly options expirations looming, BTC faces more pressures to set a direction. In the new week, BTC hiked to $39,224.98, once again facing uncertainty.
The current price slide follows fears that BTC has entered a bear market and will continue to unravel, possibly revisiting positions under $30,000. Those price moves are not unusual for BTC, especially if pressured by leveraged trading. With sentiment shifting, a deeper bear market may be possible. But BTC also fell for an immediate reason – a potential exploit of Coinbase advanced trading features.
BTC Down After Coinbase Glitch Found
Around February 11, an unknown glitch was found on the Coinbase trading engine. It could allow exploits of selling large amounts of coins that did not exist.

A trader and expert going under Tree of Alpha discovered what would turn into a critical bug, submitting a report to HackerOne.
After he contacted Coinbase developers immediately, some advanced trading and orders were closed over the weekend. This contributed to a mix of low overall volumes, as well as market panic. Fortunately, it looks like the loophole in order books was never used, saving Coinbase from high potential losses.
Why the Coinbase Attack Crashed the Market
Coinbase is one of the exchanges that drove the adoption of crypto assets for US-based buyers. A significant part of new BTC and other asset owners keep their net value on the exchange's wallet, ready for trading. An attack on Coinbase would be able to affect multiple trading pairs, while having repercussions for other markets.
Coinbase also raised new concerns about the anonymity of holding BTC and the potential to freeze the holdings. While coin mixing is still murky when it comes to regulation, and most exchanges discourage it, there are still tools being used to veil transactions as much as possible.
BTC Trading Volumes Thin Out
BTC trading volumes thinned out to about $16B on Sunday. The mix of causes included the usual low-level activity on weekends, added to the freeze in some trades on Coinbase. As a result, liquidity and depth fell for Coinbase to levels significantly lower compared to Binance, Huobi, or FTX Exchange. At the same time, the concentration of BTC activity on Binance gave the BTC/USDT pairing extremely high liquidity scores. 
After the recent slide under $40,000, the Crypto Fear and Greed index plunged to 27 points, after touching neutral levels around 52 points. The shift in sentiment, as BTC moved lower compared to bullish predictions, is raising doubts about a fast recovery. 
In the short term, sideways movement may give way to more drops, as there is little demand for BTC even at the current price.
Interest in Spot BTC May Renew for Long-Term Holding
Despite short-term price positions, interest in spot BTC becomes more prominent. One of the reasons is that BTC held in custodial wallets has indeed proven to be a tool that cannot be seized and in some instances, not even tracked.
At the same time, buying BTC for investment vehicles continues, especially powered by the recently launched ETF in Canada.
BTC demand is showing some signs of not entering an active bull market at this point. On-chain activity has slowed down, and some recent buyers are also selling some of their coins with short holding periods. Despite this, long-term adoption continues to expand, awaiting more active price action.
Ethereum Ecosystem Continues to Falter
Ethereum (ETH) tracked back to $2,650.60, with a deeper drop compared to BTC. On Monday, ETH recovered slightly to $2,737.17. Trading volumes sank to about $10-12B in 24 hours, closer to the lower range of activity in the past 24 hours. 
Value locked in DeFi continued to unravel to $70B from nearly $105B during peak market conditions. Miner revenues also fell, as well as on-chain activity. 
One of the problems of ETH is that most DeFi startups and new games or NFT collections work better in bull markets. If ETH meets constant setbacks, the value proposition may unravel, with added liquidations. As a sign of potential price weakness, ETH is now being moved on exchanges for potential selling.
Weekly transactions are also near a four-month low, along with active supply. At the same time, mining remains highly competitive and is near an all-time high. Fees are also an important source of income, with the potential to solve blocks with significant priority fees.
The coins in the ETH 2.0 smart contract expanded to 9.5M, but at the same time, the total supply of ETH increased to above 119M tokens with no end of new coin production.