News
/ Bitcoin (BTC) Threatened by Another Slide
Bitcoin (BTC) Threatened by Another Slide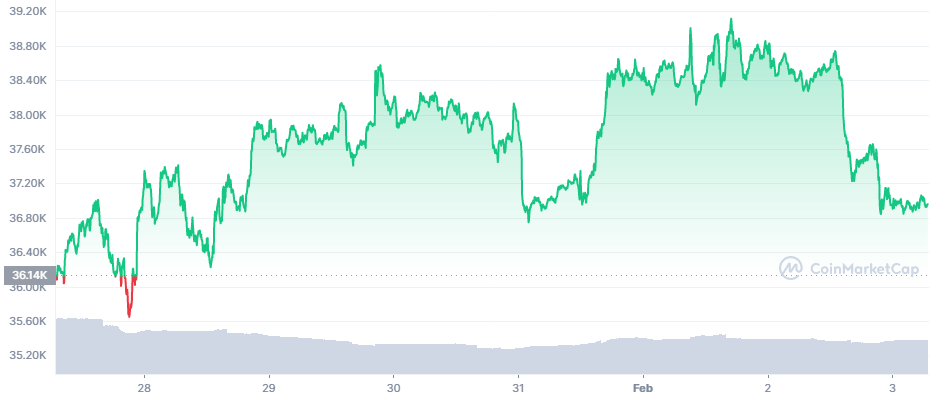 Bitcoin (BTC) may be threatened by another slide, as bids to support current positions disappear. BTC only touched $39,000 briefly, then slid again to $36,938.40. Renewed predictions see another dip under $29,000 and possibly an extension of the "crypto winter" period. 
BTC at current prices is not a definite buy, though it is not in bubble territory as well. The latest challenge is to see if there is enough support for a rally above $40,000. In the short term, however, selling may only stop around $35,000, based on order book analysis.
The price slide comes a day after relatively optimistic price moves took BTC and altcoins on a brief rally, giving hopes for the start of a recovery. 
The latest price moves add to the narrative where the trend is for a decreasing price at least in the near future.
BTC also lost some of its market cap dominance and is down to 41.1% of the total market capitalization, while the dominance of Ethereum (ETH) recovered somewhat above 18%. Altcoins that regained their positions are still looking shaky and losing about 5% in the past day. 
Microstrategy Buys the Dip Again
Despite bearish predictions, this latest price dip did not prevent MicroStrategy from buying. The announcement coincided with news of a large whale wallet recently completing orders and growing its balance.
The address with a balance closest to that of MicroStrategy is the third-largest wallet in Bitcoin history. The third-largest wallet holds a balance of above 126,000 BTC, but some consider it to coincide with the real balance of MicroStrategy. 
At current prices, MicroStrategy is in the money, having no incentive to sell. According to buying logs, the average price of the acquisition is still below current valuations. 
BTC trading attitudes remain bearish overall, with fear prevailing. At the same time, there are signs of preparation for a new rally, with funding rates for leveraged trading increasing since the final days of January.
The final price move is hard to predict, as even the accumulation of short positions in expectation of a price drop can have the opposite effect. One of the potential scenarios is a short squeeze where the price goes up suddenly and liquidates short positions.
BTC trading volumes, however, remain on the low side, falling to 18B in the past 24 hours. Currently, BTC trading is only about 25 to 30% of peak volumes.
The supply of Tether (USDT) has also stopped growing since the last peak above $60,000 and stagnated just under 78B tokens. BTC trading now also depends on other dollar-fixed coins, including Binance USD (BUSD) which makes up around 8% of all BTC trading activity. More than 18% of BTC trading is against the USD in direct pairings and about 51% in BTC/USDT pairs.
Will BTC Have Another Rally
The expectation for BTC is to reach lows and bounce to a new all-time high, this time at around $80,000. BTC is still far from the next halving of the block reward, but scarcity is driven by older accounts holding coins, as well as withdrawals from exchanges.
BTC miners hold one of the highest balances in history, with no pressure to sell all coins to cover costs. In the past years, BTC mining rigs also became more efficient in testing block header numbers, while mining farms found cheaper, renewable sources of electricity.
Interest in NFT Surpasses Mainstream Crypto Searches
One of the trends of 2021, NFT collections, has continued to grab mainstream attention. While BTC investment is open to almost anyone across the globe, NFT items have much higher appeal on social media.
NFT collections can be traded and serve as exclusive clubs that mop up the value of some coins and tokens. During what looks like crypto winter, not all assets leave the market, and instead, some are parked into new startups. 
NFT go beyond images, can be stored in the most widely available wallets, and some items can be used within games. For now, mainstream games have rarely added NFT items, mostly due to concerns about long-term availability and storage. 
Despite fears of a bear market, new collections still sell, with a special interest in Solana-based NFT items. 
However, storing and using NFT can be risky, with multiple attacks and malware attempting to steal the items. One source of attack are sites that connect to MetaMask and other browser extension wallets, then manage to extract all NFT within the wallet.
While NFT trading can lead to gains, some collections also experience a rapid drop of the item floor price, suggesting demand has disappeared and all owners try to sell their items.