News
/ Bitcoin (BTC) Weekend Rally Extended Above $42K
Bitcoin (BTC) Weekend Rally Extended Above $42K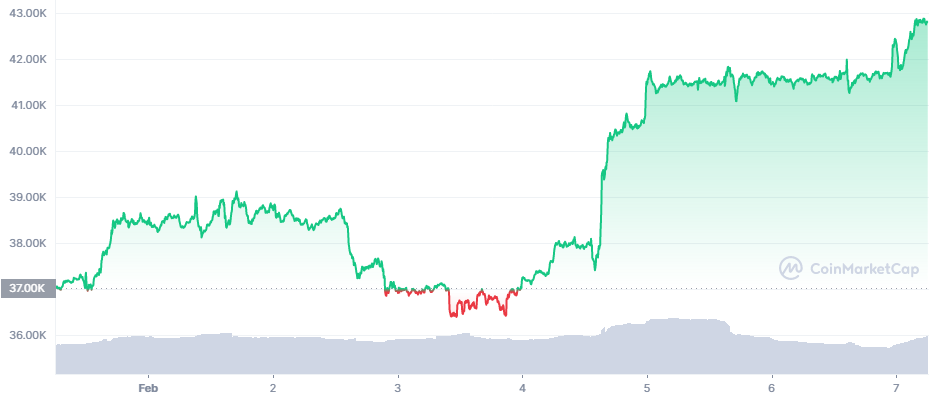 Bitcoin (BTC) had an unexpected weekend rally, taking the price up from just around $37,000 to above $41,500. BTC kept up the new, higher price over the weekend, though creating some doubts whether the price rally was a one-off event, or the step to a greater rally.
The rally extended BTC gains to $42,777.71 on Monday, for now avoiding the pattern of rapid appreciation and decline.
The BTC gains carried over to altcoins, bringing Ethereum (ETH)sh to $3,091.81, but just under that level. Late on Sunday, prices solidified in expectation of new developments. BTC held its dominance slightly lower, at 41.6% of the notional value of the whole crypto market.
Will Gains Hold in New Week
BTC has a history of rallying on weekends, then crashing rapidly in the new week, for a "Bart Simpson" chart pattern. The most recent rally happened on unusually low volumes for BTC, at around $17B on Sunday.
Other predictions see the success of BTC above $40,000 as a potential launching spot for a climb to $50,000.
BTC Breaks Downtrend
The recent BTC spike came unexpectedly and looked like an anomaly. The recent rally broke a three-month sliding trend, but looked out of place. Until the weekend, the chief expectation for BTC was to sink closer to $30,000 or even below.
Previous predictions saw $41,000 as the level to break to ensure a new rally.
The BTC volatility started to take off since mid-January, rising to 3.51% and indicating the latest significant price moves after a long stagnation. In the past day, BTC once again started to jump or drop by thousands of dollars within hours.
The last few days saw a mixed bag of liquidations, with a different ratio of short to long depending on the exchange. But the overall liquidation was for short positions, as the recent rally for BTC above $41,000 affected positions previously considered safer.
BTC fluctuated by hundreds of dollars over the weekend, achieving relatively low liquidations of $1.5M on February 6. At the same time, spot trading showed a relatively low turnover and a trend to hold onto the assets.
Exchange flows have also turned more bullish for learning coins. Both BTC and ETH are moving out of exchanges for a net drawdown on coin supply.
At the same time, inflow of Tether (USDT) to exchanges is a net plus, potentially offering liquidity for the coming days.
During the last week of relatively low trading volumes, USDT supply remained steady at just under 78B tokens, with no significant new printings.
At the same time, 1B new USDC tokens were added to the market, replacing the lowered USDT printing. USDC is quickly becoming one of the dominating stablecoins to boost BTC liquidity and altcoins.
Is BTC Oversold
The recent price dip contained signs that BTC was oversold and overdue for a recovery. The exchange withdrawals and previous data show a new rally may happen soon.
The Crypto Fear and Greed Index also recovered to 37 points, bouncing off from lows of just 9 points during one of the rapid crashes in late January. Additionally, signs of buying during the dip helped boost the market.
Shiba Inu Rally Signs of Renewed Market Enthusiasm
The extremely low-priced Shiba Inu (SHIB) also chose to rally on a weekend, adding 20% within an hour. SHIB is up a net 24% in the past 24 hours, not an unusual achievement for this sub-penny token. 
In the past, SHIB has shown similar rallies which tend to be short-lived. Despite the rally, which seemed to turn the tide in minutes, SHIB is still under its one-month high of $0.000032, and peaked around $0.000028.
Shiba Inu attempts to become more than a one-off wonder token with short-term pumps. But this asset is not indicative of the performance of altcoins. SHIB is more volatile and has no connection to the price of Dogecoin (DOGE).
Other altcoins that expanded more rapidly included tokens of play-to-earn games. Axie Infinity (AXS) was up more than 18% to $65.25, while Decentraland (MANA) gained 11% to $3.25.
Just like with BTC, there is no way to tell how far the altcoin recovery would go. The new week may bring new surprises. So far, the market has managed to shake off the recent attack against the Wormhole protocol. The bridge smart contract was bailed out by the team and resupplied with 120K ETH, while the flaw was fixed to avoid a new theft.
The entire cryptocurrency market is back to a capitalization above $1.9 trillion, potentially heading for another break above $2T if the rapid recovery continues.