News
/ Cardano (ADA) Runs Ahead of the Market
Cardano (ADA) Runs Ahead of the Market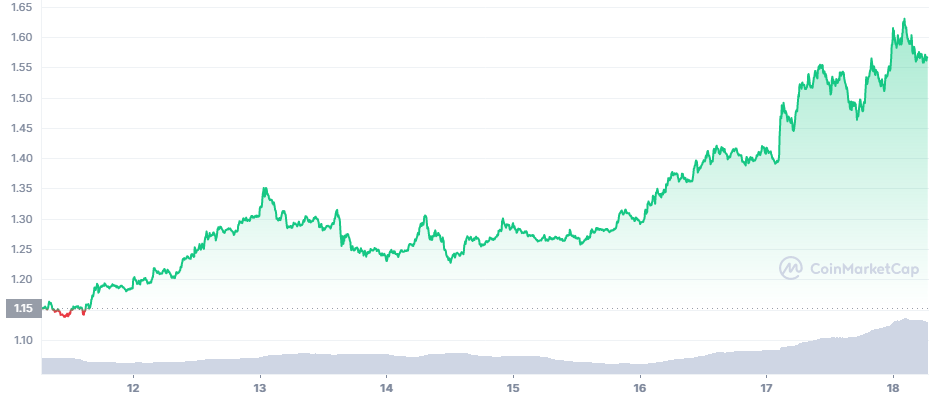 Cardano (ADA) is making the rounds again with stronger gains compared to the rest of the market. ADA was back up above $1.51, gaining above 6.5% on Monday after a relatively stagnant weekend. ADA is still 50% down from its peak near $3, and is yet to achieve the expected rally for next year. 
The relatively stagnant ADA performance in the past weeks triggered expectations in both directions. For some, ADA was sinking and would revisit much lower valuations. Others believe it will be the next asset to show outstanding returns, at least in the short term.
Predictions for ADA see the asset move to a higher valuation, with $5 possible this year and an outlook to $10. ADA is viewed as an asset going through a surprising reawakening and moving away from its pattern of short-term pumps and stagnant sideways movement. 
ADA broke out as Bitcoin (BTC) still stalled just under $43,000 and other coins and tokens only showed limited moves.
Cardano No Longer a Ghost Blockchain
The Cardano blockchain operated as a carrier for ADA tokens, often only moving the block production rewards. With one token and a wallet, ADA still managed to rally, despite being little more than a simple payment coin.
But the project also promised the arrival of smart contracts, and actually delivered in late 2021. Since then, the Cardano blockchain has seen an uptick in activity and token creation.
It is the sudden and outsized interest in Cardano that is raising hopes for higher valuations. The Cardano blockchain, in a few months, is managing to compete with the Ethereum blockchain in terms of transaction count.
At this point, it is uncertain if Cardano is carrying organic traffic or bot activity and what generates the outsized transaction count. In the past, networks have managed to generate artificial traffic between nodes.
Networks like TRON and EOS have also achieved feats of transaction activity, but Cardano is showing other signs of lining up among the best-used networks with real projects and staked value.
Gaming Comes to Cardano
One type of new project arriving to Cardano are blockchain games. Cardano Heroes is one of the new games, coming out with simple NFT art, as well as a game universe.
For new games and image collections, there is no possible predictions on where prices would go. Some highly popular NFT collections help to lock in value and bring new attention to a network.
While ADA is popular, the Cardano network is yet to gain users and spread its wallets.
DEX Coming to Cardano
The Cardano network will have its leading decentralized exchange, SundaeSwap. The launch, expected on Thursday, January 20, is expected to add to network congestion.
The market means more value locked with Cardano, as well as increasing traffic and smart contract usage. The risk from a DEX launch includes rug pulls and volatile trading, as well as still unknown problems with smart contracts.
The SundaeSwap news was also considered one of the major reasons for the recent Cardano rally. DEX usage has become easier in the past months, with intuitive tools to increase adoption. However, Cardano seems to be attracting a new crop of retail users with very little prior knowledge of blockchains and trading.
Despite the fears, there are already indications the Cardano network is increasing its locked value. DeFi Llama, the tracker for DEX and other staking schemes, notes $2.9B locked on the Cardano network, with a stunning 27% growth in the past 24 hours. Signal statistics also show only 8% of ADA holders are long-term buyers, with 92% of buyers and holders arriving in the past month.
With liquidity pairs opening on SundaeSwap, that locked value will grow rapidly and potentially compete with the likes of Solana (SOL).
ADA Benefits from Staking
Despite the large supply of ADA, above 33B, most coins are staked and locked with block producers.
The coming month may see ADA shifted between block producers, as eToro decommission its node and returns some of the ADA to US-based traders. ADA has a small representation on eToro, but the brokerage is a significant presence in staking ADA.
Data suggests about 72% of all ADA is staked in some form, adding to the scarcity. Making ADA the reward token for games or a tool to buy collectible NFTs will grow demand.
ADA trading sentiment is neutral, which is comparatively better than bearish tokens and network assets. ADA, however, suffers from volatile pumps and heavy potential selling. The coming yer may change attitudes to Cardano and diminish the fears that the asset moves only on hype. Network growth is currently the most bullish price signal for ADA.