News
/ Enjin Coin (ENJ) Recovers on NFT Hype
Enjin Coin (ENJ) Recovers on NFT Hype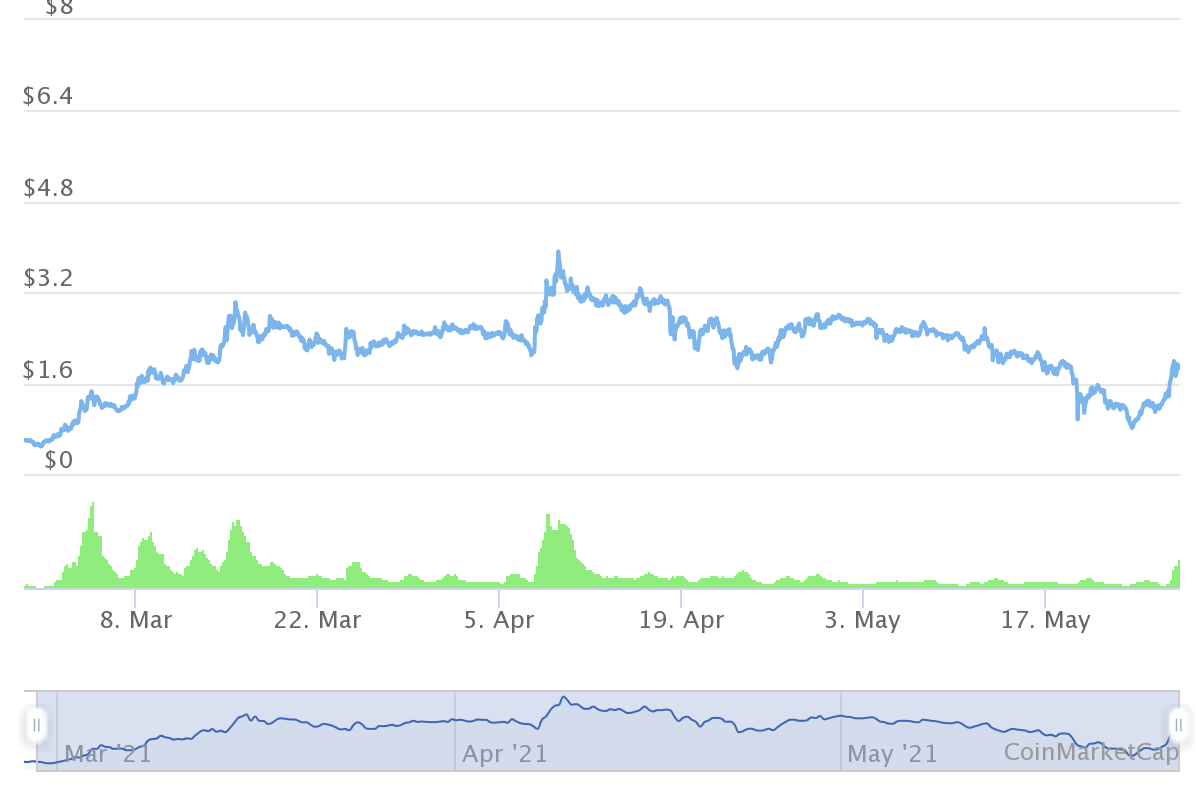 Enjin Coin (ENJ) is on another upward move, defying the rest of the markets. ENJ stood at $1.93, recovering after a dip to $0.83 during the most recent market crash. 
ENJ gained more than 50% overnight, showing a strong trend toward recovery, while the rest of the market remained stagnant. Bitcoin (BTC) and large cap cryptos like ETH tracked back some of the gains, still hesitant for another big rally.
But ENJ is going vertical, boosted by unprecedented volumes from Binance trading. ENJ has episodic days when trading volumes exceed $1B, especially after the heightened interest in altcoins in 2021.
The rest of the market, including BTC trading, remained subdued as the prevailing mood was fear. But ENJ was one of the assets where concentrated trading could offset some of the losses. ENJ is also one of the relatively small market pairs on Binance, allowing concerted efforts to lift the market price.
Why ENJ is Suddenly Popular? 
Small volume altcoins often outperform BTC earnings. But this time, Enjin Coin put some work on its marketing, airdropping 50,000 NFTs through social media advertising. 
So the recent ENJ rise is hitching on the back of a growing NFT market, a source of gains that may exceed the relatively small ENJ liquidity. The Enjin Coin project also offers a complete network to carry, distribute and trade NFTs without the high gas prices on Ethereum.
The latest NFT airdrop used the Enjin Beam technology, a promising tool to airdrop digital rewards in the form of NFTs through a QR code. The airdrop can be accessible to anyone, with no limits to owning ETH for gas fees. 
The already completed airdrop raised interest in the project, with the potential for future campaigns.
Is ENJ a Good Investment? 
Enjin Coin appeared right before the peak of the 2017 bull market. The project raised more than $22M in its token sale. Unlike other coins, ENJ is a rare unicorn that managed to achieve higher returns both against BTC and ETH.
In hindsight, ENJ was one of the well-performing ICO tokens. In 2021, the asset reached new highs which exceed the 2018 peak, leading to a new stage of price discovery.
The Enjin Coin ecosystem is now much larger, including staking opportunities, as well as the expectations the NFT market will continue to draw in crypto investors. NFTs with easy and cheap airdrops also offer a wider outreach in comparison to big-ticket Bitcoin investment.
The NFT market is difficult to track, though some data show more than 10,000 unique active wallets have bought blockchain-recorded digital goods.
The frictionless NFT distribution through Enjin Coin mobile wallets will further add to the market. Even without large-scale sales from sensational artists, the NFT market has settled into a baseline pace of trading lower-priced tokens to a wider audience.
How to Get and Store ENJ
ENJ is tradable through the Coinbase brokerage, open to US-based traders. It is possible to hold the asset on the Coinbase exchange wallet.
ENJ has a native multi-asset Blockchain Wallet, capable of holding BTC, ETH, as well as ENJ and all the NFTs within its ecosystem. For simple holding, ENJ is also compatible with any ERC-20 wallets, as its underlying technology is to be an Ethereum-based token. Multi-asset wallets are only a tool to gain more of the functionalities for this project. ENJ also exists in the ERC-1155 standard, which allows for the creation of multiple-function tokens.
This also means the Enjin Coin ecosystem can be used to generate new tokens, which will have their transactions accounted through a smart contract, which will then settle and finalize them on the Ethereum main blockchain.
What's in the Future for Enjin Coin
Despite a long history since the ICO, ENJ is yet to migrate and grow its own blockchain service. The project's goal is to still connect to the Ethereum network, while also creating a Layer 2 solution for scalability. Layer 2 solutions are various techniques of batching transactions to avoid running up ETH gas fees for each transfer.
Enjin Coin will rely on two chief scaling technologies, Jump Net and Effinity. Jump Net launched on April 6, setting the stage for the NFT and secondary token marketplace. The JumpNet works like a private blockchain parallel to Ethereum, which allows for gas-free minting of tokens and cheap transfers.
The next step, Effinity, is expected to arrive by the end of 2021.
Enjin Coin will aim to create a decentralized network that will bridge tokens and assets from all other networks, while also offering gas-free token generation, trading and transfers. 
Plans also include the creation of a new blockchain that will use the Polkadot platform. Thus, Enjin Coin joins projects like recently rising Polygon (MATIC), which aim to scale the Ethereum network, while also connecting to its already well-established marketplace of tokens.