News
/ Fantom (FTM) Set Up for October Rally?
Fantom (FTM) Set Up for October Rally?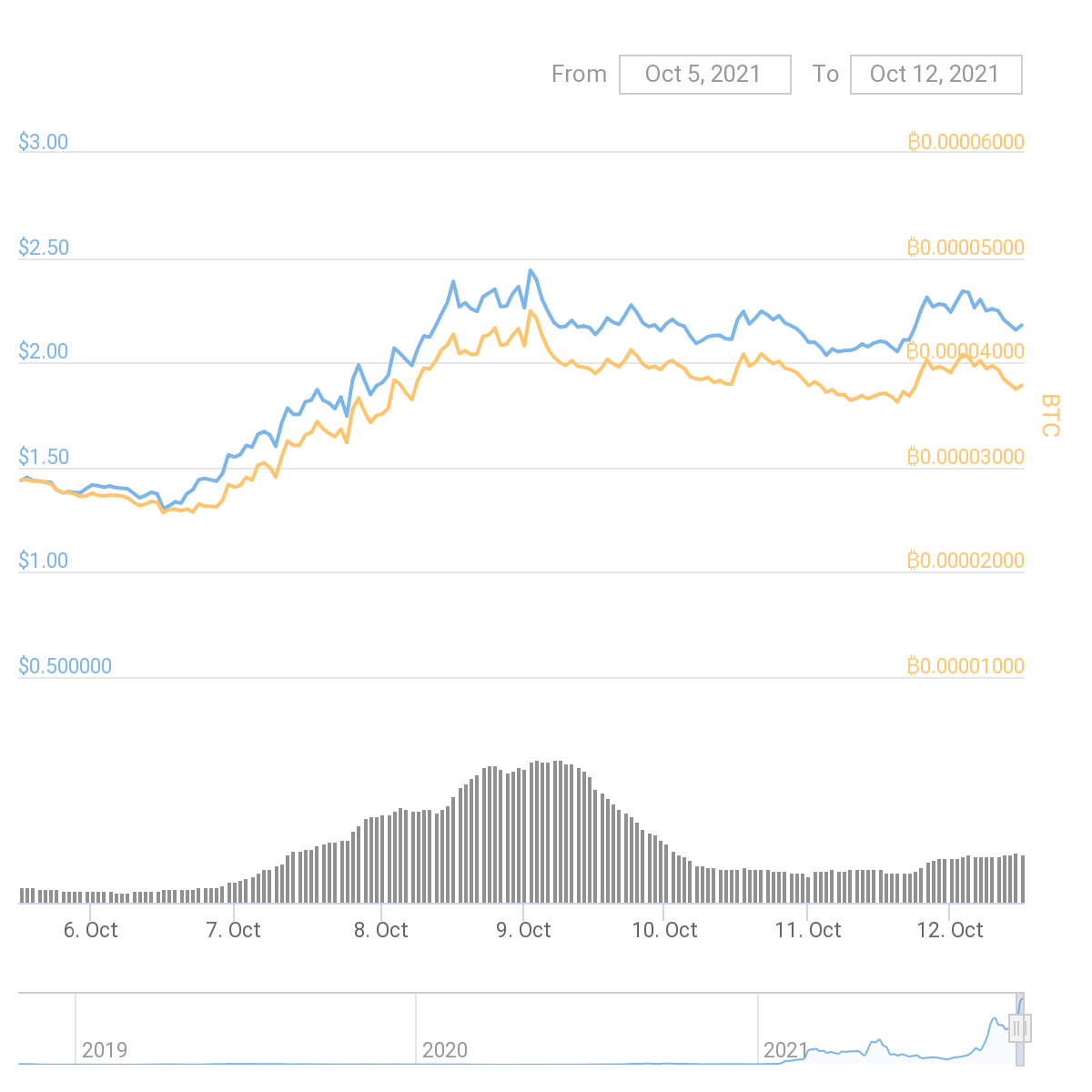 Fantom (FTM) is the next outlier on the market, springing ahead while other assets stagnated or slid. FTM is sparking hopes for a higher price range, possibly reaching $10 valuations based on community hype.
FTM traded at $2.22, up around 7% overnight both in dollar terms and against BTC and ETH. The FTM rally followed days of record trading volumes, with expectations the rally has more days to go. FTM is rising on a general expectation for altcoins to outperform in the last quarter of the year. 
The FTM rally follows the rapid appreciation of Harmony (ONE) at the start of the new week. ONE retreated a bit to $0.22, taking a breather after a new all-time high.
The recent price rally sets up FTM to get ahead of Tezos (XTZ) if the upward trend continues. FTM, with a market cap above $5.5B, has reached the top 35 coins by market capitalization. FTM is also in the top 10 of the largest DeFi tokens, and has just "flippened" the market capitalization of PancakeSwap (CAKE).
The recent rally gives FTM more visibility, potentially lining it up with other DeFi-targeted platforms, including Terra (LUNA), Solana (SOL) and Chainlink (LINK).
Fantom Hopes to Build Ethereum-Like Ecosystem
The Fantom platform aims to offer all the functionalities of a decentralized product ecosystem, without the inherent limitations of Ethereum. The Fantom blockchain is not entirely free to use, but it is already attracting significant activity, comparable to older platforms.
As of October, the Fantom platform keeps working on expanding its ecosystem, adding DeFi features. So far, the network has only added a handful of distributed apps, and is yet to establish its chief decentralized exchange. Most dApps on Fantom are listed as risky.
Building on Fantom continues, with a recently added aggregator for the best passive income in yield farming. The aggregator copies the approach of Yearn.Finance to lower costs and simplify yield farming.
At the same time, Fantom wants to link to existing protocols, and is set to add a version of Aave (AAVE) to its network.
Like other platforms, Fantom is growing its own NFT collection marketplace. In this case, a community effort may be bootstrapping artists and boosting the popularity and valuations of rare items.
The Fantom blockchain now reportedly locks in more than $6.6B in value in various assets, of which about 2,000 BTC and above 33,000 ETH. This puts FTM as a mid-range project, competing with new platforms that are quickly catching up with Binance Smart Chain locked value, and taking a piece of the Ethereum ecosystem.
Fantom Offers Multi-Chain Access
The FTM asset exists on three separate blockchains. Of all available tokens, 3.45B exist on the Fantom native blockchain, partially locked for validator nodes. Another 2.13B tokens have moved to Ethereum, and are locked in Binance wallets as well as the Fantom-Ethereum bridge smart contract.
So far, 952,500,000 tokens have been bridged to Binance Smart Chain. The token bridges mean FTM has small-scale pairs on the Uniswap and SushiSwap decentralized exchanges. FTM is also available through Binance Smart Chain and the Trust Wallet, in addition to MetaMask. FTM can be withdrawn on multiple blockchains to be used in their respective DeFi protocols.
FTM Still Depends on Binance Trading
FTM is another token where the rapid rally can be ascribed to Binance trading activity. More than 52% of all FTM deals are happening in a single Binance trading pair. Recently, large-scale buying has been noticed for FTM, with a significant effect on market prices. 
Speculations see FTM continue its trek to a higher market price, as it grows its liquidity on the Binance exchange.
One of the problems for FTM may be the temporary suspension of withdrawals from Binance. Highly active assets like SOL and LUNA have also seen temporary withdrawal suspension.
How High Can FTM Go
FTM still has to show its recent rally is not a short-term anomaly, while preserving the buying demand.
In the short term, trader expectations see FTM move closer to $2.50. Over the coming weeks, extreme predictions allow for prices around $8-$10.
FTM may be one of the optimistic bids in case of an altcoin season. After BTC prices calmed down, the overriding expectation is that all other assets will attempt all-time highs and enter price discovery.
The various types of tokens remain volatile, despite their growing influence. Smaller assets collectively make up about 20% of the total crypto market capitalization, growing significantly in the past months.
FTM still lags compared to more visible altcoins such as Cardano (ADA) and SOL, but has all the elements to become one of the strongly supported and popular assets in an eventual price rally.