News
/ Filecoin (FIL) Above $10 First Time Since May
Filecoin (FIL) Above $10 First Time Since May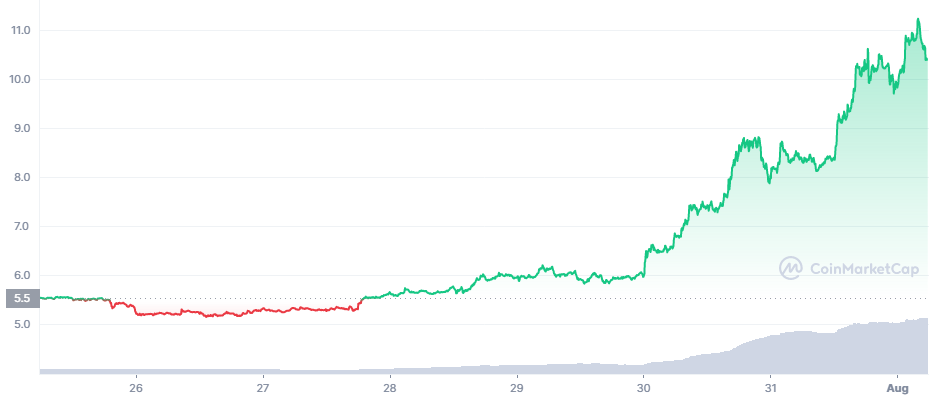 Filecoin (FIL) waited for the weekend lull in the larger crypto market, to make its presence known once again. The FIL rally coincided with a few previously forgotten assets also moving up. FIL broke above $11.23, reaching levels not seen since the beginning of May 2022. 
FIL is relatively subdued, given that its all-time high is above $200. But the recent price moves on an otherwise stagnant weekend also awoke previously forgotten tokens, such as Polkadot (DOT). With tokens near their all-time lows, rallies of this size are not unusual. FIL is also trending among highly active tokens represented on the Binance exchange. 
To facilitate the smaller asset growth, BTC remained under $24,000 but with relative stability. Ethereum (ETH) remained close to $1,700, encouraging the building of additional decentralized systems. 
Filecoin Project Among Most Active Builders
Filecoin is currently trading due to the upcoming ETH meetup in Seoul. The project will participate in a series of hackathons despite running on Binance Smart Chain and its own proprietary network.
The goal of Filecoin is to build a decentralized network for file storage to rival data centers, while ensuring security and confidentiality. Similar projects appeared in 2017, such as Siacoin, promising to pay for storing user data in a decentralized network.
The immediate news that drew attention to FIL was the launch of the Filecoin Virtual Machine, another tool running on the main network. With a virtual machine feature, Filecoin becomes a programmable network, with the potential to build smart contracts similar to Ethereum.
The FIL rally lags by a few days, but has been expected by traders watching the coin. Despite the promising features of the project, the current rally also invites caution and may be due to hype.
Filecoin's network noted more than 21M uploads, with around 16,000 registered active users. This is still a small and growing network, and the interest in the native token may not be proportional to the actual building potential.
Will FIL Recover to Triple Digits
FIL has been gaining since the recent dip to $5, and its trading volumes reached $1.9B in the past day. The trading activity is also at the highest level for the past quarter. FIL gained exceptional visibility in the past week, ranking first in some searches and information flow on social media. All of this produced the continued rally, as there is still demand for relatively fast gains.
For some traders, FIL may be ending its rally at this point, suggesting a strategy of taking profits.
FIL relies heavily on USDT liquidity, with around 31% of all activity happening on the Binance exchange. More than 74% of all FIL trading are in the FIL/USDT pair, with BUSD also playing a small role.
FIL has performed with rapid rallies in the past, at one point touching a peak at $238 within weeks from launching its rally. Now, FIL is outperforming during a bear market and a similar trek is not as probable. However, the token easily achieved 80% gains for some of the short-term traders.
For some, the current FIL performance may be a result of a deliberate pump, as the token was mentioned by crypto influencers. The Filecoin ecosystem has only one form of basic DeFi, through FIL staking. The total value locked for staking is around 978M. FIL offers earnings for simply holding the token, and Binance shares staking rewards with those holding FIL on the exchange wallets.
Other Tokens Rush for Short-Term Rallies
Other tokens that peaked in the past weekend included Internet Computer (ICP). The immediate reason for the rally is that the Internet Computer project released smart contracts capable of using wrapped forms of BTC.
ICP is thus up 37.5% in the past week, to $9.09. The most recent rallies happen on increased volatility, often erasing gains within an hour. ICP may continue to rally once BTC smart contract integration is fully released in the coming week.
Will BTC Choose Another Direction
The direction of smaller assets still hinges on the behavior of BTC. Over the weekend, trading volumes took a step back to around half the weekday levels, reaching $24B in 24 hours.
The new week usually arrives with a pickup in activity and increased price action. Some of the predictions see BTC reach the $28,000 level relatively fast.
Altcoins shave shown they can easily double in value in a week, causing a revival in trading. The crypto market is slowly emerging from a series of shocks, setting expectations for a stronger recovery rally.