News
/ Tether (USDT) Releases Reserves Assurance
Tether (USDT) Releases Reserves Assurance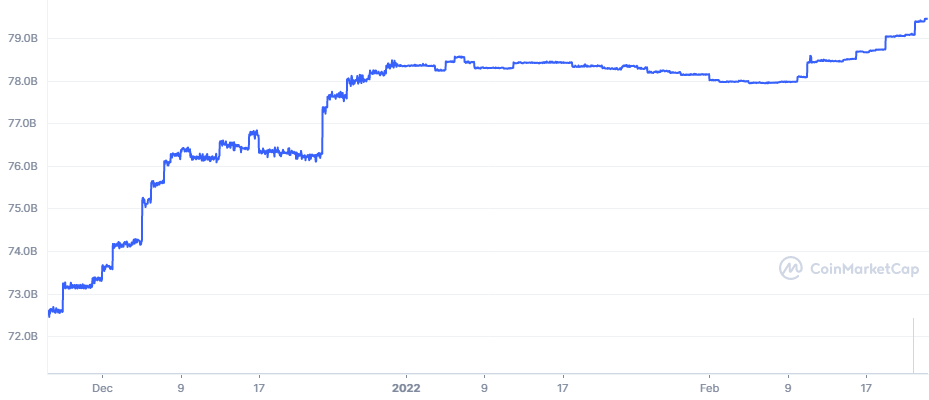 Tether (USDT), the still dominating stablecoin, released its latest assurance of reserves. So far, Tether, Inc. has not released a full audit, though it claims to have sufficient reserves to back all minted tokens.
Despite skepticism, USDT has been instrumental to the rise of Bitcoin (BTC) and altcoins, often with coincidences between new token mints and price rallies. Perhaps because of this, Tether, Inc. and its relationship with Bitfinex have raised issues with the sustainability of current crypto prices.
Attestation Shows Shift in Asset Balances
The latest quarterly attestation showed USDT is now backed by more T-bills, with a decrease in commercial paper and cash on hand. In general, each USDT promises to hold reserves equivalent to $1, and the token can be swapped on most exchanges for fiat. But Tether, Inc. will not offer direct swaps by itself, or claims to switch back to fiat.
The assets as of December 2021 were verified by accounting firm MHA Cayman. The latest report reveals the item listed as commercial paper to make up around 30% of all Tether assets, down from around 50% in previous reports.
Tether, Inc. reached an agreement with the New York Attorney General to increase its transparency and provide regular insight into its asset portfolio. The reason for this was an investigation on around $950M suspected to be granted to the Bitfinex exchange.
Since then, Bitfinex issued the Unus Sed Leo (LEO) token, raising the same amount. LEO appreciated to a peak of $8 recently, and currently trades at $5.81.
Additionally, Bitfinex now has a chance to regain access to nearly 75% of the funds stolen in a 2016 hack, which are now worth around $5B. 
USDT Remains Highly Influential
USDT continues to stay as a top 3 digital asset in terms of total market capitalization. The latest new series of mints and the drop in Binance Coin (BNB) pushed USDT forward, with a supply of more than 79.35B tokens. 
USDT also has the highest trading volume of all coins and tokens, at above $66B in 24 hours. However, USDT volumes in the past months are just about 30% from their peak at the end of 2021.
The market cap of USDT, however, is now smaller in comparison to other stablecoins, making up just 43% of the market. The share 
of USDT has been steadily falling, from a recent level above 55%.
The chief asset displacing USDT is USDC, a more transparent coin backed by fiat. Binance USD (BUSD) has a 10% market cap share. However, the usage of USDT remains very high, with a significant daily velocity of exchange. The asset is present on a total of nine blockchains, with a significant part of the funds on the TRON network.
Recent expansions in the supply of stablecoins suggests there is still demand for liquidity. Recently, another movement was noted to originate from the Tether treasury.
Perhaps the biggest recent mint happened on February 21, coinciding with the rebounce of BTC from lows under $37,00.
USDT also continues to move between exchanges and can be used for some forms of arbitrage with small price differences. A steady share of 54.56% of all BTC trading relies on USDT inflows. The BTC/USDT pairing is the most active one, relying on Binance trading activity.
USDT Distribution Favors Whales
The top 100 USDT addresses hold 45% of the entire USDT supply. This is partly due to exchange capacity, but also due to usage by whales.
At the same time, USDT has achieved significant retail adoption and is present in DeFi and fintech wallets. The asset is also not controlled centrally, unlike USDC which can be frozen.
More than 89% of USDT is spread to a mix of smaller exchanges, with top markets holding the rest. USDT is present in DeFi as well, and can be wrapped on new networks. USDT also flows into exchanges and near-peak amounts of tokens are waiting on the sidelines.
The inflows spark expectations that the current price weakness may be an accumulation stage before a new upward movement.
BTC Freezes Despite USDT Mint
Despite adding nearly $1B in value through Tether's treasury, BTC prices remained stagnant. BTC recovered above $38,000 mid-week, increasing its dominance to 42.2%. Altcoins this time remained with little change, as fears of a bear market continued to grip the markets.
Ethereum (ETH) sank closer to $2,600, extending its losses deeper. Once again, Terra (LUNA) managed to hold onto its gains. LUNA is the asset behind Terra USD (UST), which does not compete with USDT directly, but provides liquidity to specific DeFi protocols.