News
/ TRON (TRX) Joins Top DeFi Platforms with USDD Launch
TRON (TRX) Joins Top DeFi Platforms with USDD Launch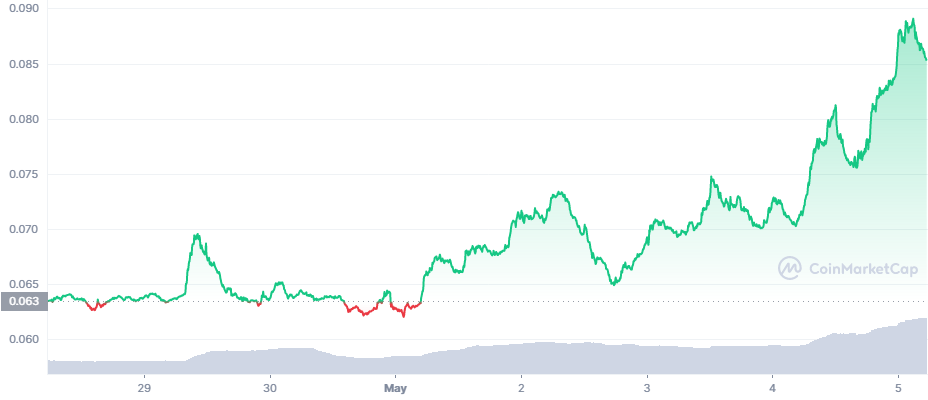 TRON (TRX) had two consecutive days of active growth, while showing the network is going into a new stage. TRON will copy the model of Terra (LUNA) to create an asset-backed stablecoin, USDD. 
TRX, widely traded on Binance, Huobi and other Asian exchanges, is missing from Coinbase and may continue its price discovery with a different set of potential investors.
TRX has been a low per-unit price token for years, and has existed aside from the most prominent DeFi platforms. Focusing on the Chinese market, for a long time TRON built up its own NFT, game, gambling, exchange and stablecoin ecosystem.
TRON also continues to carry more than 30% of the supply of Tether (USDT). TRON also carries multiple assets in a long list of decentralized apps, becoming the sixth largest platform in terms of value locked.
SunSwap, the leading decentralized exchange, is the chief driver of value and activity. TRON also carries high-return high-risk apps, and in the past also carried so-called simulated mining tokens, which used the network's speed and low fees to generate new tokens and attempt to cash out value.
TRON is now moving on to expand its presence and influence, which may happen if USDD spreads throughout the crypto ecosystem.
TRX Prices Rally on USDD Launch Day
TRX recovered after crypto assets in general stalled their slide. With Bitcoin (BTC) above $39,700, other assets added to their momentum. 
TRX is still far from all-time highs, but with significant growth from lows under $0.02. TRX is back in the top 20, after adding more than 20% to its price in a week-long recovery. TRX is up to $0.085 after a few days of gains.
TRX trading volumes are also more consistent over the past two weeks, boosted by the previous preliminary news of the USDD launch. TRX now has more than $2.4B in trading volumes in the past 24 hours.
Binance Opens TRON Wallet Maintenance
Just as TRX was rallying, the Binance exchange announced it would run a TRON wallet prophylactic on May 5.
Trading for TRX will continue, but deposits and withdrawals will be disabled for a three-hour window until approximately 9:00 UTC.
TRON Network Accelerates Growth
The TRON network is built on account creation, tracking the use cases over time. The growth rate remains steep throughout TRON's history.
Transactions on TRON also hinge on usages of stablecoins, potentially growing with the introduction of USDD.
The recent Solana network freeze also caused Justin Sun to point out that the TRON network continues to carry transactions at high capacity without failing. TRON is not as active in NFT mints, but has survived projects that rely on spamming the network. 
TRON DAO Continues to Build Reserves
At the heart of the USDD launch this May 5 is a newly created DAO that will control the bulk of the project's reserves. USDD aims to be a fully algorithmic stablecoin with no regulation, at least when used within the blockchain.
The DAO reserve will operate against market risk and be controlled in a decentralized way. The reserve was established on April 21 and may be ready to support USDD tomorrow. The size and influence of the assets, along with a bullish TRX, will try to preserve USDD at exactly $1.
For now, algorithmic stablecoins manage to keep their value, with the exception of the asset linked to Waves (WAVES). Neutrino USD, or USDN, crashed after what looked like a concerted trading attack against WAVES.
The ambitious goals of the TRON DAO is to mitigate long-term economic risk, while also smoothing out short-term fluctuations. The crypto market is much more connected, but there is more experience in managing deep crashes and avoiding liquidation cascades. The TRON DAO may add to the growing DeFi market.
TRON DAO has not been as transparent about its reserves as Terra, which has known Bitcoin (BTC) wallets. USDD will also be a multi-platform token, relying on multiple collaterals. Justin Sun, co-founder of TRON, envisions the project as Stablecoin 3.0, invented through multiple trials and errors.
Multiple platforms are trying to generate new stablecoins, but TRON's USDD has the potential to become a leading asset. USDD can flow back immediately into the TRON ecosystem through the decentralized SunSwap.
The launch day may continue to boost TRX, but may also lead to the end of the anticipation and a breakdown of the rally. At the same time, USDD may flow back into TRX and boost market prices. Additional price stability for BTC and reawakened interest in altcoins may further boost TRX. Partnerships to mint USDD may also spill over to other platforms seeking to lock in more value.