News
/ XTZ, HNT, LINK: Why These Tokens are Outliers
XTZ, HNT, LINK: Why These Tokens are Outliers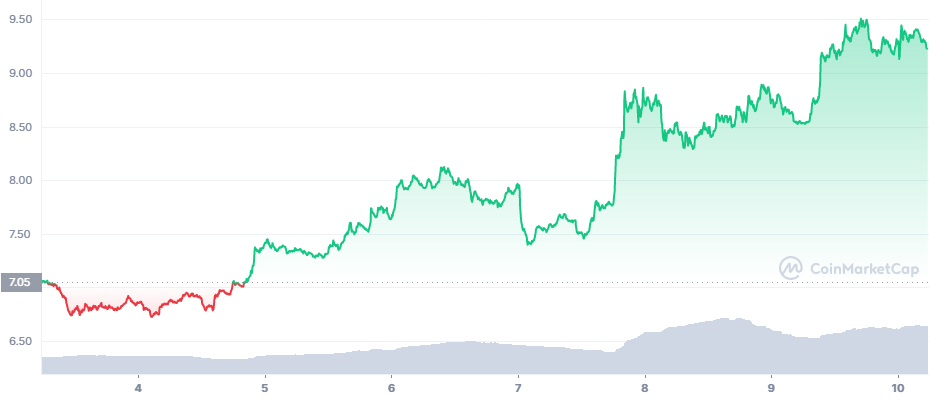 The altcoin market still expects the potential for a deeper downturn. But this does not stop selected coins and tokens from reacting in the short term, moving against the trend. Even with a slowing market, innovation and news from some projects sparks hopes for surviving in the long run.
Bitcoin (BTC) stabilized above $30,000, giving way to other projects to show growing demand. Ethereum (ETH) is also without dramatic change, making sights shift to neglected networks. 
Tezos to Carry USDT
The Tezos network has developed in a different way, remaining somewhat neglected. This time, XTZ rallied after news of adding Tether (USDT) as a native token on Tezos. USDT is predominantly used through Ethereum, but existed on a total of 11 networks until now. The other big host is TRON (TRX), where nearly half of the USDT supply is in circulation.
Other prominent networks include Avalanche and Polygon, recently added. USDT is still a leading stablecoin, despite decreasing its supply from the peak, from above 83B tokens to 72.4B tokens.
The news helped XTZ rally to $2.23, adding 9.25% overnight. XTZ is also a long-term laggard, failing to rally to previously predicted levels above $100. Tezos also did not manage to share the rallying strength of Solana, and so far remains behind in terms of projects and decentralized users.
Top Tezos apps include NFT marketplaces and a handful of games. Adding USDT may significantly increase liquidity for projects and the transaction count on the network. As of June 2022, Tezos transaction volume is around $26M per day, down from nearly $120M during peak times at the end of 2021. Active addresses on Tezos fluctuate between 15K and 60K.
Tezos still has a high-level social media activity, but it remains to be seen if that activity would be reflected in the price of XTZ.
One of the reasons for Tether's choice is to boost the Tezos ecosystem and participate in DeFi for additional liquidity.
Why Helium is Moving Up
Helium Network, which is a physical network project plus HNT token mining, is also among the outliers this week. HNT is up to $11.76, adding more than 38% in the past week alone.
Predictions see HNT extend the rally and top the $15 range. HNT has already touched peaks above $50, hence the optimism for recovery and at least a short-term rally capability. The event behind the rally is Helium Improvement Proposal 51, or HIP 51, which passed this week.
The proposal will rebuild the network's structure and allow for the creation of sub-networks with their own rules and compensation.
Initially, the Helium community was skeptical, but the proposal aims to increase the capacity and outreach of Helium Network for the long run.
Chainlink (LINK) Extends its Rally
Chainlink continues to be the center of attention, extending its rally for another day. LINK is up to $9.40, adding 10% in the past day. The asset now expects to move to a much higher price range. 
The initial form of staking has not arrived yet, but the effect of relatively low LINK starting prices may translate into a more significant rally.
Chainlink also recently partnered with Avalanche for its randomness generator. Chainlink provides verifiable randomization to NFT projects and games, to distribute rare traits fairly among buyers.
Additionally, Avalanche will offer Chainlink Keepers, a tool for more secure smart contracts. Chainlink is also in for a long revolution of offering insurance services and growing a risk pool.
Altcoin Market Remains Cautious
Most types of altcoins and tokens remain with little change or a small loss in the past week. The current BTC position is suggestive of accumulation and holding for the long term, with little expectation of an immediate rally. BTC has returned to a higher range of dominance at 46.4%, while ETH shrank its market share to 17.5%. Smaller altcoins also lost their weight on the market, with special losses in the DeFi and gaming sectors.
After the crash of Terra, altcoin trading is much more cautious, and projects face a harder scrutiny for risks. Even TRX remains stagnant at $0.081, cutting its rally short.
The TRON-based USDD stablecoin increases its supply, currently to above 703M tokens. USDD also slid to $0.99, what is considered a normal fluctuation from the dollar peg.
USDT also not only diminished its supply, but slowed its trading turnover, down to $42B in 24 hours, from the usual levels above $60B. USDC, on the other hand, increased its supply from 48B to 53B tokens, and has not deviated from $1, becoming the more trusted stablecoin.